Simon Levin on "Cooperation and Collective Bahavior"
VIDEO: Distinguished Lecture Series
October 27, 2008

Professor Simon A. Levin, the Moffett Professor of Biology at Princeton University and the Director of Princeton's Center for BioComplexity, delivered his first Frederick S. Pardee Distinguished Lecture today.
The lecture made a strong case for new global institutions that can serve as mechanisms of mutual trust and cooperation. According to Professor Levin, these will be necessary to solve global environmental problems such as rising carbon dioxide levels, water shortages and the collapse of fisheries. Professor Levin delivered this message during the first of his two 2008 Frederick S. Pardee Distinguished Lectures in the Metcalf Trustee Ballroom at Boston University.
Titled "Cooperation and Collective Behavior from Baceteria to the Global Commons," Professor Levin's Monday evening talk focused on the behavior of individuals and groups and examined the reasons why large groups of people and societies will often fail to do what is in their collective best interest.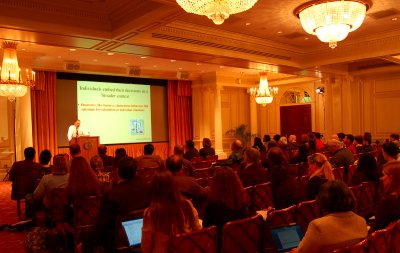 Using examples and research from ecology, economics, sociology and physics, he discussed how leaders can emerge in groups and the influence that the behaviour of one's peers and neighbors can have on individual behavior and decisions.
Regarding environmental issues in particular, Professor Levin said that because people discount the future, they make decisions that may provide short-term benefits in their own interests but may prove harmful to society over the long-run. This applies to people in governments, who will make decisions that may have global implications, but will only consider the effects felt within their own country.
"We're all in this together. We need shared solutions to environmental and economic problems, and ultimately we need new institutions. We need to develop mechanisms of trust and cooperation," Levin said. "We need to feel we have something to gain from cooperation, and then we can achieve a sustainable future for our children and grandchildren."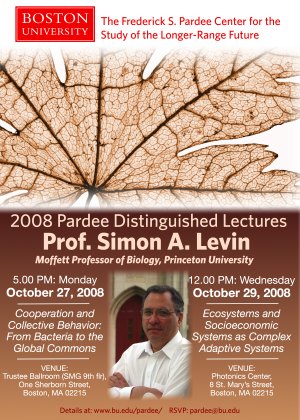 Professor Levin is a Fellow of the American Academy of Arts and Sciences and the American Association for the Advancement of Science as well as a Member of the National Academy of Sciences and the American Philosophical Society. He chairs the Governing Council for International Institute for Applied Systems Analysis (IIASA), and co-chairs the Science Board of the Santa Fe Institute. He is a former President of the Ecological Society of America and the Society for Mathematical Biology, and a past Chair of the Board of the Beijer Institute of Ecological Economics. Among other awards, he won the MacArthur Award (1988) and the Distinguished Service Citation (1998) of the Ecological Society of America, and the Okubo Award of the Society for Mathematical Biology and the Japanese Society for Theoretical Biology. He was honored with the Dr. A.H. Heineken Prize for Environmental Sciences by the Royal Netherlands Academy of Arts and Sciences (2004), the Kyoto Prize in Basic Sciences (2005) by the Inamori Foundation, and the Distinguished Scientist Award of the American Institute of Biological Sciences.