Rosina Bierbaum to Deliver Pardee Distinguished Lecture on April 30
Rosina Bierbaum, a science advisor to the White House and international environment and development agencies, will deliver the annual Frederick S. Pardee Distinguished Lecture on Wednesday, April 30 at the Metcalf Trustee Center at One Silber Way. The title of her lecture is "Past is Not Prologue: How Climate Change Alters Development Prospects."
The lecture will take place from 5 to 6:30 pm, with a reception following. This event is free and open to the public, but advance registration is required by April 24. Click here to register.
Prof. Bierbaum has a distinguished career at the intersection of science and policy, and her experience extends from climate science into foreign relations and international development. She chairs the Scientific and Advisory Panel of the Global Environment Facility, serves on President Obama's Council of Advisors on Science and Technology, is a lead author of the U.S. National Climate Assessment, and an Adaptation Fellow at the World Bank.  She served for two decades in both the legislative and executive branches of the U.S. Government, and ran the first Environment Division of the White House Office of Science and Technology Policy (OSTP) from 1995 – 2001.  She also served for 10 years (2001 – 2011) as Dean of the School of Natural Resources and Environment at the University of Michigan, and she remains a Professor and Dean Emerita with appointments in both the School of Natural Resources and Environment, and the School of Public Health. She was selected by the World Bank to co-direct its prestigious World Development Report 2010, which focused on climate change and development.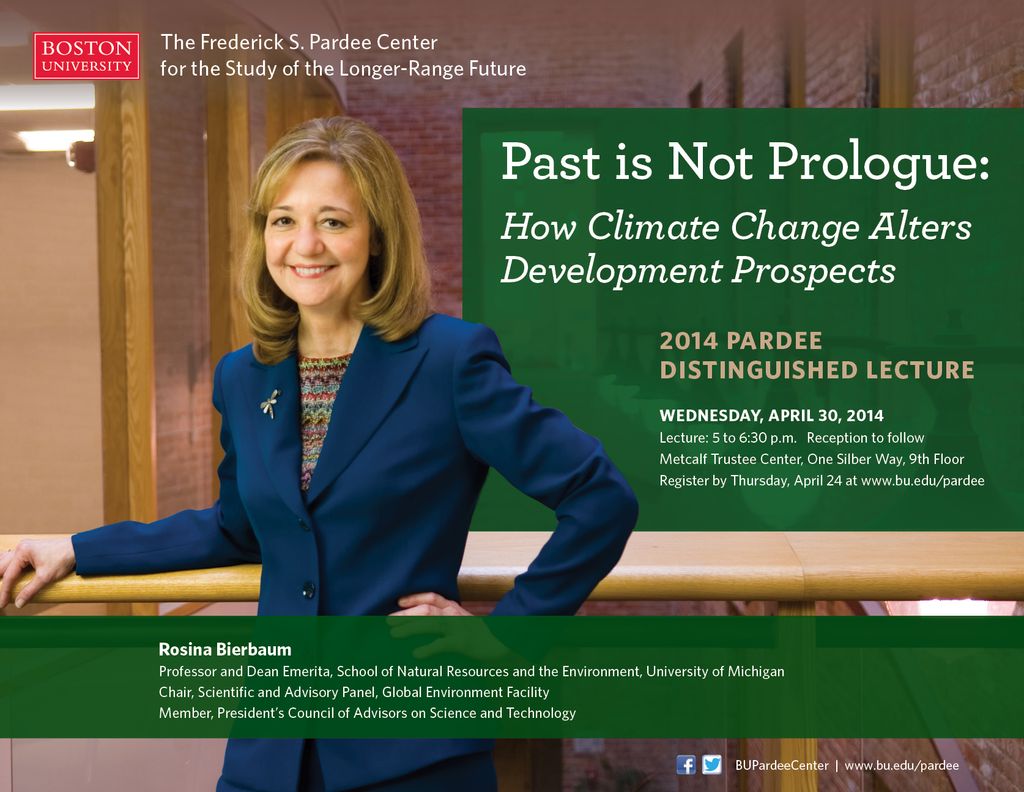 Prof. Bierbaum holds a doctorate in ecology and evolution and is the author or co-author of numerous scholarly articles published in a wide variety of academic journals as well as several reports published by government agencies and international institutions. Her most recently published articles are: "A Comprehensive Review of Adaptation in the United States: More Than Before, But Less Than Needed" (2012, Mitigation and Adaptation Strategies for Global Change), and "Energy in the Context of Sustainability" (2013, Daedalus 142(1): 146-161).  She has lectured on every continent, and in more than 20 countries.
She is a Fellow of the American Association for the Advancement of Science, the American Academy of Arts and Sciences, and the Ecology Society of America, and received the American Geophysical Union's Waldo Smith Award for "extraordinary service to Geosciences" and the U.S. Environmental Protection Award for scientific leadership in climate protection.