Pardee Center Event on Higher Ed in Emerging Economies Set for April 24
Members of a new Pardee Center Task Force on Higher Education and Innovation in Emerging Economies will give presentations at a public event set for Thursday, April 24 at the Metcalf Trustee Center at Boston University starting at 8:30 am. The day-long event, titled "Higher Education and Innovation in Emerging Economies: From Local Development to Global Engagement" is co-sponsored by the Frederick S. Pardee Center for the Study of the Longer-Range Future and Peace Islands Institute.
The event is free but advance registration is required by Thursday, April 17.
To register, click here.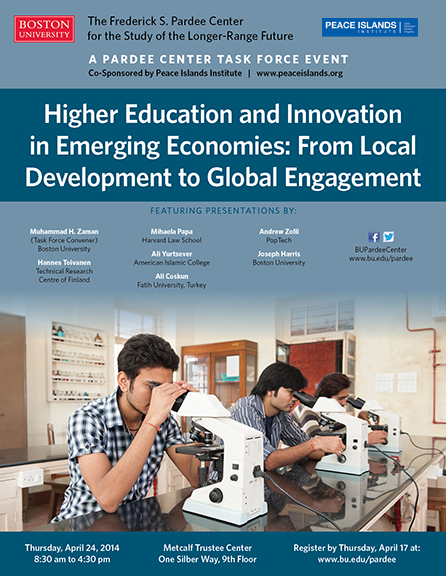 Convened by Pardee Center Faculty Fellow Muhammad Zaman, the Task Force will focus on how the emerging economies of Turkey, India, China, Russia, and Brazil are working to develop long-term growth and development policies that improve the living standards for all citizens while at the same time engaging in aid, trade, and development programs with developing countries. Meeting increasing demands for robust higher education systems is key to both improving local innovative capacity and using this capacity for engagement with less developed countries, and the Task Force will focus on the confluence of these issues.  The Task Force members will also meet in a closed session on Friday, April 25 for further discussion and to plan for a collaborative publication on this topic.
The April 24 event will feature individual presentations by each of the Task Force members followed by two panel discussion sessions. The agenda for the conference is below.
Higher Education and Innovation in Emerging Economies:
From Local Development to Global Engagement
Thursday, April 24 2014
8.30AM        Coffee & continental breakfast available
9.00AM        Opening Remarks
Muhammad Zaman, Pardee Center Task Force Convener
Tony Janetos, Pardee Center Director
Murat Kaval, Chief Executive Officer, Peace Islands Institute
Introduction to the Session
Muhammad Zaman
9.30AM       With, Not For: Building Innovation Ecosystems
Andrew Zolli, PopTech
10AM           Innovation Scorecard and Strategic Performance Management in Higher Education Institutions in Turkey
Ali Coskun, Fatih University, Turkey
10:30AM    BRICS' Global Engagement: Innovative Capacity Building Strategies
Mihaela Papa, Harvard Law School
11:15AM        BREAK
11:30AM    Global Gaps in Science and Technology – Can Innovation Promote Global Equality?
Hannes Toivanen, VTT – Technical Research Centre of Finland
12 noon      Current Challenges to the Higher Education System in Turkey:
Is Adapting US Models the Right Solution?
Ali Yurtsever, American Islamic College (Chicago)
12:30PM    BICS + Innovations in the Expansion of Healthcare Coverage
Joseph Harris, Boston University
1:00PM           LUNCH
2:00PM       Panel 1 with Q & A: Innovation Capacity and the Future
Ali Coskun, Mihaela Papa, Hannes Toivanen
Moderator: Muhammad Zaman
2:45PM       Panel 2 with Q & A: Education and Healthcare
Joseph Harris, Ali Yurtsever, Muhammad Zaman
Moderator: Hannes Toivanen
3:30 PM      Closing Remarks