Pardee House Seminar on the Future of Biogas Set for October 31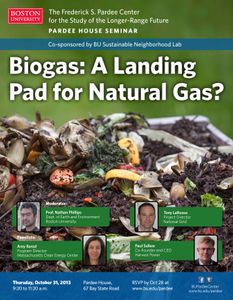 The Frederick S. Pardee Center for the Study of the Longer-Range Future is collaborating with the Boston University Sustainable Neighborhood Laboratory to present a seminar on Thursday, Oct. 31 titled "Biogas: A Landing Pad for Natural Gas?"  It will take place at Pardee House, 67 Bay State from 9:30 to 11:30 a.m.
Prof. Nathan Phillips of the BU Earth and Environment Department, a Pardee Faculty Fellow and Acting Executive Director of the Sustainable Neighborhood Lab, will moderate the session. Featured speakers will be Amy Barad, Program Director at the Massachusetts Clean Energy Center; Tony LaRusso, Project Director at National Grid; and Paul Sellew, Co-Founder and CEO of Harvest Power.
The seminar panel will discuss whether biogas — renewable gas generated from waste — can help natural gas achieve its promise as a bridge fuel to a clean energy future. The panel will explore the environmental, economic, and regulatory opportunities and challenges in scaling up renewable gas in Massachusetts, and across the nation and the globe.
Seating is limited and advance registration is required by Oct. 28. To register, click here.

Amy Barad is a Program Director at the Massachusetts Clean Energy Center, a quasi-public agency dedicated to growing the Massachusetts clean energy sector. Amy manages grant programs that provide financial support to renewable energy project developers, including developers or hosts of anaerobic digestion facilities. She previously worked for the Massachusetts Water Resources Authority, where she managed policy, planning, and regulatory issues related to the products of its anaerobic digestion facility, and was also a founding director of the North East Biosolids & Residuals Association.
Tony LaRusso is a Project Director at National Grid, responsible for the overall delivery, management, and governance of Liquefied Natural Gas (LNG) projects including licensing, engineering, procurement, and construction through commissioning to commercial operation. In more than 17 years at National Grid, he has held various positions including Gas Operations Compliance Manager, Delivery Manager in a Sustainable Gas Group, LNG Operations Manager, and Gas Project Engineer.
Nathan Phillips is Professor of Earth and Environment at Boston University. His research focuses on physiological mechanisms that regulate water, carbon, and energy exchanges between plants/ecosystems and the environment, especially in the context of environmental change.  More recently, this research has been translated to studies of the ecology "in cities", and the ecology "of cities", in an interdisciplinary research program called "Urban Metabolism" supported by the National Science Foundation and Boston University's Sustainable Neighborhood Laboratory.
Paul Sellew, Co-founder and CEO of Harvest Power, Inc. and its group of companies, has been a leader in the organics industry for more than 25 years. Harvest is the leading manager of organics in North America with a focus on maximizing value through production of renewable energy and high quality fertilizer and compost based soil and mulch products.  In 1982, Paul founded Earthgro, Inc., which grew to be the second largest producer of compost-based lawn and garden products in North America. He has also been a senior executive with Synagro, Inc. and also founded and led International Process Systems, Inc. (composting technology provider), Allgro, Inc. (compost marketing firm), Environmental Credit Corp. (carbon credit creation and trading), and Backyard Farms (hydroponic greenhouse tomato producer).