Pardee Center Publishes "Issues in Brief" on New Mercury Treaty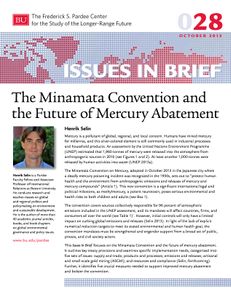 The Frederick S. Pardee Center for the Study of the Longer-Range Future has published a new paper in the Issues in Brief series.
"The Minamata Convention and the Future of Mercury Abatement" was written by Pardee Faculty Fellow Henrik Selin, an expert on global environmental governance issues who has been closely following the negotiations leading to this agreement. In the brief, Prof. Selin calls the new convention "a significant international legal and political milestone," but argues that to have real impacts in protecting human health and the environment, the convention will need to be strengthened over time by coordinated action across global, regional, national, and local governance scales.
An electronic version of the paper can be downloaded from the publications library on the Pardee web site. Hard copies are free and may be requested by sending an email to pardee@bu.edu.