Kevin P. Gallagher Quoted in Bloomberg Businessweek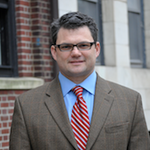 Faculty Fellow Kevin P. Gallagher is quoted in Bloomberg Businessweek's article, "IMF Officially Endorses Capital Controls in Reversal." Also quoted is  Paulo Nogueira Batista, Executive Director for Brazil and eight other Latin American countries at the International Monetary Fund, who was the featured luncheon speaker at a September 2011 meeting of the Pardee Task Force on"Managing Capital Flows for Long-run Development." In the article, Prof. Gallagher and Mr. Batista both say the new regulations should have broader applications.
The Pardee Task Force Report, Regulating Global Capital Flows for Long-Run Development, and other related Pardee publications and events are available at the Task Force On Regulating Global Capital Flows page.  A second Pardee Task Force Report on the compatibility between capital controls and the global trading system will be published early next year.  Prof. Gallagher's work on this issue is part of the Pardee Center's Global Economic Governance Initiative, which he leads.