2011 Pardee Center Summer Program Begins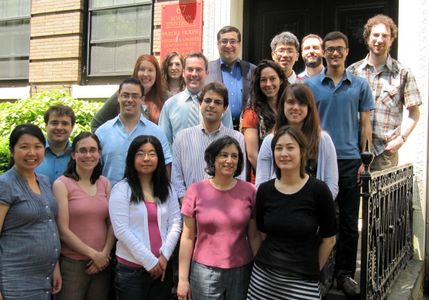 The Boston University Frederick S. Pardee Center for the Study of the Longer-Range Future kicked off its 2011 Summer Program today with the arrival of the 2011 batch of Pardee Center Graduate Summer Fellows. Launched in 2008 and formalized in 2009, this is the third year of the Summer Fellows program.
The 2011 class of Pardee Center Graduate Fellows includes graduate students from the BU departments of Political Science (2), Religion (1), International Relations/Geography & Environment (1), Anthropology (1), History (1), Economics (1), School of Public Health (1)  and the School of Management/Economics (1).
The Pardee Center Summer Graduate Fellows program is now the centerpiece of the summer activities at the Pardee Center and brings together some of the brightest graduate students from across Boston University to a 10-week program of inter-disciplinary research at Pardee House. Fellows conduct their individual research and are expected to complete a research paper within the 10-week program, but also benefit from a set of structured activities designed to facilitate cross-disciplinary conversations amongst the Fellows and with faculty members and scholars from across Boston University. Selected papers are published in various Pardee Center publication series.
The Pardee Center will also continue its various events, including the  Pardee House Seminars series during the summer. A number of other events are also planned at Pardee House for summer 2011.
For more information on the 2011 Summer Fellows, see here.
For more information on the Pardee Summer Graduate Fellows Program, see here.