Experts Discuss Future Challenges in Dealing with Disasters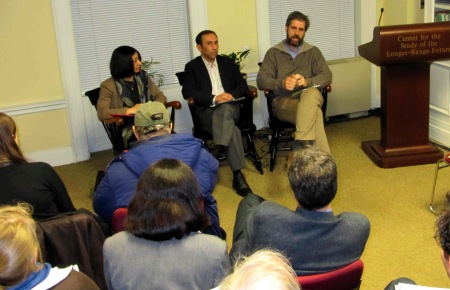 On Tuesday, March 30, 2010, The Frederick S. Pardee Center for the Study of the Longer-Range Future held a lunch seminar on 'Future Challenges: Dealing with Disasters'. Part of the 'Pardee House Seminars' series, the event featured Dr. Pablo Suarez, Prof. Anuradha Mukherji , and Prof. Enrique R. Silva, and was moderated by Prof. Adil Najam, Director of the Pardee Center.
Prof. Anuradha Mukherji is Adjunct Faculty at the City Planning and Urban Affairs program at Boston University, where she teaches courses on Disaster Recovery Planning and Comparative Housing. She kicked off the discussion by suggesting that we should look beyond disasters as a response issue but also to view it as a development issue. To address the complex issues that surround disasters, Prof. Mukherji suggested that we use a framework that includes economic development, environmental protection and social justice.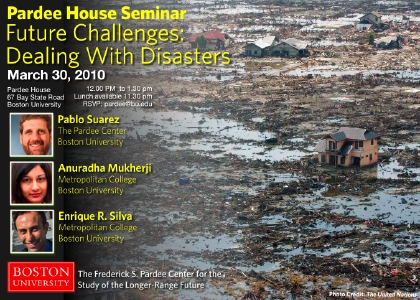 Prof. Enrique R. Silva is Assistant Professor of Urban Affairs and City Planning, at Boston University. He argued that disaster management deals with issues of sovereignty and the design of the planning process. He highlighted the need to focus on decisions for planning processes, to understand how processes are run in the affected regions and for stakeholders to work collaboratively. He also shared his experiences in the decent Haiti Earthquake disaster and the lessons that we can learn from this. Prof. Silva had been closely working with the Haiti government both before and in the immediate aftermath of the disaster.
Dr. Pablo Suarez is a visiting fellow at the Pardee Center and a guest scholar at the International Institute for Applied Systems Analysis (IIASA). He has also been working with the International Red Cross-Red Crescent Movement. He addressed the role of applying knowledge to future disasters and pointed out the fundamental separation between knowledge producers and actors. Dr Suarez's comments focused on the need to link knowledge to action for effective and efficient disaster management. His remarks built around some of the lessons highlighted in his recent Pardee Paper on "Linking Climate Knowledge and Decisions: Humanitarian Challenges."
All three speakers used the recent earthquakes in Haiti and Chile as points of reference.
Following the presentations the audience engaged in a lively discussion with the panelists. The issue of linking knowledge to action expanded into a discussion that included the audience. Some of the other issues discussed included adaptation strategies, the role of media in reporting disasters and the need to strengthen local capacities and make use of local knowledge.
The video of the seminar will be soon made available at the Pardee Center's multimedia webpage.