Experts Discuss Decentralization and Development at Pardee Seminar
On Monday, Mar 1, 2010, The Frederick S. Pardee Center for the Study of the Longer-Range Future held a seminar on 'Decentralization and Development: Making Local Governance Deliver'. Part of the 'Pardee House Seminars' series, the event featured Ms. Ghazia Aslam, Prof. John Gerring and Prof. Dilip Mookherjee, and was moderated by Prof. Adil Najam, Director of the Pardee Center.
Prof. John Gerring is a Professor of Political Science at Boston University and a Pardee Center Faculty Fellow. He kicked off the discussion by addressing the fact that decentralization and local governance is a largely understudied area. He also highlighted the link between decentralization of governance with democracy, in the sense that the quality of local governments are usually determined by the quality of democracy on the ground.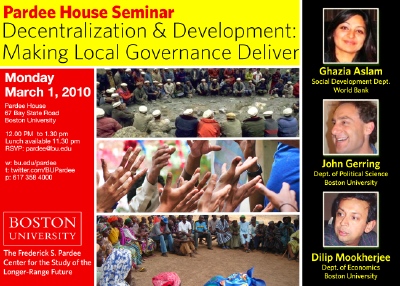 Ghazia Aslam is currently working with the Social Development Department (SDV) at the World Bank and is a doctoral candidate at the School of Public Policy at George Mason University. She provided a brief on the Economic and Sector Work Report recently published by the SDV which aims at helping stakeholders implement decentralization reforms. The reports consolidates the three aspects of local governance – physical, political and administrative, and analyzes the interactions between the three aspects. Ms. Aslam explained that the report highlights the need to understand the political landscape before implementing decentralization reforms.
Prof. Dilip Mookherjee is a Professor of Economics at Boston University and the Director of the Institute for Economic Development. In his opening comments, he pointed out that the key word to keep in mind in talking about decentralization of governance is 'heterogeneity.'; that the experience varies greatly across countries. Prof. Mookherjee also highlighted the impressive results of decentralization in countries such as Brazil, India, Bolivia and South Africa. However, he warned that there are several key pitfalls in decentralization and reminded the audience to consider factors such as capacity, coordination, funding and comprehension among stakeholders. He concluded that decentralization is no silver bullet for development given its many pitfalls but can be an effective tool for development when implemented with the considerations in mind.
Following the presentations the audience engaged in a lively discussion with the panelists. Some of the issues discussed included the dangers and promise of decentralization, the long term effects of decentralization and the role of external aid agencies in decentralization. The discussion and the conversation focused on the experiences from various parts of the world, including Kenya, India, Pakistan, Afghanistan, Rwanda, Indonesia, and elsewhere.
The video of the seminar will be soon made available at the Pardee Center's multimedia webpage.