Pardee Center Hosts Workshop on Complexity of Higher Education in Developing Countries
Scholars from multiple disciplines and practitioners from around the world met at Boston University on October 27 – 28, 2009, to discuss how we can define success and sustainability of a higher education system in the context of a developing world.
This workshop was supported by a grant from The National Academies Keck Futures Initiative and was sponsored by the Boston University Provost's office, the Department of Biomedical Engineering and the Frederick S. Pardee Center for the Study of the Longer-Range Future. The workshop focused on understanding the dimensions of the higher education 'systems' in developing countries with the hope of turning that understanding into a larger program of interdisciplinary research and activity.
The first day of the workshop was divided into three sessions, dealing with (a) understanding the dimensions of complexity of higher education systems in developing countries, (b) identifying the metrics by which the sustainability of a higher education at the system level (as opposed to the institution level) may be gauged, and (c) identifying the data requirements and data gaps in data on higher education systems in developing countries. Discussions on the second day focussed more specifically on next steps and identifying key issues and challenges for future research on the subject. The follow up of the meeting will be the development of a more comprehensive plan and proposal for development and execution of these quantitative models. Insights from the workshop will also feed into the Pardee Center's ongoing research on education in developing countries.
The Workshop was led by Pardee Center Faculty Fellow Prof. Muhammad Hamid Zaman, Pardee Center Director Prof. Adil Najam, and Boston University Provost David Campbell.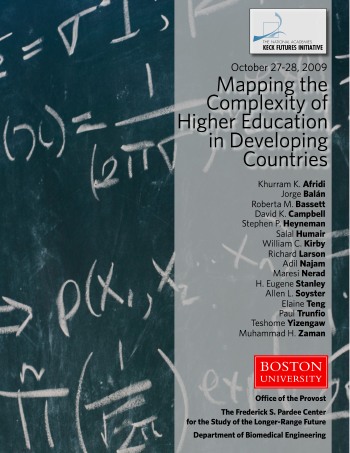 The workshop was attended by the following:
Khurram K. Afridi
Jorge Balán
Roberta M. Bassett
David K. Campbell
Stephen P. Heyneman
Salal Humair
Richard Larson
Adil Najam
Maresi Nerad
Parth Sarwate
Mary H. Shann
H. Eugene Stanley
Elaine Teng
Paul Trunfio
Teshome Yizengaw
Muhammad H. Zaman