CTL Reading List
Looking for teaching inspiration? The books below are based on research, rich with examples and practical suggestions, and relevant across the disciplines. Whether you are a seasoned faculty member or a graduate student new to the classroom, we highly recommend them.
---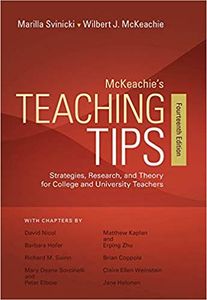 McKeachie's Teaching Tips: Strategies, Research, and Theory for College and University Professors by Marilla Svnicki, Wilbert McKeachie, and David Nicol (available through the BU Library)
This classic book, now in its 14th edition, is the Reader's Digest version of university teaching. The book outlines practical tips for planning a class, managing a classroom, active learning strategies, facilitating discussion and assessing student learning.  It also provides tips for written feedback, teaching diverse students, and so much more. It's a handy guide and a must-have for all professors.
Minds Online: Teaching effectively with technology by Michelle Miller (available as an eBook through the BU Library)
Minds Online provides an evidence-based approach to teaching with technology.  From blended and flipped courses to fully online classes, Miller provides contexts and examples of appropriate technology use (e.g., visual aids) to deliver quality educational materials and learning experiences. Miller incorporates the latest neuroscience research  to specifically illustrate how learning activities translate to the online context so that students stay motivated in their online classes. Any faculty member teaching an online course at Boston University will find these tips and perspectives helpful.
Small Teaching by James Lang (available as an eBook through the BU Library)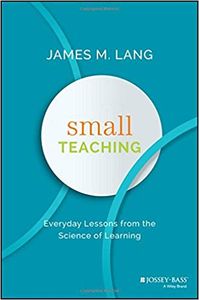 James Lang's book bridges research and practice by introducing evidence-based "small teaching" techniques that educators in all disciplines can use to enhance student learning.  Requiring minimal preparation or grading, Lang's suggested strategies are designed to promote active learning in your classroom.
"Lang's book offers what so many faculty members want and need: small-scale changes that can enhance their teaching and their students' learning – not just 'someday' but Monday."  – Marsha C. Lovett, Director, Eberly Center for Teaching Excellence & Educational Innovation, Carnegie Mellon University
"The notion that amazing teaching can come as a result of making small, research-based changes seems simple, but it has the potential to empower many in higher education.  James Lang has done us all a great service by providing strategies that allow us to be more efficient and effective in the classroom without overhauling our entire approach to teaching." – Joshua Eyler, Director, Center for Teaching Excellence, and adjunct associate professor of the humanities, Rice University.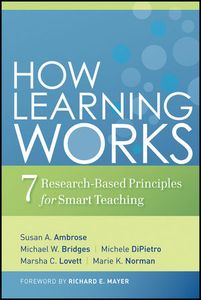 How Learning Works: Seven Research-Based Principles for Smart Teaching by Susan Ambrose (available as an eBook through the BU Library)
How Learning Works distills core principles in cognitive and educational psychology into bite-sized teaching tips. This seminal book provides concrete case studies and examples to illustrate key learning sciences research on how students organize knowledge, achieve mastery, and become self-directed learners. It emphasizes the pedagogical utility of fostering a welcoming classroom climate and providing practice and feedback. Together, the expert framing of research and application into distinct topical chapters invites instructors from all disciplines to reflect on ways to improve their craft – as well as to recognize research-based principles they already employ in their teaching practice. A must-read for any teacher, whether new to the field or experienced!
"Thank you Carnegie Mellon for making accessible what has previously been inaccessible to those of us who are not learning scientists. Your focus on the essence of learning combined with concrete examples of the daily challenges of teaching and clear tactical strategies for faculty to consider is a welcome work. I will recommend this book to all my colleagues."—Catherine M. Casserly, senior partner, The Carnegie Foundation for the Advancement of Teaching"
Engaging Ideas: The Professor's Guide to Integrating Writing, Critical Thinking, and Active Learning in the Classroom by John C. Bean (available through the BU Library)
John Bean's eminently practical book offers approaches that work across the disciplines to help students engage course content deeply, using writing not as an end in itself but as a way to enhance critical thinking. It provides useful strategies for infusing active learning throughout a class, crafting meaningful problem-based assignments, and offering more useful feedback more efficiently. Bean's advice is grounded in research and informed by practice.
"Not only do the ideas and strategies in the book engage the teacher, but they help the teacher engage students with concepts, principles, questions, and problems of the discipline under study. In the preface, Bean states the basic premise of the book–that critical thinking and all significant learning originate in the learner's engagement with problems." –Mary Beth Culp, The National Writing Project
---
Next up? Our most interesting reads for 2019 so far. Stay tuned!