BU CS Reflects on the Grace Hopper Celebration
In early October, over 18,000 people descended on Orlando, Florida for the Grace Hopper Celebration of Women in Computing (GHC), the world's largest gathering of women technologists. For the second year in a row, Boston University (BU) was a high-level academic sponsor of the conference – the result of a collaboration between the Department of Computer Science (CAS/CS) and the Department of Electrical & Computer Engineering (ENG/ECE). Within the crowd, a contingent of 17 BU students, faculty, and staff could be found forming new connections, connecting with potential employers, and discussing the challenges inherent to women technologists.
The conference began with a keynote speech by Melinda Gates, Co-Chair of the Bill and Melinda Gates Foundation. Gates spoke about the importance of getting young women excited about technology.
"It's time the world starts recognizing that the next Bill Gates might not look anything like the last one," said Gates. "For anyone and everyone who has talent and interest, there should be a way into tech."
The speech by Gates was cited by many BU CS attendees as a memorable moment. Carolyn Montague (CAS'18), a BU CS senior, was in attendance.
"I was able to see the great keynote speech by Melinda Gates which was especially interesting for me because, for one thing, she is incredible, but also she worked for a long time with one of my aunts in Seattle, so getting to see her speak to such a large audience was very cool," said Montague. "Her speech was inspiring and I was very grateful to get to watch her present."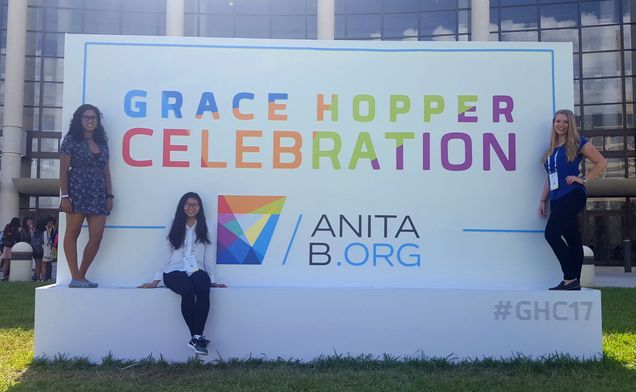 GHC offered many opportunities for attendees to network with potential future employers. Well-known companies including Facebook, Google, and Liberty Mutual were in attendance. Ivorine Do (CAS'19), a BU CS junior, was impressed with the variety of opportunities available for networking.
"I was amazed at the number of companies that were present because it showed that they cared about diversity and inclusion in their tech space," said Do. "I could feel how much opportunity was available in the room and it almost seemed like there were more women employees from these big firms [than] there were students looking for internships or jobs."
Beyond keynote speakers and the career fairs, GHC also featured a series of career-building talks led by successful women in technology. Shreya Ramesh (CAS'18), a BU CS senior, said the talks gave her valuable advice for advancing her career.
"There were some career-building talks that I attended that covered topics including tech-adjacent careers, interview strategy, and the difference between working at a large company compared to a small startup," said Ramesh. "In addition to giving valuable and concrete steps I can take, it was extra inspiring to hear women speak about their challenges in the field and providing advice based on their personal experiences."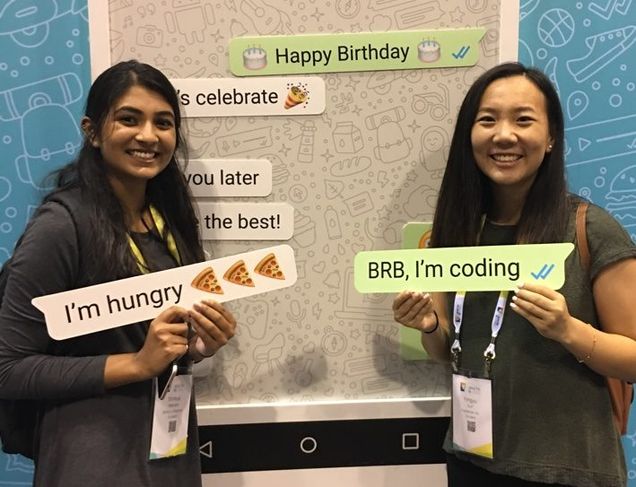 GHC was the first time BU CS Master's student Anya Gilad (GRS'17) attended a conference of such magnitude. She said she was, "surprised and amazed by the organization and spirit of this event," and was heartened by the diversity of speakers.
"It was great hearing about different types of women that started their careers in different ages with different backgrounds," said Gilad. "Especially since, [relative] to other students studying with me, I'm older and [that] worried me."
Attendees also had the opportunity to attend events outside of, but in conjunction with the main conference. Sreeja Keesara (CAS'19), a BU CS Junior, took advantage of the extracurricular activities.
"I went to a Capture the Flag competition and did crypto challenges with other girls," said Keesara. "I got to build a community of women that I can reach out to again and I had a lot of fun doing it."
All of the students in attendance agreed that GHC was a great event that provided them with the opportunity to make connections and learn about their potential in the field. Sanaz Bahargam (GRS'17), a BU CS PhD graduate, spoke with optimism regarding the impact of GHC and the future for women in technology.
"I think it's crucial for women to support each other to build a brighter future together," said Bahargam. "Grace Hopper is the celebration of who we are and where we go next."