Adelaide Cromwell (Hon.'95), Founder of BU's African American Studies Program, Dies at 99
Tributes
Adelaide Cromwell (Hon.'95), Founder of BU's African American Studies Program, Dies at 99
A distinguished sociologist from a distinguished family
It isn't every professor who can study her own heritage. Classicists aren't ancient Greeks; computer scientists aren't, well, machines. But sociologist Adelaide Cromwell (Hon.'95), scion of an African American family of overachievers, forged a distinguished career studying a group she knew intimately: black leaders, political and otherwise, here and in Africa—including her own relatives.
"Mercedes Africans," she called them.
The longtime Brookline resident, who died June 8 in hospice care, five months shy of her 100th birthday, cofounded the University's African Studies Center in 1953, two years after joining the faculty. More than 90 faculty and researchers spanning BU are affiliated with the Center today, which not only oversees courses here but arranges study for Terriers at Harvard, Northeastern, MIT, Tufts, and Boston College. At the time of her death, she held the title professor of sociology emerita.
In 1969, Cromwell founded BU's African American Studies program, the country's second such program after San Francisco State's and the first to offer a graduate degree in the subject. She began the program partly as a response to the civil rights movement and the shock following the assassination of the Rev. Martin Luther King, Jr. (GRS'55, Hon.'59) the year before.
"As with the great upsurge of activism in the late '60s, many programs began to be pressured to address the interests of black students, but also to address the racism of both faculty and students in higher education," says Louis Chude-Sokei, a College of Arts & Sciences professor of English, the George and Joyce Wein Chair in African American Studies, and director of the African American Studies Program. "There was a general lack of knowledge and information about black peoples and their contributions to history and the world."
"She was a leading figure in rectifying that via establishing the program" before retiring from BU in 1985, he says. "She was an expert on the black elite in America and in Africa."
When Colby College awarded Cromwell an honorary Doctor of Laws in 2011, her citation read, "Your books, edited volumes, and articles on Africa, on Boston's black upper class, on African feminism and African education, and on your own family's historical connections to the making of America compose a rich scholarship that reaches across three centuries and that unveils the contributions of black Americans to a changing America and world."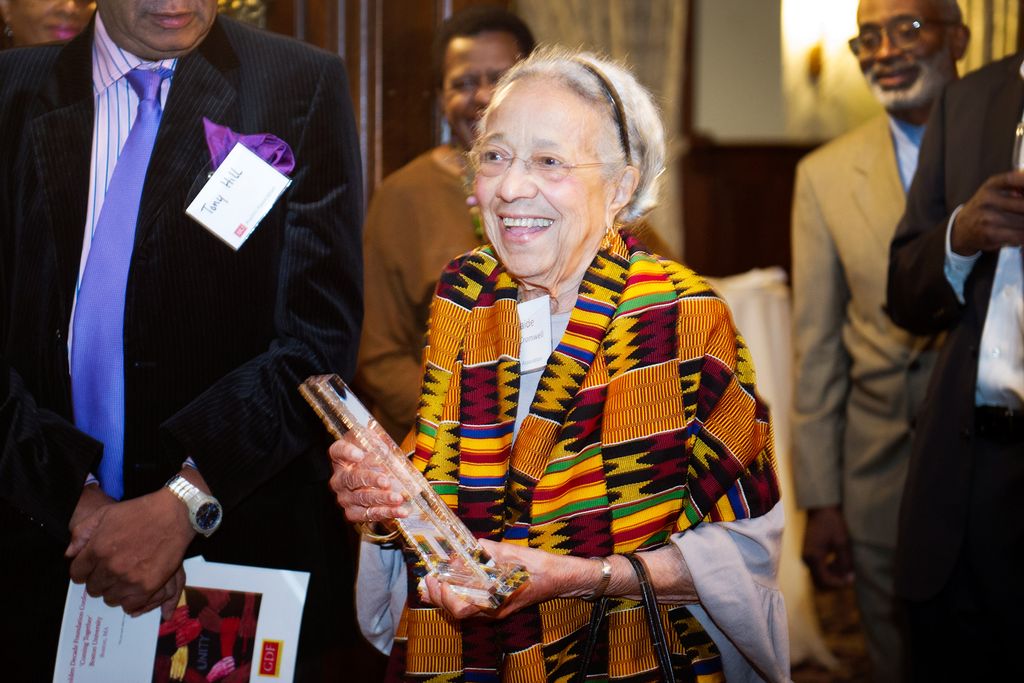 Cromwell was born in Washington, D.C., in 1919. Her book Unveiled Voices, Unvarnished Memories: The Cromwell Family in Slavery and Segregation, 1692–1972, published when she was 87, is a family history that recounts her relatives' many firsts.
Her father was Washington's first black certified public accountant, she said. Her aunt, Otelia Cromwell, was the first African American woman to receive a doctorate from Yale University.
Otelia Cromwell was a 1900 graduate of Smith College in Northampton, Mass., from which her niece received her own bachelor's degree in 1940, and where Adelaide would become, in the late 1940s, the first African American faculty member. She'd broken the race barrier already, in 1946, as the first black faculty member at Hunter College in New York City.
In addition, the Cromwells were related to Edward Brooke (LAW'48, Hon.'68), the late US senator from Massachusetts who was the first African American popularly elected to the Senate.
Cromwell earned a master's degree from the University of Pennsylvania and a doctorate in 1953 from Radcliffe, where her dissertation focused on Boston's African American elites. Focusing on such lesser-known communities as Martha's Vineyard's black residents and African American graduates of prestigious Boston Latin School, the book was published more than four decades later as The Other Brahmins: Boston's Black Upper Class 1750–1950.
What remained constant through her multi-institution career was her scholarly interest in black leadership. She traveled numerous times to Africa, visiting countries from Ghana to Liberia to the then Belgian Congo. (Her trip predated its 1960 independence and later rebirth as the Democratic Republic of the Congo.)
These inquiries yielded a body of work that Colby College's citation lauded: "We honor you today for nourishing a spirit of inquiry and discovery in African studies and in African American studies that has inspired scholars and communities throughout the world."
A memorial service for Cromwell will be held at Marsh Chapel on November 5 at 1 pm.