Program History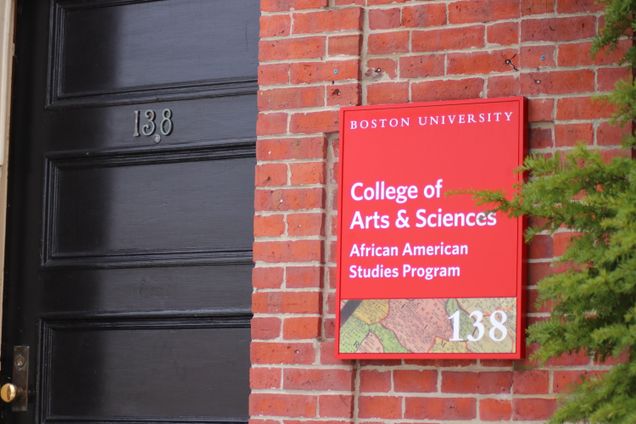 African American Studies Program building.
On Thursday September 25, 1969 an article in The News, Boston University's newspaper, announced that "a program leading to the Master of Arts degree in Afro-American Studies is being offered by the University this year for the first time." The first seeds of the program, which enrolled four students in its first year, had been sown back in February of 1968 when an African American student had approached Dr. Adelaide Cromwell (known then as Dr. Hill) about the need for some kind of department at Boston University to focus on African American Studies.
That year was a volatile one in American and African American history, and no less so at Boston University. The United States had been in a jungle war in Vietnam for three years, and opposition to the war was growing across the country. On March 31, 1968, President Lyndon Johnson responded to swelling anti-war sentiment manifested in the New Hampshire primary election by announcing his decision not to seek another term. Less than a week later, on April 4, Boston University alumnus Martin Luther King, Jr. was assassinated in Memphis, Tennessee. On April 11, President Johnson signed the Civil Rights Act, landmark legislation prohibiting discrimination in the sale, rental, and financing of housing. Violence continued through the summer, however, with the assassination of presidential hopeful Robert F. Kennedy and rioting at the Democratic National Convention in August.
In the wake of this turmoil, Boston University established the first graduate African American Studies Program in the country, an initiative that was the result of conversations between Dr. Cromwell and Deans William J. Newman and Calvin B.T. Lee. The program combined university coursework with field assignments in the greater Boston community. Community engagement was particularly important to Dr. Cromwell who stated that "you want the community to care, to feel that they have the right to tell you if something is wrong." In 1976 the program expanded to offer a joint MA degree with Journalism under a grant from the National Endowment for the Humanities.