Staking a Claim in Worcester
BUSSW launches new hybrid MSW program in response to community need
Who better understands the needs of a community than social workers trained in that community? This is the premise behind BUSSW's first-ever hybrid program launched in Worcester in fall 2019. An innovative part-time offering, it combines the best of classroom, field, and online learning to students in Central Massachusetts. The new program started off strong.
"We were hoping for 10 students and we started the first cohort with 14," says Mena daSilva-Clark, assistant dean of off-campus and online programs. "This tells you the need is there. This new hybrid program will address the ongoing need for social work education, field training, and community partnerships throughout Central Massachusetts."
With majors in both clinical and macro social work practice—plus two track options—the Worcester hybrid program ensures that each student's graduate program is specifically tailored to their academic goals and professional experience.
"The best part is that most of these students have grown up in the Worcester area," daSilva-Clark says. "They know the community; they know the systems. We're really excited, and the community is too. The program perfectly illustrates our mission to 'educate social workers in the community and for the community.'"
Community Response
The Worcester hybrid program was born of community need. After Wheelock College's merger with Boston University in 2018, the existing Wheelock Worcester MSW program was continued only for existing students with a plan to close the program once they graduated. Encouraged by city leaders and state legislators—28 of whom signed a letter advocating for the BU MSW—the School of Social Work launched the new hybrid program, bringing rigorous curriculum, practical research, and field placement opportunities to students in Worcester, the city that prides itself as the "Heart of the Commonwealth."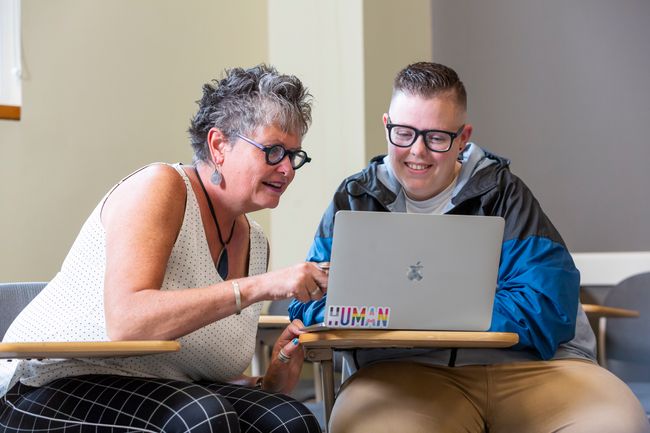 BUSSW was fortunate to tap the expertise of several Wheelock faculty and staff who knew the landscape well, having been involved with the Wheelock Worcester program since it launched in 2011.
Hope Haslam Straughan, now clinical associate professor at BUSSW and former dean of the Wheelock School of Social Work, Leadership and Youth, says, "Through this new program, we want to contribute to the innovative initiatives happening throughout the Worcester area to meet the needs of this diverse community. We recognize the engagement of city officials, community leaders, and residents alike in this historic community and look forward to supporting this strong fabric of potential and resilience for Central Massachusetts."
Susan Brostrup-Jensen, campus director for the new program, adds, "Our vision is that we become an integral component of the resources in Worcester, and not just a satellite program housed here. In addition to building collaborations through field placements, we plan to create and participate in opportunities such as community events, trainings, and student projects."
Community Impact
According to Worcester County District Attorney Joseph D. Early Jr., the program comes at an opportune time. "Law enforcement, public health, hospitals, schools, and city government in Worcester are working together to fight back against the opioid addiction epidemic affecting everyone in the city. The presence of BU's social work program can only help. Social workers are key to coping with this scourge," he notes, since they work with people as they move forward in recovery, as well as with their families.
Commissioner of Health and Human Services for the city of Worcester Matilde Castiel, MD, points out that the need for skilled social workers goes far beyond the opioid epidemic. "We also need social workers in our schools dealing with trauma, and in our community overall dealing with mental health issues, homelessness, and helping people navigate our health care system. We look forward to BUSSW students and graduates becoming part of our community and understanding the nuances of our diverse populations."
Value Added
For their part, agencies based in the city are looking forward to potential partnerships. The new program "helps integrate New England's two largest cities, each with their own perspective, allowing for an exchange of information and knowledge," says Romas Buivydas, vice president of clinical development for Spectrum Health Systems. The BU MSW is "a great pipeline for our various programs and potential new hires," he says, noting that Spectrum clinicians could help teach courses and supervise MSW students in field placements.
"I am excited to have this new MSW program in the city," adds Susan Hillis, vice president of clinical services at AdCare Hospital. The BUSSW program "attracts talent from area towns and gives students the ability to see what agencies in Worcester are doing to introduce fresh new ideas and changes for the future."
BUSSW Dean Jorge Delva sees the Worcester hybrid program as an ideal complement to the school's portfolio of programs—which include on-campus, online, and satellite locations in Cape Cod, Bedford, and Fall River.
"Like so many communities, Worcester is working hard to address the often-overwhelming need for social work services," Delva says. By starting this program, "we've heard the call and are committed to providing an innovative, hybrid MSW program to Central Massachusetts. We look forward to building a strong, mutually beneficial relationship with the city of Worcester, its surrounding towns, and our peers in public service organizations who share our dedication to creating healthy communities."
---