Spotlight: Kristina Whiton-O'Brien, LICSW (SSW'95)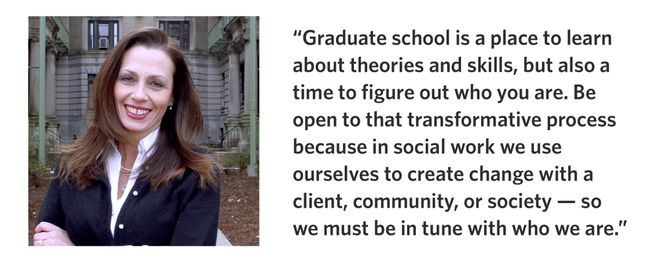 Kristina Whiton-O'Brien, LICSW (SSW'95), recently appointed to the Plymouth County Commission on the Status of Women, shares highlights from her journey as a faculty advisor, a field instructor specializing in child welfare and management, a clinical professional at government and non-profit agencies, and in her current role as assistant director of online advising and field education at Boston University School of Social Work.
---

How did your interests evolve during your student years at Boston University School of Social Work (BUSSW)?
I fell into the field of child welfare because of my undergraduate internship at The Rhode Island Department of Children, Youth and Families; after that, I knew I wanted to work with children and families. While I was in the social work program at BU, I received a child welfare scholarship and honed my interest in courses like child psychopathology and family law. In a social justice course, I learned about oppression, racism, and cycles of violence, which helped broaden my understanding of what children and families experience and why it's challenging for individuals to make changes and get out of certain situations.
What was your first job after BUSSW?
I relocated to Maryland and joined the Prince George's County Department of Social Service, where I worked with an incredibly diverse population. It exposed me to the kinds of issues happening in other parts of America — including the oppression of people of color living right outside of the capital of our country, the very seat of power and decision-making.
What types of social work positions did you have in the Boston area?
In 1996 I moved back to Boston and worked as a clinician for Children's Friend & Service in Providence, Rhode Island, in the family counseling and adoption program. As I grew professionally — becoming a clinician supervisor, coordinator, and program manager — I moved further away from clinical work, but I enjoyed working with clinicians on their own professional development and seeing the complex issues facing children and families through their eyes. I also spent time lobbying for funding and testified before the Rhode Island State Legislature. Eventually, I joined the Massachusetts Department of Children and Families as an adoption contract manager working with adoption agencies across the state on budget and policy issues.
How did you make your way back to BUSSW as a staff member?
I always enjoyed working with student interns. When I met with advisors from different social work schools, I found that their job appealed to me. After I learned more about what it meant to be an advisor, I circled back to Boston University and eventually became a part-time advisor for the Cape Cod program in 2010. I was hired full time as assistant director for online advising and field education in 2012. I remember talking with Trudy Zimmerman about career options at BUSSW. She was so helpful to me as Assistant Dean of Field Education when I was a student and I was eager to come back to BUSSW and work with her as a colleague.
What has your job taught you about BUSSW students?
When I was here as a graduate student in 1993, I worked full time to pay for school.  Today students are still managing a lot; employment, family obligations, as well as their education. The difference now is that the online program has given access to students who didn't think graduate school was possible because of these other commitments. Students from anywhere in the U.S. can earn a Boston University MSW and not have to move to Boston. It's an incredible change!
What advice do you have for BUSSW students to make the most of their educational experience?
Most people go into the field of social work to make a positive difference in people's lives. Graduate school is not only a place to learn about theories and skills, but it is also a time to figure out who you are. Students should be open to that transformative process because in social work we use ourselves to create change with a client, community, or society — so we must be in tune with who we are. Understand the impact your work can have on others and how you will be impacted by your work. Also, take advantage of this opportunity to be a learner. You're laying the foundation for your career so build the time into to your life to commit to coursework and an internship. Make the most of it. It's a big deal.
You teach courses in both ethics and policy. How do those play into the field of social work?
It's important to understand your personal values and the values of the profession, and make sure they're a good fit. The goal is to give clients the autonomy and the ability to change on their own without influencing them with your personal beliefs. As for policy, we cannot focus on the micro aspects of social work only. What is happening at City Hall, the Statehouse, the White House, and in Congress influences individual lives and relationships.
What is your favorite memory from your time as an MSW student?
In a child psychopathology course with Professor Candace Saunders, I read the book There are No Children Here about the Chicago housing projects. It helped me better understand how trauma, poverty, and oppression impact child development. I was not working in a clinical role at the time, so I used the characters in the book to write up an assessment. That assignment helped me to learn that you can't truly understand what a person's life is like unless you've walked in their shoes.
What has been the most challenging part of your career? How did you overcome it?
In social work, challenges often come in the form of barriers as a result of bureaucracy. I believe in truth and justice and doing the right thing. The Rev. Dr. Martin Luther King says "The time is always right to do what is right." I firmly believe that. At times, I tried very hard to be the change and enact change, but the system would not change because of my efforts. That's where the self-care piece has to come in, so you don't burn out. Sometimes, leaving the system or approaching it from another vantage point is necessary. Sometimes, I found that I had to look for new opportunities to grow and change for my own professional and personal development – and that meant switching jobs.
You were recently sworn in as a member of the Plymouth County Commission on the Status of Women. What led you to get involved?
I've always had an interest in politics and legislative advocacy, and I've worked on bills as the director of continuing education and clinical issues for the Massachusetts chapter of NASW. I learned about the Plymouth County Commission on the Status of Women in 2016 when I received their Unsung Heroine Award. I saw an opportunity to get involved in my own county. We live in a time where women's issues are still not first and foremost; women still have a long way to go and I felt that I could make a difference by bringing my skills to the commission. It's an opportunity for me to keep my finger on the pulse of what is happening right where I live, so we can bring in appropriate programs and services and propose relevant and impactful legislation.
Social justice is a big piece of social work and we have to use our voices and come together as a community. I use the hashtag "#socialworkispolitical" because we are part of a profession with a set of values. We have to be clear about what the dignity and worth of a person means, what service means, what social justice means — and really dig in and do the work.