Spring Demo Day 2020
An entire semester of time, dedication, and innovation resulted in Demo Day. A shift to an online platform did not stop BU Spark!'s community from attending Demo Day to support our students and their projects. The presence of 185 participants at Demo Day was a touching reminder that the Spark! community remains as strong and as resilient as ever. We thank our BU Spark! Mentors for supporting our students, our project partners for their dedication to their projects, and the entire Boston University community and beyond for your continued engagement and partnership. 
*- Denotes projects who were winners at Demo Day
Innovation Fellow Project Gallery
NextChange
Piotr Nojszewski, Myles Hayes, Tiam Moradi, Vibhu Bhatia; Max Lexieur, Kaylyn Mok
A commission-free cryptocurrency brokerage using algorithmic trading (already partially built, goal is commercialization
NextChange Website HERE
View NextChange at Demo Day HERE
Veri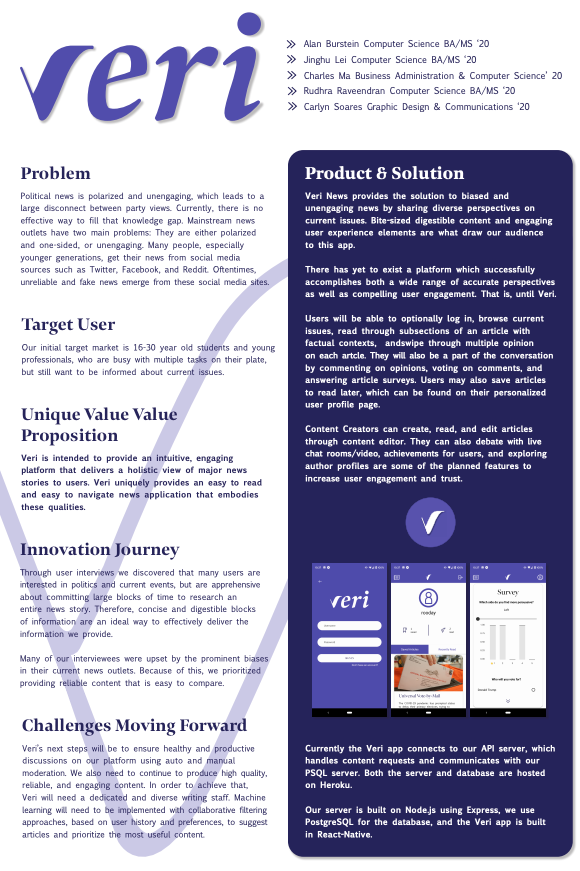 Charles Ma, Alan Burstein, Rudhra Raveendran, Jinghu Lei, Carolyn Soars
Veri is a modern news platform that provides engaging and balanced perspectives on current issues.
Github HERE
View Veri at Demo Day HERE
CoStudy
Henry Kaufman, Brock Nelson, Mariana Dematte, Grace Hebert
CoStudy is a mobile application for students who are looking to consistently schedule meeting with more than 5 people and are frustrated by their peers who are either non-responsive / overbooked by introducing both an active communication / voting based scheduling system (ultimate goal is commercialization)
CoStudy Website HERE
View CoStudy at Demo Day HERE 
*RideFair
Ivy Chenyao, Lavi Zhao, Eric Chao, Keshav Maheshwari, Seyun Om
A mobile app to help users with disabilities navigate public transportation, by providing comprehensive transit accessibility info and features to aid the physical journey for handicapped, visually impaired, and hearing impaired riders.
Github HERE
View RideFair at Demo Day HERE
Winner: Best Tech
My Science Guide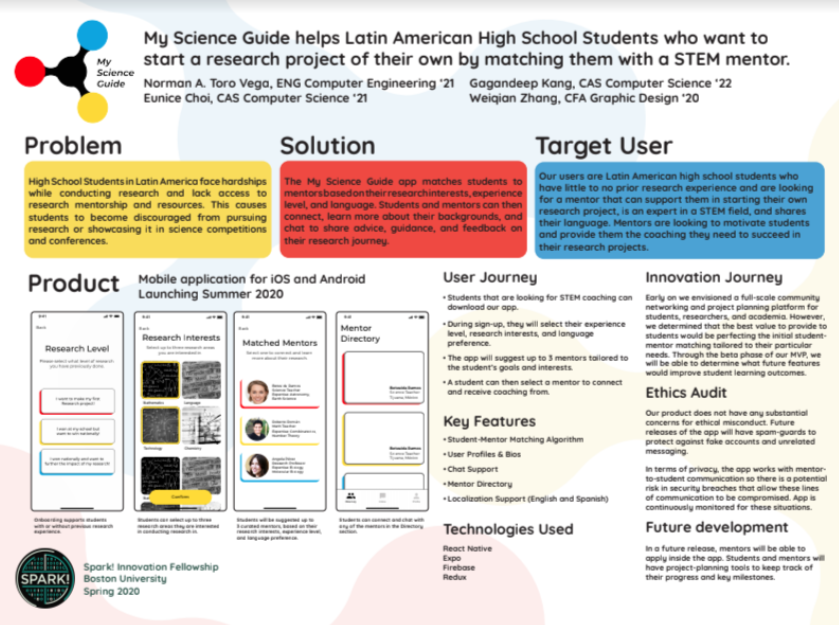 Norman Toro Vega, Gagandeep Kang; Eunice Choi, Weiqan Zhang
My Science Guide is an innovative platfom connecting STEM mentors and Latinamerican High School students interested in pursuing research and competing in international science competitions.
Sign up to learn more about My Science Guide HERE
Download the beta for iOS through TestFlight HERE
You can follow My Science Guide on Social Media: Twitter, Instagram, and Facebook
View My Science Guide at Demo Day HERE 
InRainbows
Hannah Huang, Zhenghui Wang, Emme Enojado
A web application for high school and college-age LGBTQ+ members in Boston to access queer-friendly mental health resources based on their location, insurance, and preferences.
InRainbows Website HERE
Github HERE
View In Rainbows at Demo Day HERE
*MAIMAI
Kehan Wang, Yizhou Mao, Naiwen Xu, Nicole Zhao
A WeChat based app for Chinese students to exchange furniture and other college-related items upon arrival and departure from Colleges in the Boston area. 
App HERE
Github HERE
Prototype HERE
View MAIMAI at Demo Day HERE
Winner: Best Design
CareerCabin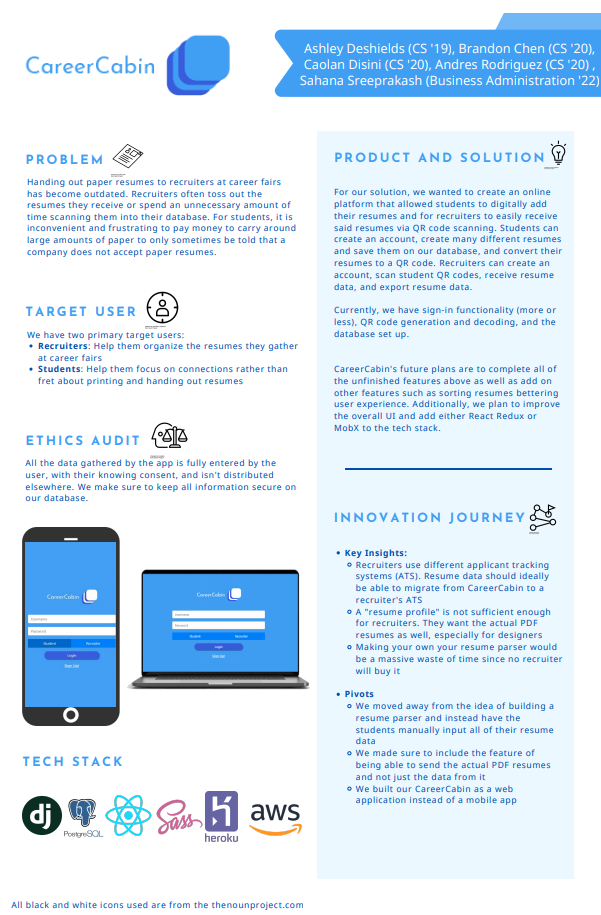 Ashley Deshields, Caolan Disini, Brandon Chen, Andres Rodriguez, Sahana Sreeprakash
CareerCabin is a mobile web app looking to disrupt the traditional way of passing resumes at career fairs by cutting "paper" out of the equation and facilitating resumes through QR codes.
Github HERE
View CareerCabin at Demo Day HERE
ExperienceBU
Ryan Li, Tung Troung; Ben Vu, Nathalie Ye
ExperienceBU aims to address the challenge of finding community at a large University by improving search for events, clubs, and support opportunities
View ExperienceBU at Demo Day HERE 
*BookWorm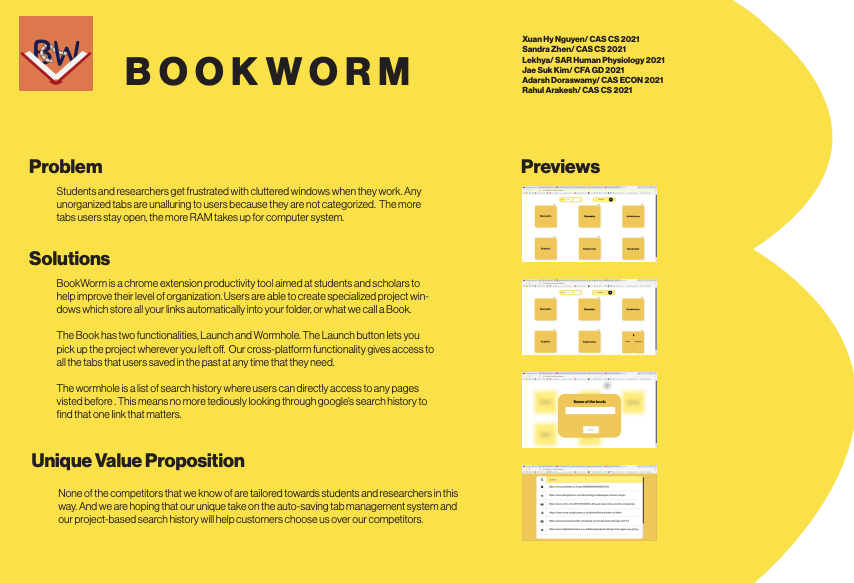 Xuan Hy Nguyen, Sandra Zhen; Rahul Arasikere; Adarsh, Jaes Kim, Lekhya
A web application research tool helping students and scholars research effectively as well as customizing the way online resources are gathered in a systematic way. 
View BookWorm at Demo Day HERE 
Winner: Best Idea
Practicum Project Gallery
Parkaze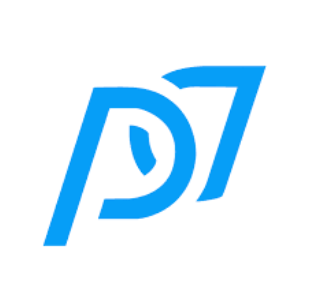 Toluwase Afolayan, Henry Qiu, Philip Huang, Jun HaoLei, Mark White
Feature development for a cross platform mobile app where anyone can rent and host privately owned parking spots.
View Parkaze at Demo Day HERE 
*1984 Generative Graphics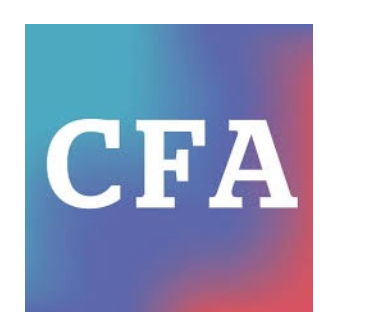 Benjamin Kilian, Ian Pompilus, and Sumara Ali
A desktop application that enables theater directors to easily create and manage generative graphics that augment actor movements and theater scenes
View 1984 Generative Graphics at Demo Day HERE 
Winner: Most Interesting Tech
Verto
Elton Cheung, Jennie Nguyen, Ethan Timoteo, Timothy Choe, Take Numata
Feature development for a Verto's mobile app – an eCommerce platform for students to buy and sell and manage delivery of their used goods 
View Verto at Demo Day HERE
Clinical Assessment VR App
Elizabeth James, Xuan Hy Nguyen, Min Jia Liu, Usama Ahsan, Noah Naiman
An App that enables faculty to assess the clinical reasoning skills of medical students based on their performance during simulations of interactive patient engagements
View the team at Demo Day HERE
Ameelio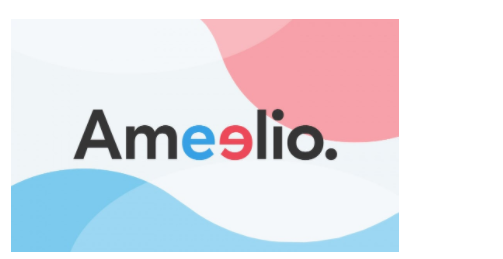 Benjamin Suffin, Tyler Donati, Catherine Kim, James Sweeney, Calvin Pang
Development of a prison video calling feature and ML backed database as part of Ameelio's ecosystem of prison communications that enables loved ones to communicated with their incarcerated family members. 
View Ameelio at Demo Day HERE
SCADO IOS
Gabriela Nitorreda, Keshav Maheshwari, Tung Truong
Development of an IOS app to scan court documents and extract data into a database enabling compliance with criminal justice reform priorities of the new DA.
View the Suffolk County DA team at Demo Day HERE