Test Kitchen: Sargent Choice Shamrock Shake and Leprechaun Bait
Mia Sugarman, SAR Dietetics '22
Xavier Toledo, SAR Dietetics '21
Sargent Choice Shamrock Shake
Recipe modified from foodjoysunshine
Yield: 4 Servings
Shamrock Shake Ingredients:
1 cup milk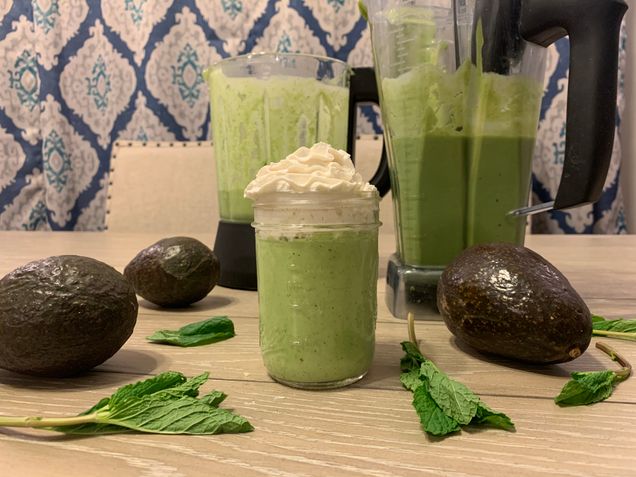 1 cup plain Greek yogurt
1 ½ teaspoons vanilla extract
2 Tablespoons honey
1 avocado
2 cups spinach (+additional as desired)
10-15 fresh mint leaves
½-1 cup ice (optional)
Additional honey to taste
Mini chocolate chips for garnish (optional)
Shamrock Shake Directions:
Add ingredients to your blender in the order listed.
Blend, starting on low speed and gradually increasing to high until your mixture is smooth.
Pour and serve immediately with desired toppings.
What we liked:
The shake has a vibrant green color!
It was filling, and can be consumed as a snack or as a meal.
This shake can be made as sweet or as un-sweet as desired.
Suggestions:
In order to achieve the best consistency, make sure that the smoothie is well blended.
Fruits and vegetables can be added to adjust the flavor, such as strawberries.
Plant-based alternatives can substituted, including dairy free milk and yogurt.
Nutritional Value:
The greek yogurt and milk provide protein and calcium.
The avocado is a good source of heart healthy unsaturated fats.
The spinach and mint leaves contain health-promoting vitamins and minerals.

Sargent Choice Leprechaun Bait
Recipe modified from foodjoysunshine
Yield: 10 Servings
Ingredients for the Leprechaun Bait:
6 ounces white candy melts
3 ounces green candy melts
1.5 cups popcorn, popped
1.5 cups whole grain mini pretzel twists
1.5 cups brown rice Chex cereal
2 cups "More Whole Grain" Lucky Charms
½ cup Mint Dark Chocolate M&M's
½ cup shelled pistachios
St. Patrick's Day sprinkles (optional)
Green grapes or kiwi for serving
Leprechaun Bait Directions:
In a large bowl, combine Chex, Lucky Charms, pretzels, popcorn, pistachios and M&M's. In a heat-safe bowl, melt the white chocolate in the microwave for 30 seconds. Stir and repeat until the chips are completely melted. Pour the melted white chocolate over the cereal mixture. Stir carefully to combine, as to not crush the Chex. Stir until the mixture is completely coated with white chocolate.
Pour mixture onto wax paper or parchment paper to dry and spread it out. Repeat with melting the green chocolate, then spoon over the mixture. Add the sprinkles.
Allow to set until white chocolate has hardened and then break up into pieces.
Store in an airtight container or enjoy immediately! Serve with shamrock shake, green grapes, or sliced kiwi fruit.
What we liked:
The recipe was very colorful and festive!
It was fun to make with friends and family.
The recipe was easy to prepare and only required a microwave.
Suggestions:
Other toppings such as nuts or dried fruits can be added according to your taste preferences.
Unsalted pretzels and pistachios can be substituted for a less salty snack.
The ingredients can be adjusted for vegetarian or vegan diets, including substituting with non-dairy chocolates or vegan marshmallows.
When making this recipe in a dorm, it may work best to split the recipe into two or three portions on wax paper. This will allow for enough room in the refrigerator or on your desk while the mixture sets. It also allows for easier storage.
Nutritional Value:
The popcorn, whole grain mini pretzels and brown rice Chex cereal contain whole grains and filling fiber.
The Chex cereal is also low in added sugar and fortified with iron and calcium.
The pistachios provide protein and heart healthy monounsaturated fat.
Green grapes and kiwi provide vitamin C and K, as well as filling fiber.