Test Kitchen: Jackfruit Burritos
Easy, healthy recipes tested for you weekly at the Sargent Choice Test Kitchen
Caroline Kohler, Dietetics Student, SAR '19
About the Sargent Choice Test Kitchen: We're all about making healthy taste delicious here at Sargent Choice.  That's why we've teamed up with faculty-in-residence Dr. Karen Jacobs to offer students a one-of-a-kind opportunity to trial and taste-test new Sargent Choice healthy recipes each week at the Sargent Choice Test Kitchen.  Dr. Karen Jacobs invites students of all majors (not just nutrition) into her home on Boston University's campus to cook up a recipe developed by Sargent Choice Registered Dietitian, Jennifer Culbert.  Feedback from the weekly Test Kitchen gets incorporated into future Sargent Choice recipes and helps shape the face of healthy dining at BU.
This week at Sargent Choice Test Kitchen, jackfruit burritos were on the menu. We had lots of fun trying this new ingredient and made several batches of the recipe. The final dish was tasty, filling, and entirely vegan!
What is jackfruit?
Jackfruit is a fruit native to southern India and other parts of southeast Asia. Averaging 10 to 25 pounds, it's the largest tree fruit in the world!
When ripe, the jackfruit has a sticky pulp and tastes similar to bananas, mangoes, and pineapples. The canned jackfruit found in U.S. grocery stores is unripe. In its unripe state, jackfruit has a texture and look similar to shredded meat.
What we liked:
The jackfruit had a great texture and even looked like pulled pork once cooked!
The onions and garlic cooked in the spices made an incredible sauce that would be great for cooking all sorts of meats, beans, and veggies.
Cooking was easy and quick—and the kitchen smelled great! The smoked paprika was the star of the sauce.
Tips and Tricks:
In the second batch, we shredded the jackfruit with our hands before putting it in the pan. This made cooking even easier and gave the final product a more consistent texture.
We increased the amount of spices and added black pepper and cumin for even more flavor.
We used beans and salsa as a topping. Roasted veggies, guacamole, and shredded lettuce would be other healthy options that would make the recipe even better.
The jackfruit would also be great as part of a "burrito bowl" or in place of pulled pork or chicken on a sandwich.

Nutrients you're getting from this recipe:
Jackfruit is a good source of vitamin C, vitamin A, potassium, and fiber. It does not, however, contain much protein, so pair jackfruit with a plant-based protein source (such as beans in this recipe).
The jackfruit provides the texture of meat and the beans provide the protein, making this recipe not only delicious, but also packed with nutritious qualities such as fiber, vitamins, and minerals.
Sargent Choice Shredded Jackfruit Burritos
Recipe modified from https://101cookbooks.com
Yield: Approximately 4 servings
Ingredients:
1 20-ounce can of green jackfruit (in brine or water)
1 tablespoon olive oil
1 medium onion, chopped
4 cloves garlic, minced
1 teaspoon smoked paprika
1 ½ teaspoons chili powder
½ cup water
1 big squeeze of lemon or lime juice
½ teaspoon salt
6 small whole wheat tortillas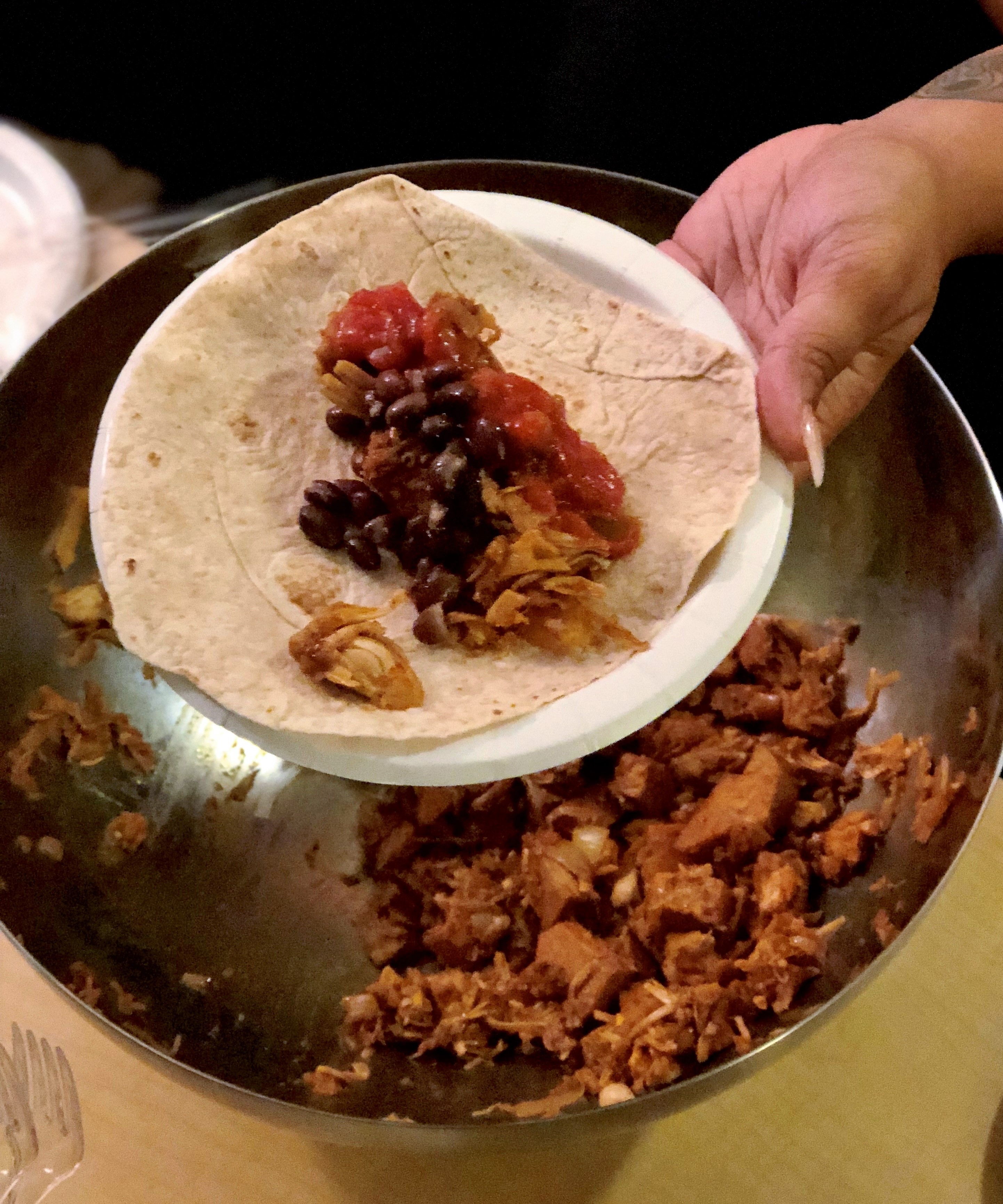 Burrito Fillings (Choose from options below or add your own favorite):
Black or pinto beans
Brown rice
Shredded cabbage
Sliced avocado
Salsa
Cilantro
Scallions
Directions:
Heat the oil in a large skillet over medium-high heat. Stir in the onion and sauté for a few minutes, until they soften a bit. Stir in the garlic, and then the paprika and chili powder. Quickly add the water, lemon or lime juice, salt, and jackfruit. Cover and simmer for 5-10 minutes, until much (but not all) of the liquid is absorbed. Use a wooden spoon to smash the jackfruit to get that shredded texture.
To assemble the burritos: arrange jackfruit and desired fillings in an open-faced tortilla. Fold in the sides and roll. Resist overstuffing.
Optional: Add a tiny bit of olive oil to a large pan or skillet over medium heat and brown the top and bottom of each burrito (this will not work if burrito is overstuffed).