Test Kitchen: Vegetarian Tacos with Avocado Cream
Easy, healthy recipes tested for you weekly at the Sargent Choice Test Kitchen
Jay Patruno, Dietetics Student, SAR '18
 About the Sargent Choice Test Kitchen: We're all about making healthy taste delicious here at Sargent Choice.  That's why we've teamed up with faculty-in-residence Dr. Karen Jacobs to offer students a one-of-a-kind opportunity to trial and taste-test new Sargent Choice healthy recipes each week at the Sargent Choice Test Kitchen.  Dr. Karen Jacobs invites students of all majors (not just nutrition) into her home on Boston University's campus to cook up a recipe developed by Sargent Choice Registered Dietitian, Jennifer Culbert.  Feedback from the weekly Test Kitchen gets incorporated into future Sargent Choice recipes and helps shape the face of healthy dining at BU.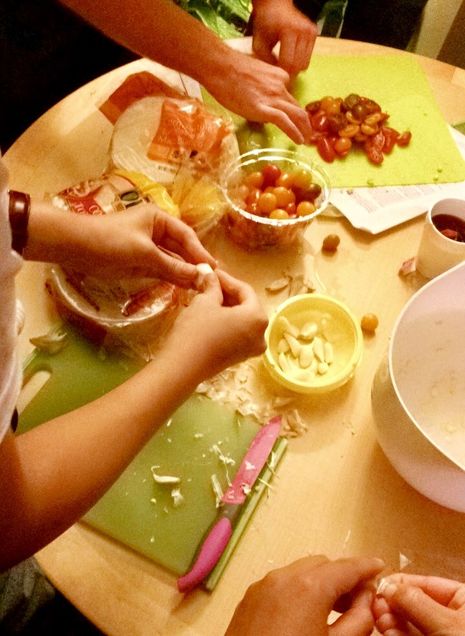 Why we chose this recipe: We selected this recipe for the first Fall 2017 Test Kitchen since it works well for a big crowd (which we certainly had)! With lots of fun, little jobs for prep work, this recipe allowed for many hands to help without being too complicated. Tacos are always fun and easy to customize, allowing everyone to pick and choose their favorite fixings! This recipe was also a great way to utilize a lot of seasonal vegetables like yellow squash and zucchini.
Feedback from the Test Kitchen:
People loved cooking and eating this meal. You can easily substitute in other vegetables based on the time of year and your taste preferences. Though we used yellow squash, zucchini, corn, and tomatoes this time,we brainstormed how broccoli, bell peppers, and asparagus could all be excellent alternatives. In that same regard, the flavor profile can also easily be manipulated. For example, if you like spicy food, top your taco with a dash of cayenne pepper. For such a large crowd the reviews were all very positive and one that people wanted to try at home.
Recipe for Vegetarian Tacos with Avocado Cream
Recipe modified from Naturally Ella
Yield: 4 servings (2 tacos per serving)
| | |
| --- | --- |
| Nutrition information | Per serving |
| Calories | 400 |
| Saturated Fat | 5 g |
| Protein | 14 g |
| Carbohydrate | 45 g |
| Fiber | 6 g |
| Sodium | 570 mg |
Filling:
1 zucchini, diced
1 summer squash, diced
½ medium red onion, diced
1 ear sweet corn, removed from cob
1.5 cups cherry tomatoes, cut in half
2 tablespoons olive oil
2 cloves garlic, minced
2 teaspoons cumin
¼ teaspoon salt
Avocado Cream:
1 ripe avocado
⅓ cup Greek yogurt
¼ cup minced cilantro
1 tablespoon fresh squeezed lime juice
To assemble:
8 corn tortillas
½ cup crumbled Feta cheese
Extra cilantro
Directions:
Preheat the oven to 400°F. Prepare all the vegetables as described and toss with olive oil, minced garlic, salt, and cumin. Roast until tender and lightly brown, 20 to 25 minutes.
While vegetables are roasting, whip together avocado, Greek yogurt, cilantro, and lime juice by hand or in a blender.
To assemble tacos, warm up tortillas over an open flame or on a heated griddle. Assemble with roasted vegetables, avocado cream, a sprinkle of feta, and cilantro.