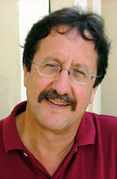 Professor Emeritus of Spanish
Research and Teaching
Professor Iffland is the author of Quevedo and the Grotesque (2 volumes, 1978 and 1982), Ensayos sobre la poesía revolucionaria de Centroamérica (1994), De fiestas y aguafiestas: risa, locura e ideología en Cervantes y Avellaneda (1999), and Para llegar a Roque Dalton:  pequeños infiernos y otros paraísos (estudio político-poético) (2021). He is also editor of Francisco de Quevedo's picaresque novel El buscón (1988) and Quevedo in Perspective: Eleven Essays for the Quadricentennial (1982), and co-editor of El "Quijote" desde América (2006) and El "Quijote" desde América (Segunda Parte) (2016). His latest book, Usos y abusos:  ensayos sobre el destino social del "Quijote", is currently in press in Spain.
Professor Iffland has written on a wide variety of topics related to the Spanish Golden Age, centering mainly on Cervantes and Quevedo. Work in progress in this area includes a forthcoming book entitled Usos y abusos:  ensayos sobre el destino social del "Quijote".  A secondary field of interest is contemporary Central American literature. Among the courses he teaches are those on Cervantes's Don Quijote, Golden Age prose fiction, poetry, and drama, and literature and social change in Latin America. He is also a faculty member in the Center for Latin American Studies Program at the Pardee School of Global Studies at Boston University.
Currently an Associate Editor of Cervantes:  The Bulletin of the Cervantes Society of America, Professor Iffland has been a Woodrow Wilson Fellow, the recipient of a Fulbright scholarship (Argentina), and a Woodrow Wilson Independent Study Award (Mexico). He was named the Central American Visiting Scholar at the David Rockefeller Center for Latin American Studies of Harvard University (2005-2006) and was a Senior Research Fellow at the Boston University Center for the Humanities (spring, 2006).  In 2010 he was inducted into the Orden de Isabel la Católica by the Spanish government, receiving a "Cruz de Oficial" in recognition for his contributions to the study and dissemination of Hispanic culture. He has held visiting appointments at Boston College, Brandeis University, Brown University, Harvard University, M.I.T., and the Università degli Studi di Pavia.