Field Training Exercise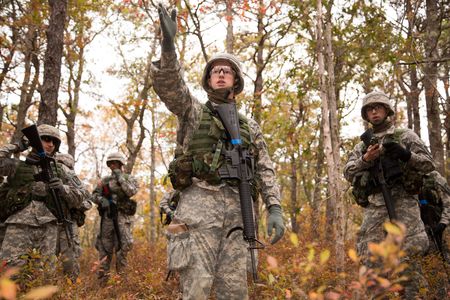 FTX
Twice a year, the Charles River Battalion takes to the field to conduct training. These three-day training events introduce cadets to the soldier skills they otherwise wouldn't be able to get on campus. They allow cadets to apply what they've learned on campus in a tactical environment.
Fall FTX
Typically held in late September, the Fall FTX brings both companies together for a weekend of exciting training. Focusing mainly on individual skills, the Fall FTX introduces MSIs and MSIIs to Fieldcraft, Basic Rifle Marksmanship,  Rappelling, One Rope Bridge,and  Land Navigation. MSIIIs focus on Land Navigation. The classes come together for the exciting Field Leadership Reaction Course and Obstacle Course.
Spring MLDX
Held in April, the Spring Multischool Leader Development Exercise is typically held with three other Battalions from the Boston Area; Liberty Battalion, home of Boston College and Northeastern students; Patriot Battalion, home of Providence College students; and the Paul Revere Battalion, home of MIT, Harvard, and Salem State College students. The MLDX is typically held in Camp Edwards, and trains Cadets in Tactical Training Base operations, Squad Tactical Exercises (STX,) and Patrolling. The Spring JFTX is the culmination of the year's training.