Alumni Hall of Fame
Hall of Fame
As we approach the 100th year of Army ROTC at Boston University, it is worth reflecting on a few of our Graduates who have made exceptionally valuable contributions to Our Nation.  The detachment displays 11 portraits of Hall of Fame Graduates in the Pershing Room at 128 Bay State Road.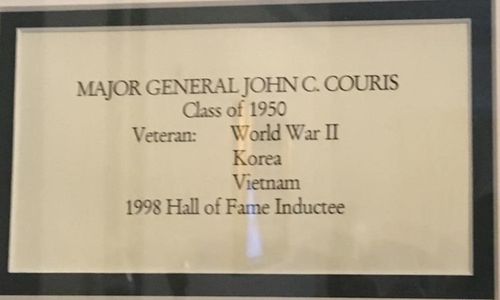 John George Couris, 1951 Boston University, Lieutenant Colonel (RA), Major General Massachusetts State Guard – WW II, Korea, Vietnam – Legion of Merit, Bronze Star w/Oak Leaf Cluster, Air Medal w/Two Oak Leaf Clusters
Early Life:  Born January 21, 1927 to John and Lena Couris and raised in the Boston area, calling 20 Maryland Street, Dorchester his home.
Military Journal (1):  His first military service was in 1943 as a Private in Troop D, 1st Motor Squadron (First Corps of Cadets), Mass State Guard. He chose to enter the United States Marine Corps where he served as a Private First Class (Pfc), Military Police, in World War II's Pacific Theater, overseas from September 15, 1945 to January 17, 1946.
Academic Experience:  He graduated from Boston University's College of Business Administration (Industrial Management) in 1951, where he completed the Army ROTC program.  He was active in The National Society of Scabbard and Blade (where he was wryly known for his "few words" at the Wednesday meetings), as well as acting as a Drill Sergeant and Captain of the Rifle Team (having earned the Sharpshooter qualification in July 1946 as a US Marine).  He received a commission as a Lieutenant of Infantry on June 15, 1951 with Headquarters IX Corps, 3rd Infantry Division.
Military Journal (2): Upon the breakout of the Korean War, he saw combat with the Third Infantry Division.  He chose to remain on Active Duty in October 1954 as a Regular Army Officer, with assignments at the Pentagon and as an Instructor at the Infantry School.  Then followed four tours of duty in the Far East during the Vietnam War, one as the Deputy Commander of an Infantry Brigade, interspersed with two tours of duty in Europe.  He also attained a Master's Degree from the University of Idaho and graduated from the Army's Command and General Staff College.  His military decorations included the Legion of Merit, the Bronze Star Medal with Oak Leaf Cluster, the Air Medal with Two Oak Leaf Clusters, and the Combat Infantryman Badge with Star.
Post-Military: He retired August of 1979, and subsequently entered the MA State Guard upon request of the Office of the Adjutant General of Massachusetts.  Concurrently he accepted an appointment as Assistant to the President of Century Bancorp of Medford MA.  He retired from both roles in 1992, but he continued to serve his community, including as a member of the National Council, Boy Scouts of America and as an extremely active alumnus of Boston University's Army R.O.T.C.  Couris was a member of the Walpole Country Club as well as the prestigious Union Club of Boston. He also served as President of the Association of the First Corps of Cadets.  He was buried in the National Cemetery at Camp Edwards on Cape Cod, Massachusetts in 1998.
(Notably, he donated the funds to replace the Hubbard-Lane Award upon the reopening of ROTC at Boston University in 1980.)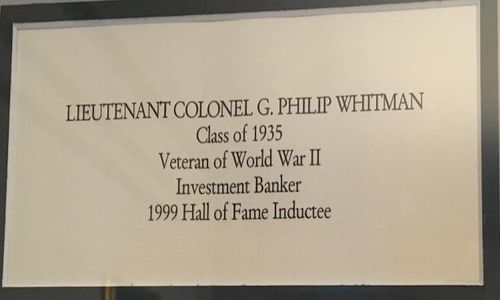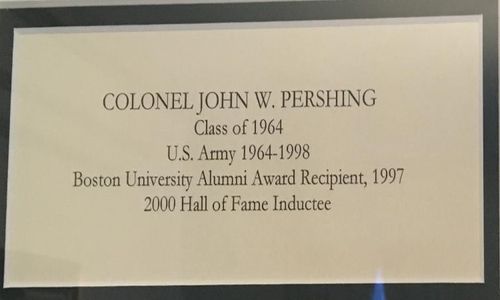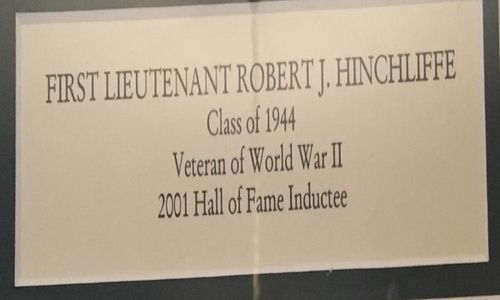 Early Life:  New Britain, Connecticutt, son of Thomas W Hinchliffe and his wife Mary, the second of five children (Ritamae F Hinchliffe, Thomas Hinchliffe Junior, Robert J Hinchliffe, Joseph S Hinchliffe, and Dorothy M Hinchliffe)
Academic Experience:  ROTC Class President (Junior Year), Army ROTC, Honor Society, University Chorus, Scabbard and Blade.  Bachelor of Science in Business Administration and Management, Sub-concentration:  Accounting, May 26th 1947.  He was inducted into the Scabbard & Blade at midnight of December 11th, 1942 along with 28 other BU Army ROTC juniors by Miss Anne Swift, on the occasion of the 16th Annual Military Ball.
Military Journal:  Bob commissioned a year early in 1943 to join the 78th Infantry Division, 310th Regiment, in Europe during World War II.  His service included fighting in the Hurtgen Forest, the Bridge at Remagen, the Ardennes and the Battle of the Bulge.  At the conclusion of the War, he was chosen to be the Aide to the Commanding General of the Army of the Occupation, General Josiah T. Dalby.  His awards include the Bronze Star Medal.  (Note:  his brother, 2 years younger, Joseph S. Hinchliffe, received a Bachelor of Science degree in Business Administration after his service during World War II, where he served in the U. S. Army Air Force as a Navigator in the China/Burma/India Operation.)
Post-Military:  13 grandchildren and 2 great grandchildren.  One of the longest serving Town Meeting members in Wellesley history, first elected in 1952.  Boston University Army ROTC Alumni Association Hall of Fame.  President of Rotary and the Central Council PTO, Treasurer of the library's Centennial Fund (inspiring the Robert Hinchliffe Military History Fund), Board of the Wellesley Country Club and Board of the Wellesley Community Center.  Wellesley Distinguished Service Award and Veterans Service Award.  Founder of the BU Army ROTC Hubbard-Lane Award.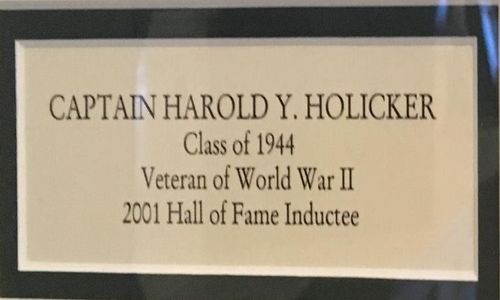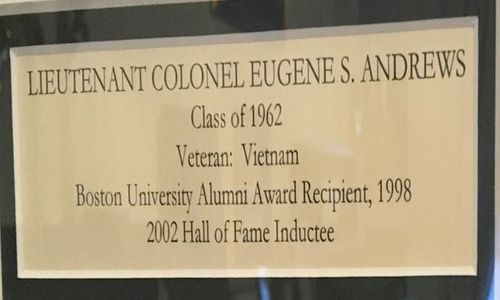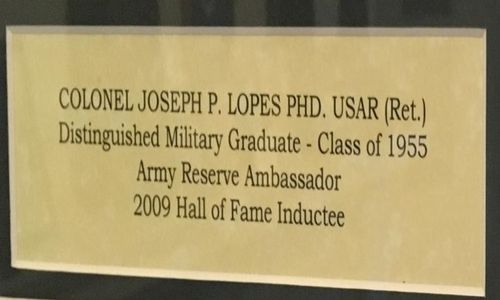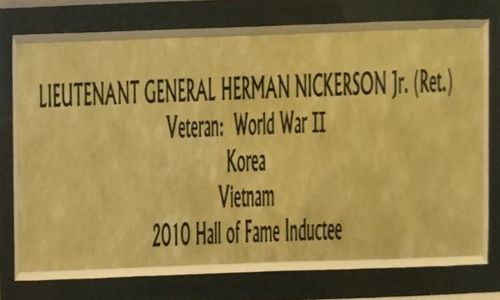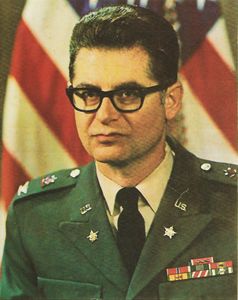 1953 – COLONEL LEE C. DICKSON – Vietnam. Distinguished Service Medal, Legion of Merit w/3 Oak Leaf Clusters, Bronze Star Medal. Highlights include Operations Officer & J4 of MACV, Vietnam, Assistant Professor of Military Science (URI), Commander 95th S&S Battalion, Germany, G4 Delta Regional Assistance Command Vietnam, Army Director of Club Management. Co-Author "Riverine Operations" Army Training Text 31-75 ('67) and Military Review article (8/67) "Army Forces in Riverine Operations. Associate Dean Emeritus for Florida International University's Chaplin School of Hospitality & Tourism Management.
1980 – MAJOR KELLY M. FITZPATRICK – Korea (Armistice period). Southwest Asia Service Medal, Office of the Secretary of Defense Exceptional Civilian Service Medal, Secretary of Defense Meritorious Civilian Service Award. From 1980-1996 served in Adjutant General and Public Affairs Officer assignments. BU magna cum laude, and 2nd woman to be CDT BN Commander as cross-enrollee in Northeastern University Army ROTC during BU Army ROTC hiatus. Commander 502nd PS Co. 2nd AD Ft. Hood, MA philosophy, Associate Professor USMA West Point, Adjutant General 19th TSC Korea, PAO 24th ID (Mech) Ft. Stewart GA. JD at MD Carey School of Law, Presidential Management Fellowship, Legislative Affairs DIA & Senior Executive Leadership, Office of Senator Jeff Merkley.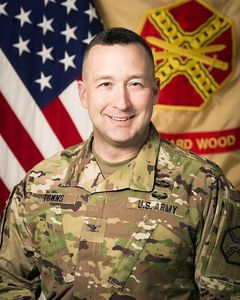 1995 – COLONEL ERIC TOWNS –  Col. Eric Towns received his commission in 1995 after earning his Bachelor of Arts in Biology from Boston University. After attending the Officer Basic Course at Fort McClellan, Towns was assigned to Schofield Barracks, Hawaii as the Battalion Chemical Officer for 1-8th Field Artillery Battalion as well as 4th Platoon Leader and Executive Officer of 71st Chemical Company (Smoke/Decon).  Following completion of the Chemical Officer Advanced Course at Fort McClellan, Towns was assigned to Fort Campbell as Commander, NBC Detachment, 5th Special Forces Group (Airborne). Also while at Ft Campbell, he commanded 63rd Chemical Company (Smoke/Decon) (Air Assault).  Upon the completion of command, Towns was a Joint Chief of Staff Intern at the Pentagon and served as the Executive Assistant to the Chief of the J3, Joint Operations Division (JOD) followed by a year in HQDA/G8/FDB as the Synchronization Staff Officer for Decontamination and Smoke. He was then assigned as the Aide-de-Camp to the Commander of Joint Task Force Guantanamo.  Following this year in Cuba, Towns was selected as the first Chemical Officer for the Asymmetric Warfare Group (AWG) at Fort Meade, Maryland. During this assignment, he deployed as the first Forward Support Team Leader for AWG operations in Afghanistan, as well as deploying to Iraq as the AWG LNO to a Joint Special Operations Task Force.  After graduation from CGSC, Towns served as the S-3 and XO of the 23d Chemical Battalion at Fort Lewis. Following his assignment to 23d Chemical Battalion, Towns served for two years as the Chief of Officer Training at the U.S. Army CBRN School followed by a year as the Deputy Commander of 3d Chemical Brigade.  From 2013 to 2015, Towns commanded the 22d Chemical Battalion (Technical Escort) at Aberdeen Proving Ground, Maryland. Following a year as a student at the US Army War College, he served as the Chemical Branch Chief at Army Human Resources Command. Towns' last assignment before taking command was serving as the Chief of the Requirements Determination Division at MSCOE.  Towns' military education includes: Chemical Officer Basic and Advanced Courses; Combined Arms and Services Staff School; Technical Escort School; Airborne School; Jumpmaster School; Air Assault School; Army Force Management Course; Command and General Staff College; Modern Army Combatives (Level 1), the Army Basic Instructor Course, and the US Army War College. Towns holds a Bachelor of Arts in Biology from Boston University, a Master of Science in Public Administration from Central Michigan University, and a Master of Strategic Studies from the US Army War College
Their stories deserve to be told, and we are working together to give them the respect that they deserve, even as we prepare to announce our 2016 & 2017 Inductees.
Leadership Excellence – Demonstrated:  Hall of Excellence (moved to a separate page)
(A few of our Alumni profiles are on the US Army ROTC webpage as well:  https://www.goarmy.com/rotc/schools/boston-university/alumni.html )