Interdisciplinary Biomedical Research Office
About IBRO
The Interdisciplinary Biomedical Research office (IBRO) facilitates interdisciplinary biomedical research by supporting strategic and faculty-driven initiatives to stimulate existing and new biomedical research and training across BU's Charles River and Medical campuses. Funding is available to jump start and support faculty-initiated Affinity Research Collaboratives (ARCs), as well as strategically planned programs in the biomedical, physical, and engineering sciences.
The Evans Center began on the Medical Campus, providing the groundwork and tools to facilitate biomedical team science. IBRO expands the reach of those efforts to the Charles River Campus, encouraging more robust collaboration across the University and inspiring initiatives that are larger in scope. The Evans Center remains focused on investigator-initiated research topics, while IBRO develops cross-campus programs around research strengths at BU and initiatives with the potential to develop into University-wide research initiatives and programs.
Why focus on Interdisciplinary Biomedical Research?
While we have made great strides in fostering interdisciplinary research at BU, in some areas discovery has been limited by the bounded nature of traditional structures. Advanced research and discovery mandate effective integration of physical and life sciences and disciplines, as well as development of platforms that facilitate cross-discipline collaboration. Often, the potential of integrative approaches and discovery is lost when the burden of identifying collaborators or expertise out of a knowledge-based comfort zone is solely left to individual investigators.
The extraordinary strengths in the biomedical, life, and physical sciences at Boston University and the remarkable collaborative environment combine to create an opportunity for new interdisciplinary approaches to both research and training. Boston University's Interdisciplinary Biomedical Research Office integrates the lessons learned from the Evans Center for Interdisciplinary Research and has created a strategic partnership between BU, Department of Medicine and the Center for Translational Science Institute (CTSI) to catalyze interdisciplinary research.
---
From the Director
Dear Colleagues: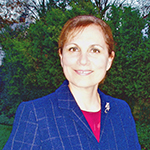 Boston University has a wealth of talent and knowledge in different fields. I am pleased to take part in continuing and enhancing the university's mission of developing opportunities for interdisciplinary research by leading a new Boston University Interdisciplinary Biomedical Research office (IBRO), launched in 2015, under the auspices of BU's Office of Research and the Department of Medicine.
BU recognizes the importance of team science. By developing programs and activities to encourage biomedical team science at all levels—through IBRO, the Evans Center, and other initiatives—we maintain a competitive edge in securing grant funding and advancing biomedical discoveries.
Get Involved
Ready to get involved with Interdisciplinary Biomedical Research? Let us know your research interests, ideas, and some basic information through this short survey and we'll help connect you with potential collaborators.


The mission of BU IBRO is to facilitate new and current areas of interdisciplinary biomedical research, using strategic as well as facilitated and faculty-driven initiatives to stimulate and support existing and new research and training across campuses of BU. The new office works with the BU medical campus and the Charles River campus faculty and leadership, including of the Clinical Translational Science Institute, to develop synergistic and complementary research initiatives.

Members of the IBRO Advisory Board represent both the Medical and Charles River campuses. I invite you to join us in this exciting mission and opportunity.

Sincerely yours,
Katya Ravid
Director, Interdisciplinary Biomedical Research Office
Professor of Medicine and Biochemistry
---
Opportunities & Related Offerings
Affinity Research Collaboratives
Affinity Research Collaboratives (ARCs) represent a new paradigm for investigator-initiated interdisciplinary biomedical research, developed by the Evans Center for Interdisciplinary Biomedical Research at the Medical School. Investigators and faculty throughout the BU community are encouraged to apply for a new ARC or join an existing ARC. The Evans Center is particularly interested in supporting innovative research questions that offer opportunities for broad, interdisciplinary collaboration. Learn More
IBRO uses the ARC mechanism to create opportunities for collaborative, interdisciplinary research at the university level. This translates into continued development of ARCs, but also of larger scope initiatives that have the potential to develop into university programs. Further, initiatives based at IBRO mandate co-leadership by faculty from the Medical and Charles River campuses. IBRO adds to its portfolio strategic planning of investigators-initiated ARC themes based on knowledge of upcoming announcements of extramural funding. The Evans Center and IBRO director will continue to work closely with faculty, whether during the process of ARC assembly or through suggestions for areas of development.
Creating & Connecting Research: The Process
Key Elements of an ARC
Events & Resources
Seed Funding: ARC Seed Funding is available to jump start and support faculty-initiated collaborations and projects.
Events: Visit the Evans Center for Interdisciplinary Biomedical Research website for a full listing of events and resources.
Support for Translational Research: The CTSI at BU is an academic and intellectual home for clinical and translational investigators to facilitate the translation of discoveries into therapies and cures more quickly and effectively, from lab bench to patient bedside and back.
---
Contact Us
Robin E. MacDonald
Executive Assistant
617-358-8244
Our Locations
Medical Campus: W Building, Room 601 CVI
Charles River Campus: 1 Silber Way, Room 909