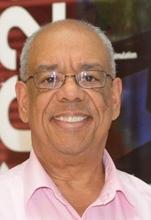 Affiliate Faculty (Professor – ENG/ECE)
Research Interests:
Computational Science
Our mission is to highlight new research opportunities where Computational Science can make a fundamental difference to accelerate technological advancement and find extraordinarily talented and creative individuals who can help meet the challenge of integrating Computational Science with in the fabric of discovery and innovation. For some applications, our Computational Science methodologies are now so accurate and reliable that they can be predictive, so computation becomes a tool for exploration of new materials, new therapies, new ways of fabricating nano scale devices, etc. providing "in silico" screening for new science and technology development. In other critical areas, existing fundamental theories, and methodologies for their implementation, fall short and research on the development of new ways of doing the business of simulation and modeling are desperately needed to make progress in many major grand challenge initiatives.
Honors/Awards:
NSF Partnerships for Advanced Computational Infrastructure (PACI)
Co-Chair, National Educational Outreach and Training Coordinating Committee
Co-Chair, Alliance Collaborative and Data Storage Team
1996 College of Engineering Award for Excellence in Teaching
Named One of 50 Most Important Blacks In Research, 2004
A. Nico Habermann Award, CRA Executive Director,

 

African-American eCulture