Peer Mentorship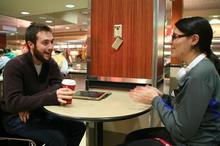 Initiated and run entirely by students, the PRISM (PeeRs for Incoming Students Mentorship) program is an undergraduate support network for entering physics majors. Participating freshmen are assigned a junior or senior mentor with whom they meet five times during the semester. Meetings are designed to address mentee questions and concerns, while also inspiring involvement in department life. Mentors also provide help navigating the numerous research and academic opportunities available in the department and at BU.
Learning Assistant Program
The Learning Assistant Program recruits high-achieving undergraduates to help teach physics courses they have successfully completed. Learning Assistants (LAs) work closely with faculty and receive training in science pedagogy through the School of Education. These students are well-equipped to bring their unique perspective as peer educators into the classroom, facilitating active and collaborative learning in a student-centered, small-group environment.
Undergraduate Student Organization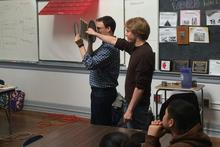 Photon is Boston University's chapter of the Society of Physics Students (SPS). The organization serves to promote social interactions among physics majors and enthusiasm for the physical sciences. Some activities include hands-on demonstrations, talks by faculty and students on subjects of interest, and participation in outreach programs in the Boston area. Photon also maintains ties with other local SPS chapters, such as Harvard, MIT, and Northeastern.