Study Rooms and Spaces
Mugar Memorial Library
Mugar Memorial Library offers three zones of study space to accommodate different needs: Collaborative, Considerate, and Silent.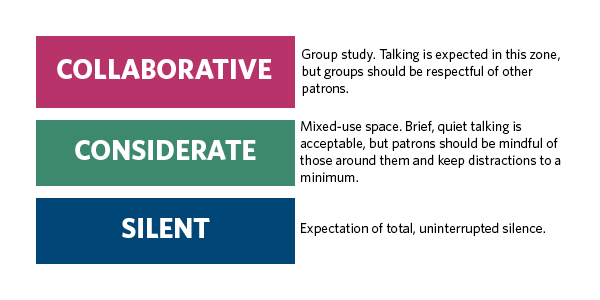 Study spaces are available in the following areas on a first come, first served basis:
Lower Level: Collaborative
1st floor:

Open space: Considerate
Reserve Room (115): Silent

2nd floor:

Music Library study area (206, north side overlooking Charles River): Silent
Mezzanine study area (south side, open to first floor below): Considerate

3rd floor: Considerate
4th floor: Seating within the stacks on the north and south ends of building: Silent
5th floor: Seating within the stacks: Silent
Private study rooms may be reserved through the Student Study App. (Note, reservations are limited to 10 hours per student, per week, Sunday – Saturday).
The following areas are unavailable for the 2021/2022 academic year:
The PAL study lounge on the 3rd floor is closed.
Please refer to Visiting the Libraries and Latest Updates for additional information.
Branch Locations
This page last updated: November 8, 2021.