History & Publications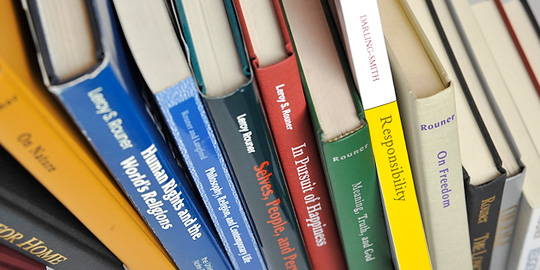 Founded in 1970 with the cooperation of three academic units of Boston University—the Department of Philosophy, Department of Religion, and School of Theology—the institute was envisioned as a home for serious philosophical and religious reflection. Under the successive directorships of Professor Lee Rouner and Professor M. David Eckel, the institute has become one of the premier locations on the American academic landscape for interdisciplinary conversation about perennial and pressing intellectual concerns. Over the years, the institute's lecture series have focused on issues that cross the boundaries between different academic disciplines, and between scholars and the educated public. Past topics have included "Courage," "Loneliness," "Civility," "Life, Death, and Immortality," "Responsibility," and "Evil."
Past lecturers and participants have included Karen Armstrong, Robert Bellah, Wendy Doniger, Jean Bethke Elshtain, Hans-Georg Gadamer, Charles Hartshorne, Bernard Lonergan, Jürgen Moltmann, W.V. Quine, Christopher Ricks, Paul Ricoeur, Ninian Smart, Huston Smith, Robert Thurman, and Elie Wiesel.
Publications
Boston Studies in Philosophy, Religion and Public Life
The institute is proud to announce the publication of the first volumes in its renewed research series (now published by Springer).
Justice, Responsibility and Reconciliation in the Wake of Conflict (published December 2012)
Narrative, Philosophy and Life (forthcoming)
Politics, Religion and Political Theology (forthcoming)
Boston University Studies in Philosophy and Religion
For further information and to purchase past volumes, please contact the University of Notre Dame Press, Notre Dame, IN 46556 (www.undpress.nd.edu).
Click on the volume title to see a list of contributors.
VOLUME I Myth, Symbol, and Reality
VOLUME II Transcendence and the Sacred
VOLUME III Meaning, Truth, and God
VOLUME IV Foundations of Ethics
VOLUME V Religious Pluralism
VOLUME VI On Nature
VOLUME VII Knowing Religiously
VOLUME VIII Civil Religion and Political Theology
VOLUME IX Human Rights and the World's Religions
VOLUME X On Freedom
VOLUME XI Celebrating Peace
VOLUME XII On Community
VOLUME XIII Selves, People, Persons
VOLUME XIV Can Virtue Be Taught?
VOLUME XV The Changing Face of Friendship
VOLUME XVI In Pursuit of Happiness
VOLUME XVII The Longing for Home
VOLUME XVIII Is There a Human Nature?
VOLUME XIX Loneliness
VOLUME XX Religion, Politics, and Peace
VOLUME XXI Civility
VOLUME XXII If I Should Die: Life, Death, and Immortality
VOLUME XXIII Courage
VOLUME XXIV Promise and Peril: The Paradox of Religion as Resource and Threat
VOLUME XXV The Stranger's Religion: Fascination and Fear
VOLUME XXVI Responsibility