Graham Wilson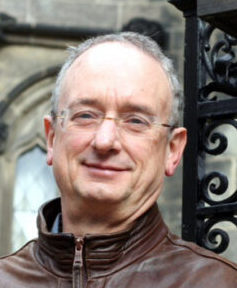 Director Emeritus; Emeritus Professor of Political Science
Education

PhD, Oxford University
MA, University of Essex
BA, Oxford University

Email
Professor Graham Wilson is Director Emeritus (2014-2021) of the Boston University Initiative on Cities, having co-founded the Initiative in 2014 alongside former Boston Mayor Thomas Menino. He joined the Faculty of Boston University in 2007 where he served as Chair of the Department of Political Science from 2010 until 2015. His areas of specialization include American Politics, Comparative Politics, Business and Government, and Interest Groups. Professor Wilson has served on the Warwick Commission on Directly Elected Mayors exploring how to restructure the leadership of cities in the United Kingdom in order to achieve policy change and dynamism. In 2014, he joined former Boston Mayor Thomas M. Menino as Co-director and Co-founder of the new Initiative on Cities at Boston University and served as Director from November 2015 to June 2021.
Prior to coming to Boston University, he taught in the La Follette Public Policy School at the University of Wisconsin where he also served as Associate Director as well as in the Political Science Department, where he served as Chair from 20007-10 and held a Hawkins Chair in Political Science… While at La Follette, Professor Wilson partnered with the Department of Natural Resources with the State of Wisconsin to reinvent their approach to environmental regulation. The resulting legislation, known as Green Tier, drew on experience in Germany and the Netherlands as well the US, and is geared to leveraging higher levels of environmental performance from business while reducing regulatory burdens.
He has published ten books and has authored numerous articles and chapters in edited volumes.  His work has focused primarily on interest groups (particularly business) and their relationship with government and policymaking. He has published in the British Journal of Politics, Governance, Political Studies, the British Journal of Politics and International Relations, the Harvard Journal of Law and Public Policy and the International Political Science Association book series. Professor Wilson served as an editor and author of the Oxford Handbook of Business and Government published by OUP and The Consequences of the Global Financial Crisis: The Rhetoric of Reform and Regulation (with Wyn Grant) with Oxford University Press. He has also published extensively on the relationship between bureaucrats and politicians. In 2012, Professor Wilson published That same year, he was also awarded the Ulrich Kloti Award for Lifetime Achievement from the "Structure and Organization of Government Research Committee" of the International Political Science Association. In 2017, he and Douglas Kriner were awarded the prize for the best article published in the British Journal of Politics and International Relations in 2016 for their article on British public opinion and the Afghan War.
Professor Wilson has presented numerous papers at national and international conferences, including his most recent paper on central banks and agency autonomy at the International Political Science Association (IPSA) conference in Jerusalem in 2014. He has served as an organizer for conferences in Poland, Chicago and Berlin on behalf of the International Political Science Association, American Political Science Association and European Consortium for Political Research respectively.
Professor Wilson received his BA and Doctorate of Philosophy from Oxford University and his MA from the University of Essex. Areas of specialization: American politics, comparative politics, business and government, interest groups.