Eric Kolaczyk Named New Director of BU's Hariri Institute for Computing and Computational Science & Engineering
"Data science and computing are now embedded in the human experience and informing everything we do," CAS math professor says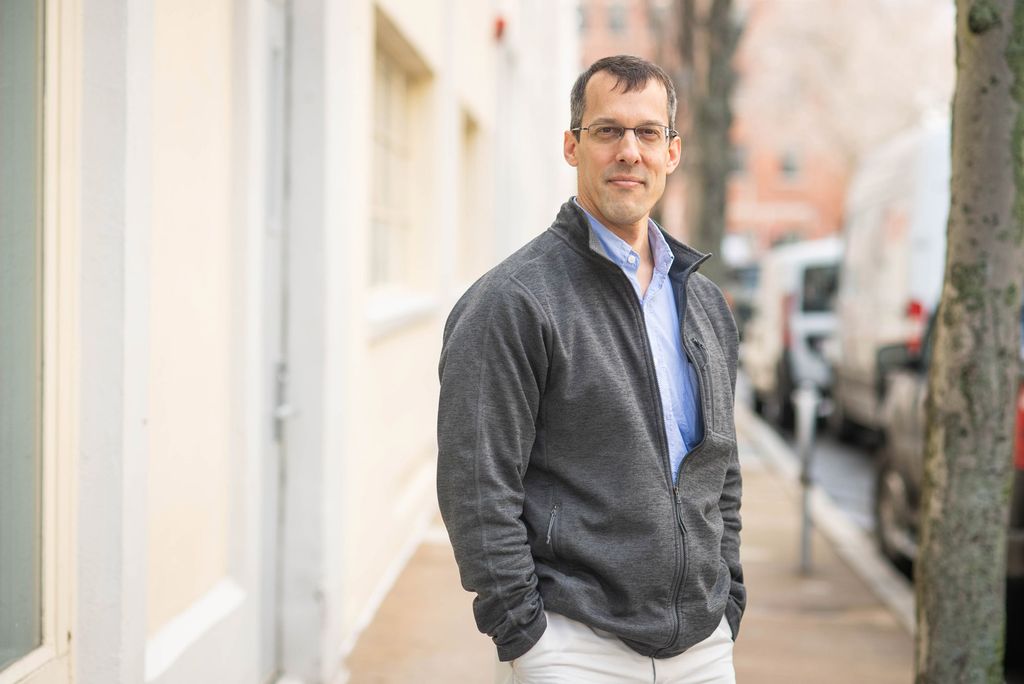 Eric Kolaczyk has earned an international reputation for his work across bioinformatics and computational neuroscience. Photo by Cydney Scott.
Eric Kolaczyk, a College of Arts & Sciences professor of mathematics and statistics, whose work across bioinformatics, computational neuroscience, and even social work has earned him an international reputation, is the new director of Boston University's Rafik B. Hariri Institute for Computing and Computational Science & Engineering.
It's a pivotal appointment for BU. Kolaczyk replaces founding Hariri Institute director Azer Bestavros, a William Fairfield Warren Distinguished Professor and a CAS professor of computer science, who was recently appointed associate provost of the University's new Faculty of Computing and Data Sciences. These moves come as BU launches a major push into the burgeoning fields of computing and data sciences with the recent groundbreaking for the dramatic 19-story Center for Computing & Data Sciences, which will be the largest building on the Charles River Campus.
"The building is huge," Kolaczyk says. "It's a statement in and of itself of BU's commitment and the intent behind it that we are at a point where we can say we are building it. It's going to do wonders by vertically integrating math and computing and statistics and the faculty for computing and data sciences." And, he adds, "data science and computing have gone from being arguably narrow to now being embedded in the human experience and informing everything we do."
The days when computing and data science were a niche subject that few students wanted to pursue, and that business and industry took only a passing interest in, are long gone, Kolaczyk says. Today business strategies literally revolve around data, and students are coming to college with an expectation that their education will prepare them for that new world.
"Students in the United States and internationally are tremendously savvy now," he says. "They come in knowing about, and wanting to have, data and computing be key parts of their undergraduate experience. And graduate students want even more. This should certainly should give BU an added edge in recruitment."
Kolaczyk is "one of BU's top innovators and intellectual leaders," says Jean Morrison, BU provost and chief academic officer, and one of his great strengths is looking forward in his work. "His ability to look to the future and understand the evolving landscape, to recognize and grow the strong assets we have in place, and to achieve great results through collaboration make him a superb fit for this role."
Morrison has previously noted that the University's investment in the field is supported by surging interest from the student body: BU saw a 23 percent increase in teaching credit hours for math and statistics from the 2006–2007 to the 2016–2017 academic year and computer science saw a 266 percent increase.
"The work that Eric has carried out at the interface of statistics, computer science, engineering, and mathematics, as well as with a host of domain areas," says Gloria Waters, vice president and associate provost for research, "will help him build on the tremendous success the Institute has had in fostering collaborative research that connects the faculty across the University and further lead to establishing the Hariri Institute as an internationally recognized center of excellence."
---

Students in the United States and internationally are tremendously savvy now. They come in knowing about, and wanting to have, data and computing be key parts of their undergraduate experience.

---
What excites him about his new role, Kolaczyk says, is that it comes at a time when BU, and the Greater Boston region, is thriving in the digital landscape, where data and computing are at the core of virtually every business and every industry.
"BU is in an exciting period of time, and so is the United States in general, and schools are scrambling to put in place strong presences in computing and data science," he says. "BU is ahead of the game with its new building, and the Hariri Institute has a tremendous history already."
Kolaczyk has been a member of the BU faculty since 1998. He was previously director of his department's Program in Statistics and is the founding director of the MS in Statistical Practice program and its statistical consulting group. He is recognized internationally for his work and is the author of three books and dozens of widely cited journal articles. He earned an undergraduate degree from the University of Chicago and holds an MS and a PhD in statistics from Stanford University.
He is a senior member of the Institute of Electrical and Electronics Engineers and an elected fellow of the American Association for the Advancement of Science, the Institute of Mathematical Statistics, the American Statistical Association, and the International Statistical Institute. In 2018, he was named a Data Science Faculty Fellow through BU's Data Science Initiative.
A Chicago native, the 51-year old Kolaczyk has two college-age daughters. Asked how he relaxes when he's not immersed in all things data and computing, he says with a laugh that he has a personal passion: "I keep my sanity by training in tai chi. I trained in martial arts for 30 years, and I lead a small group at Marsh Chapel in tai chi."
Kolaczyk will report to Waters in his new role as Hariri director. "He will build on the Institute's success in fostering collaborative research that connects faculty across the University," Morrison says, "and support the faculty in undertaking major research initiatives and cutting-edge research."
Kolaczyk says he can't wait to get started. "I am excited for the challenge of elevating the Hariri Institute to a national level," he says.
---
Author, Doug Most is a lifelong journalist and author whose career has spanned newspapers and magazines up and down the East Coast, with stops in Washington, D.C., South Carolina, New Jersey, and Boston. He was named Journalist of the Year while at The Record in Bergen County, N.J., for his coverage of a tragic story about two teens charged with killing their newborn. After a stint at Boston Magazine, he worked for more than a decade at the Boston Globe in various roles, including magazine editor and deputy managing editor/special projects. His 2014 nonfiction book, The Race Underground, tells the story of the birth of subways in America and was made into a PBS/American Experience documentary. He has a BA in political communication from George Washington University. View his profile