Photographing Trump's Washington
COM alum Sarah Silbiger is documenting history from the front row

Sarah Silbiger (COM'18), a frequent member of the press pool photographing President Trump, outside the White House. Photo by Stefani Reynolds.
On the eve of the 2016 election, Sarah Silbiger was stuck in a corner of the media area at a Donald Trump rally in Manchester, N.H. Blinded by a laser-light show, deafened by blaring music, and gagging from a nearby smoke machine, the aspiring photojournalist came to a decision. "I remember feeling so miserable and so happy at the same time," she says. "And I realized that I wanted to photograph politics."
Then a junior on assignment for the Daily Free Press, Silbiger (COM'18) began plotting a postcollege move to Washington, D.C. She applied for about 50 internships, she says, before landing at Roll Call, the Washington newspaper and website covering Capitol Hill, in 2018. She moved to the New York Times a few months later and soon found herself in the Oval Office. Now a freelancer with a steady flow of work from the Times, the Washington Post, the Getty, Reuters, and other major news outlets, Silbiger is photographing D.C.'s biggest names—Trump, Pelosi, Mueller—on a daily basis. Bostonia spoke with her about what it's like to have a front row seat for this tumultuous and historic time in the nation's capital.
Bostonia: When did you first consider a career in photography?
Silbiger: I remember that day so vividly: I was in eighth grade and they asked us to plan our lives. I was taking pictures on a little point-and-shoot camera, and I liked that, so I Googled "careers in photography." It said "wedding photographer," "artist," "photojournalist," and I thought, what's a photojournalist? Then I Googled "schools with photojournalism" and found BU. I didn't consider other schools at all. People in the hallways in high school would call me "BU."
Why did politics appeal to you?
There aren't many photojournalists that get to travel in a pack the way that political journalists do. I like the community aspect, and because we shoot the same thing over and over, we push each other to make compelling work.
Your second job out of college was with the New York Times. Is it typical for the paper to send someone right into the Oval Office?
Not for other companies, but the Times has been doing this for a while. It's mostly because they have a guide in [longtime staff photographer] Doug Mills. He's the most incredible mentor. On my first day at the White House he prepared me to go into the Oval, and he was like, "All right, go get them, kid."
You're often photographing the same people in the same buildings, standing behind microphones. How do you differentiate yourself, given those limitations? 
It's making something out of nothing. I'm trying to find anything that's going to make my image look less flat. I have one eyeball on whoever is speaking and then the other eyeball is going crazy looking for any little element or spark of light that can make a blob in front of them. It's also making the photo that they didn't set up for you. A perfect photo of Trump pointing behind the microphone is not the photo that we're all waiting for—we're waiting for when he hugs the American flag when he comes offstage.
There's a photo I made of [former White House communications director] Hope Hicks getting into an elevator. We waited outside of this closed-door briefing for around eight hours. We didn't know when it was going to end, so we had to be prepared. That eight hours is spent having your cameras on and ready, shoelaces tied, so you're ready to run. Those hours are tense, but it keeps you alert and hungry for that photo. It's the in-between moments, the before and after.
President Trump has frequently called the media an "enemy of the people" and "fake news." What's it like to witness that from the front row?
When he's saying those things in front of me, I don't feel like it's attacking me. He's looking at the reporters. It's when I'm not working that I really feel the brunt of it. I try not to wear my press pass while I'm in transit because I've had issues in crowds and in protests, people being nasty to me. When I'm in the East Room, I'm way more concerned about the lack of light than I am with what he's talking about. And the insight I have about his rhetoric is that oftentimes, once the TV camera light goes off, his demeanor changes. He turns off the shtick, and while he isn't buddy-buddy, he'll tell us to have a good weekend.
What role do you think photojournalism plays in today's media landscape?
Making an iconic image that changes the world is a little more challenging these days. We don't look one place for images anymore, like page one of the New York Times—we look at thousands of different places. But I think all the imagery combined is giving people a much clearer understanding of what's going on in our government. Seeing is believing, and people have an incredible visual knowledge these days because of the images we're making.
The images you post to Instagram stand out from a lot of political photography. There are many extreme close-ups and candid moments. How would you define your style?
I like things that look like a coloring book. My favorite photo I've ever made is of [Vice President Mike] Pence looking rather statuesque. I just love that everything in that photo is either white, red, or black. This is exactly why I love politics, because sometimes it can be so phony and staged. I love that he's standing on his little marker. It absolutely cracks me up. So I definitely am drawn to certain photos. But if you look up my name on Getty, you're not going to see the same style. What I'm editing and putting on Instagram has a specific look to it.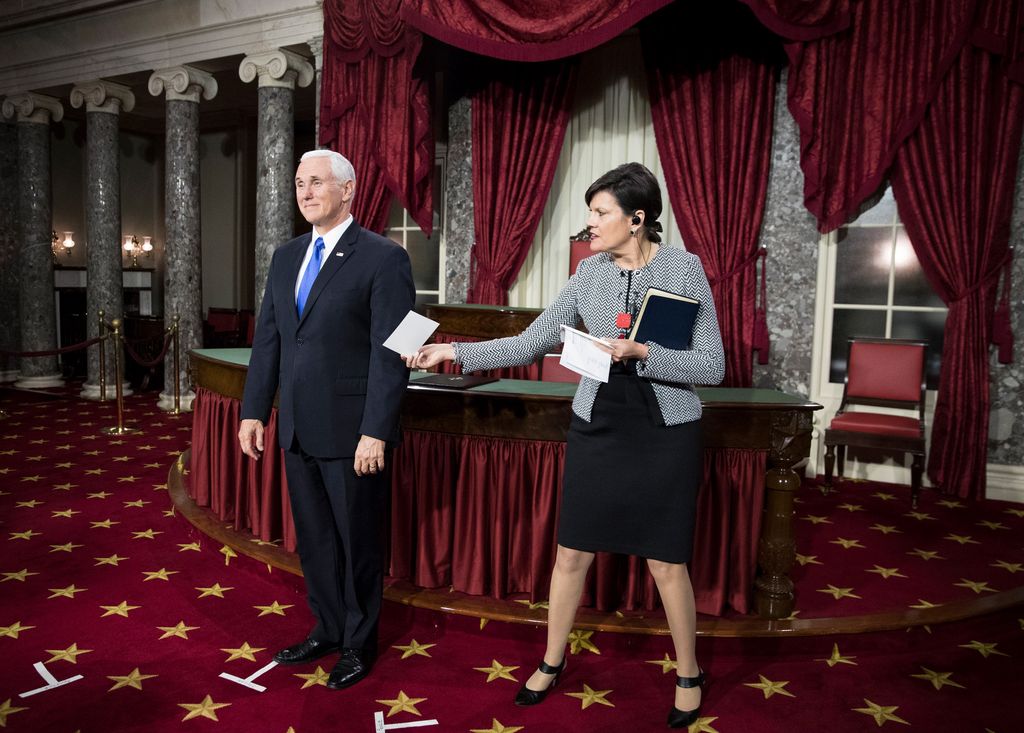 How much time do you get with the president? 
We get an enormous amount of face time compared to other administrations. We'll see him three or four times in a day. He wants us there as much as possible. It's been reported that he will Sharpie up newspapers, circling articles and photos and asking for prints of them. He definitely loves photos of himself, so he's keenly aware of the photographers.
What's in your camera bag?
I just switched over to a Sony mirrorless camera. I have two Sony a9 bodies, and then the two lenses I have are a 24-70mm, my wider lens, and a 100-400mm. That's a little different—usually people carry a 70-200mm—but that's how I get some of my favorite detail shots. I love getting tight on people's eyes.
As a freelance photographer, what is a typical week for you?
There's no lack of work and there's no lack of news. Agencies will use their staffers first and when they run out of staffers, they'll start calling freelancers. I have my phone on full-volume at all times, which can be a bit of a nuisance when the president starts tweeting up a storm early in the morning. But I need to have his tweets on alert. It helps me know what he's up to.
This interview has been edited and condensed for clarity.
View more images of Sarah Silbiger's work in the photo gallery below.