Additional Resources & Information
Door Labeling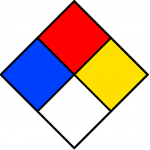 The Boston Fire Department requires the National Fire Protection Association (NFPA) 704 Diamond be posted on all laboratory doors. These diamonds are also displayed on most chemical labels. The laboratory must inform EHS if the lab acquires different chemicals or gases so the door sign can be updated. Other hazards may be identified on the laboratory door as well.
Lab-Specific SOPs
Each laboratory is responsible for developing their own SOPs beyond what is described in this Chemical Hygiene Plan's SOPs, as necessary. The process of developing laboratory-specific SOPs is intended to characterize various toxicological, regulatory and physical criteria or to identify conditions that might require additional control measures, as well as to aid in the identification of those control measures.
It is the responsibility of the Laboratory Supervisor/Principal Investigator (PI) to review all materials and substances being used. Upon such review, a determination and implementation of more stringent Site-Specific SOPs will need to be developed by the individual laboratory, as necessary. Contact Environmental Health and Safety (EHS) for assistance in generating laboratory-specific SOPs.
Other Chemical Safety Information
Resources
Agency Resources