What Happens Next
College is a launching pad for the rest of your life, so let's make sure you're going places. Shortly after graduating, 90% of BU's Class of 2013 were employed or in grad school, fellowships, or the military. Economics grads work in areas like asset management, banking, and consulting, and they land jobs at places like Deloitte, J.P. Morgan, and the US government. They go on to study law, economics, finance, and accounting at prestigious grad schools like Columbia, Harvard, and Yale. And they've built careers in business, financial analysis, policymaking, medicine, and law.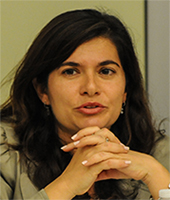 Julia Frayer
When Julia Frayer returned to Boston University as a panelist for the Master's in Economics program's Career Information Meeting, it brought back a lot of memories. The managing director of London Economics International, an economics consulting firm specializing in energy and infrastructure, says she owes it all to BU.
As a prospective undergraduate, Julia planned to focus on law, but in her first semester she took an economics course with Professor Leroy Jones; "it completely opened my eyes," she says. The economics faculty soon recognized an economist in her, and told Julia about the combined BA/MA program. She dove into master's work in her sophomore year and received the BA/MA in 1997.
With her combined degree, Julia went on to investment banking, which she says was an amazing learning experience. After a while, though, she wanted a change. Accepted into a prestigious law school, Julia hesitated and called her BU mentor, Professor Jones. "He convinced me, in a very nice way, that it would probably be a waste of some of my economics-oriented capabilities to become a lawyer." Instead, he told her about London Economics, which would soon open an American branch in Boston.
"I really loved economics and I wanted to be able to apply it," Julia says, explaining that no job allows that as fully as consulting. She joined London Economics International (LEI) as a partner, and wasn't disappointed.
LEI specializes in energy and infrastructure, areas that, following deregulation and privatization, are full of "new players coming into the field." Julia is able to provide guidance—to businesses and regulators alike—using what she learned at BU. "We've moved it from the textbook to real life."
Still, Julia says one thing could be better: she's the only BU alum at the firm. That led her back to campus and the opportunity to speak to current master's students. As she continues to make connections with the program, she hopes that new alums will come to LEI, looking for the most direct way to use their economics education.
Econ Alum Karen Fishman (CAS'12, GRS'12) Appears on Proud to BU Podcast
Econ Alum Karen Fishman (CAS'12, GRS'12), a vice president and senior economist at Goldman Sachs, recently joined the Proud to BU podcast to share the story of her success thus far and provide her best advice for finding and fulfilling your passion.