CBCT/3-D Imaging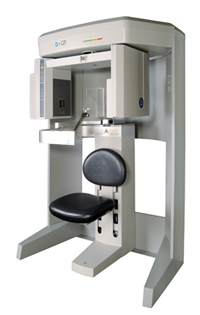 Tomography (CBCT) provides 3-D volume image data of the craniofacial complex. It is used in dentistry to achieve multiplanar imaging of the anatomical structures needed for diagnosis and treatment planning. The i-CAT CBCT unit is the leader in Cone Beam 3-D dental imaging for dental applications and provides high-definition images, with substantially less radiation to the patient compared to a regular CT examination. It also provides undistorted and accurate dimensions of the maxilla and the mandible.
Diagnostic Services
Implant studies to provide a high resolution, 3-D view of critical anatomy and bone structure and density to optimize implant placement.
Oral surgery studies to provide precise tooth position and proximity to vital structures, such as the nerve canal, sinus walls, and cortical borders. For any pathology in the maxilla or the mandible, accurate bone measurement and effect of the lesion on critical anatomical structures like the inferior alveolar canal, cortical bone, and sinus will be provided.
TMJ studies will include coronal, sagittal, and axial views of the TMJ. 3-D views of condyles and surrounding structures will also be provided.
Orthodontic diagnosis and treatment studies will provide the multiple projections needed to accurately evaluate the relationships of the teeth and the jaws. Accurate 3-D views of impacted supernumerary or impacted teeth in relationship to other anatomical structures will also be provided.
Sinus and airway studies will help identify airway problems and polyps. Axial, sagittal, and coronal views of the airway will be provided.
All studies are read by a Diplomate of the American Board of Oral and Maxillofacial Radiology and a radiology report will also be provided.