Commencement Spotlight: Discovering New Passions
Every student and resident in the Class of 2023 at the Henry M. Goldman School of Dental Medicine has a unique story to tell about their journey to dental school, their experiences at GSDM, and their plans for the future. To celebrate this diverse group of extraordinary graduates, we are excited to feature 12 members of the Class of 2023 in a series of profiles as we count down to Commencement.   
---
Sunandhaa Narasimhan DMD 23 
When reminiscing about her four years at GSDM, Sunandhaa Narasimhan DMD 23 said her favorite experiences where when she had the opportunity to connect with those around her, from patients to classmates.  
"I think one of the biggest things that I felt like I got out of the program was the environment, the faculty, the colleagues, the mentors, the peers, that's exactly what I expected from BU," Narasimhan said. "It was very much of a family when I interviewed, and that stayed the same." 
During the last two years, during which Narasimhan has been in the Patient Treatment Center, she said there has been a lot of "running around," trying to treat many different types of patients with a wide variety of needs – but the hard work instantly feels paid off when her patients experience immediate relief from pain.  
"It's been beautiful and a struggle at the same time, but I don't think I would have it any other way," Narasimhan said. "That's the only way you're going to learn because every patient is different, every situation's different."  
She also enjoyed being a matriculation ambassador during the summer of 2022, ushering in the incoming first-year students. The COVID-19 lockdown occurred during the second half of her first year, which meant she missed out on a number of in-person experiences; her time as a matriculation ambassador gave her a chance to bond, in person, with her peers in different classes.  
"I really enjoyed just meeting them," she said. "They have so much passion and excitement."  
After Commencement, Narasimhan will attend a one-year general practice residency program at the University of Nebraska Medical Center College of Dentistry in Omaha, Nebraska. She's eager to gain more exposure to restorative dentistry and to do oral-surgery rotations.  
Narasimhan said she is very proud to be graduating from GSDM. 
"Not that I wasn't proud of the other ones, but this one definitely feels like I earned it, and that there was sweat, tears, blood, everything," she said. 
---
Dr. Joseph Brett Ryan DPH 23 
It has been a long, eventful journey for Dr. Joseph Brett Ryan DPH 23 to find his true calling.  
Upon graduating from dental school in 2012, Ryan joined the U.S. Air Force, first completing an AEGD-1 program at the Barksdale Air Force Base in Shreveport, Louisiana and then becoming a staff dentist in England. After one year, he transferred to the Air National Guard in order to move to Saratoga Springs, New York, his wife Whitney's hometown, and purchased a dental practice. Three years later, he felt something was missing from his professional life. He quickly transferred back to active duty with the Air Force – and this time was sent to Italy. 
But he still couldn't shake the feeling that something was missing in his career. He applied for another new job, a position aiding with medical operations and training. After working in this role for two years, it finally clicked when he realized his military training would be a perfect match for working in dental public health.  
"This program has been more than I ever imagined," Ryan said of GSDM's Advanced Specialty Education Program in Dental Public Health. "I've finally found what I want to do when I grow up, and I'm extremely grateful for that. This has been a second 'second chance' for me. Without this, I believe I would be a very unhappy person with little satisfaction in my life. I'm excited every day to do what I'm doing now. I don't remember the last time I felt like this." 
During his time at GSDM, he credits his success to his program director, Dr. Mary Tavares. Ryan said Tavares pushed him to develop his analytical skills, which further solidified his passion for public health. 
"I've finally found my 'professional home' as a dental public health specialist," Ryan said. "Specifically, though, I got the chance to get deeper into biostats and data analysis, really expanding my skills in that area; not many people get excited by p-values and regression models."  
Ryan is excited to start a new chapter in San Antonio, where he will be working in a research/consultation position to help manage dental care within the Air Force.  
"Being 37, I cannot believe my luck in life to have had the opportunities, again and again, to grow and evolve as a person and professional," Ryan said. "I'm glad that I've had the ability to go, to say 'yes,' and that is because of the people in my life that have believed in me, especially my partner in life, my wife. It hasn't been easy by any means, but damn, it has been worth it."  
---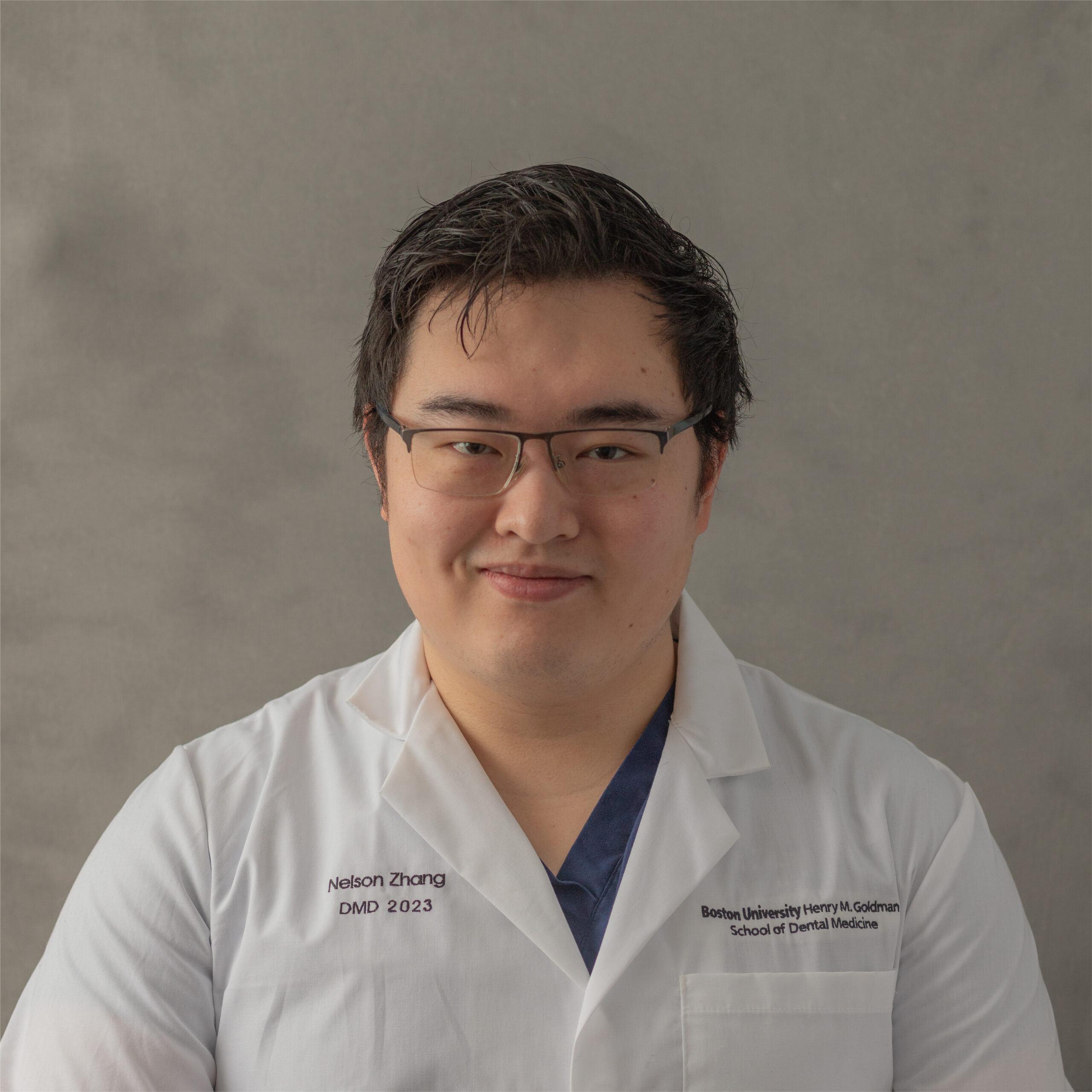 Nelson Zhang DMD 23 
For Nelson Zhang DMD 23, a human connection goes a long way.  
When Zhang was researching dental schools – a longtime goal – he was heavily influenced by his encounter with the late Assistant Dean for Admissions Dr. David Russell. Ultimately, Zhang picked GSDM in the hopes that he would be learning from faculty and staff who shared the same knowledge and passion as Russell. So, it was fitting that Russell "pinned" Zhang during the Professional Ceremony, the capstone event of Matriculation Week.  
"I was fortunate to have met the late and great Dr. Russell," Zhang said. "He was one of the most wonderful humans I've ever met. Not just a clinician, but a humanist. We talked and he was the then-director of admissions, and he convinced me to apply to BU. The rest is history."  
He also fondly remembers meeting faculty members, one of whom ended up being his future group practice leader. Zhang said their conversation was the first time he didn't feel intimidated during the dental school interview process.  
"I'm forever grateful that he took the time out of his day to talk to me and made me feel welcome," he said.  
He appreciates feedback from other dental professionals, as it reaffirms that he is on the right professional path. On the first day of his externship at Lynn Community Health Center, Zhang was pleasantly surprised when staff told him that he performed above their expectations and that it was clear that he had strong dental expertise.   
During Zhang's four years at GSDM, his philosophy has been to treat people – patients and peers alike –with the highest level of care and respect, an approach and mindset he plans to continue after Commencement. Zhang said his way of thinking has been molded by the experiences he has had and the people he has met along his GSDM journey.  
"If a patient is in the chair, you've got to make that patient feel like they're the most important person in the world," he said.