First-Year Student Outreach Project (FYSOP)
The First-Year Student Outreach Project, FYSOP, begins with a week of community engagement, service, and education before classes begin. With a small group of other new students and returning student leaders, participants will build connections with Boston, its neighborhoods and people, community organizations, our campus, and each other.
FYSOP 2020 is open to all new undergraduates at Boston University, and has traditionally taken place the week before classes begin. This year, due to the unique circumstances of our global world, FYSOP will be taking place from Monday August 10th to Friday August 14th.
FYSOP Museum
Even though FYSOP was a virtual experience this year, that doesn't mean we strayed from our traditions! The FYSOP Museum is a collection of research, community spotlights, and personal anecdotes that is designed to help students educate themselves on the many different facets of Boston's communities and how these intersect with the social justice areas we explore during our services. View This Year's Museum!
Post-FYSOP Challenge
Just because FYSOP 2020 has ended, doesn't mean your engagement with the community has to! We challenge you to take on the Post-FYSOP Challenge to continue the work we started during the week of FYSOP. Grab some friends, explore some neighborhoods, and have some fun (in a safe and healthy way, of course!).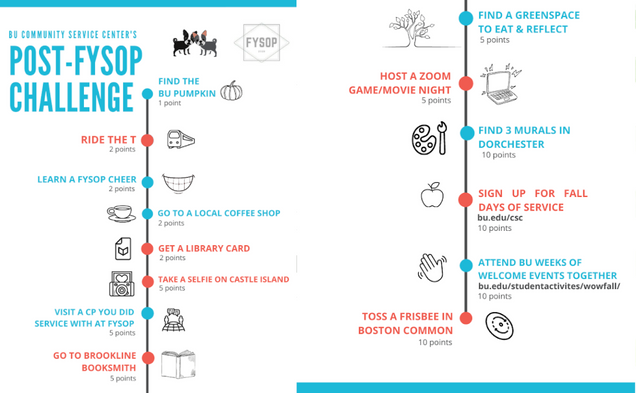 FYSOP 2020's Program Managers:
| | |
| --- | --- |
| Julia Wales | Claire Gonzalez |
| Jaclyn Sutherby | Gabby Florio |
Our vision for 2020:
The First-Year Student Outreach Project (FYSOP) challenges incoming Boston University students to become active citizens in their communities both at BU and in the greater Boston Area, through a week of service, reflection, relationship building, and educational programming that will ultimately lead to a greater understanding of the tools they possess to develop their civic engagement.
The program intends for participants to:
Engage in unique and challenging conversations in new environments

Discover a community of respectful and inspiring peers and mentors

Obtain knowledge of the triumphs and challenges facing the Greater Boston, its members and spaces

Use interests, passions, and skills to generate positive impact in the world

Feel empowered and inspired to take action and continue along the mission of FYSOP beyond the week

Develop a toolkit to actively and intentionally engage with new spaces in an informed, thoughtful, collaborative, and respectful way