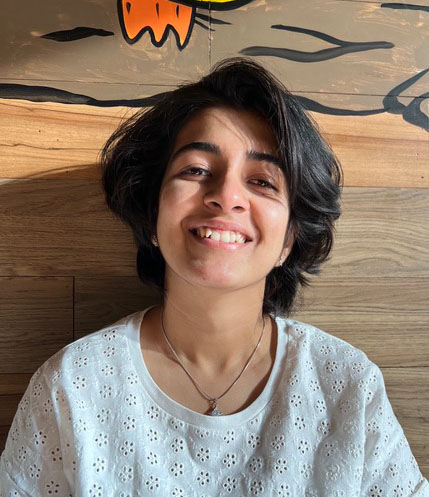 Name: Preshita Dave 
hometown: Bangalore, India
Program at BU: MS in Bioinformatics
Please briefly introduce yourself, what's your background, where are you from, and why are you studying at BU GRS?
My name is Preshita Dave, and I am from Bangalore, India. I have a Bachelor's degree in Engineering and Biotechnology from Rashtreeya Vidyalaya College of Engineering, India. At the moment, I'm pursuing my MS in Bioinformatics, as well as working as a Research Assistant at the Economo Lab at BU!  
Why did you choose to come to BU for your graduate degree?
I chose BU for my graduate degree because the courses offered coincide with the industry standards for a career in Bioinformatics. They have well-designed courses that teach all of the essential skills needed to step out into the world of Bioinformatics. Boston is also one of the major hubs for Biotech and Pharma companies, so the location of BU is a natural fit. 
What are your favorite spots on the BU Campus?
My favorite spot would have to be the Comm Ave Lawn. During the summer, it was really pleasant to go out there and have lunch outside! My other favorite spot would be the Mugar Library because I can concentrate and work on my assignments there. I also love visiting the BU Beach to look at the Charles River– it looks beautiful every time, no matter what season!
What is your favorite part about attending BU and studying in the US?
My favorite part about attending BU would be the welcoming culture that I have experienced here. People have not made me feel that I was away from home and are always helpful and eager to learn more about where I come from. They enjoy and encourage diversity, and I am really grateful for that. Apart from that, I really enjoy the way that concepts are taught and being able to utilize office hours to brainstorm assignments. This gives students an idea of what it's like to work in the bioinformatics industry outside of academia.  
How is life in Boston?
Life in Boston has been really wonderful, although I wish that I had more time to explore it! There are great places to hike around Boston, and there is never a shortage of different restaurants and cuisines to try out! There is something for everyone here which makes Boston a great place to live!
What do you hope to do after you graduate?
I hope to gain more professional experience in Bioinformatics so that I can give back to the community. I also do want to travel more and visit different places in the U.S. At this point, I want to explore more opportunities in the field of Bioinformatics before I apply for a PhD degree!