The Susan K. Jackson Award honors the late Susan K. Jackson, who served as a professor and administrator in the College for over 30 years. The awardees embody her spirit in their dedication to helping others and nurturing community in CAS. 
Faculty Recipient: John (Chip) Celenza, Associate Professor of Biology, Director of Biochemistry & Molecular Biology
John is a longtime BU faculty member who has dedicated 28 years to the Department of Biology. He was selected for this award for his efforts to build community in the Department of Biology and across the College.
In their nominations, colleagues described him as a caring and patient mentor and advisor, whose willingness to help his students is unparalleled. John has also contributed in highly significant ways to the development of rigorous academic programs and the supportive environment here at BU. His ongoing involvement with multiple campus groups, such as the Biology Antiracism Committee, and centers, like Biochemistry and Molecular Biology, has helped the Department of Biology and the many students he has taught and advised flourish. His dedication to mentorship, academic program development, and community building has had a profound impact on the Department of Biology and the College as a whole.
Staff Recipient: Cady Steinberg, Department Administrator, History
Cady has been a dedicated member of the History Department for five years, and as the Department Administrator, she has deftly managed and strengthened an exceedingly complex community of faculty and students. Cady has worked to improve the day-to-day organization and operations, kept faculty in the loop about department and university procedures, and orchestrated special events that have helped to strengthen the department's culture and sense of community. She has expertly balanced your roles as an administrator facilitating processes critical to College operations and as someone who readily provides her expertise, resources, and time to ensure our community is well-informed and well-connected. Cady's nominators and colleagues effusively praised your leadership, guidance, knowledge of BU, and her ability to anticipate problems and opportunities in the History Department.
Graduate Student Recipient: Amanda Pinheiro, Department of Biology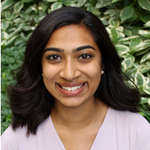 Amanda has made important contributions to the Department of Biology and the wider Arts & Sciences community through her participation in GWISE, as a student advisor, through her service as a representative in the Graduate Student Organization, and her engagement with events that support the professional development and mentorship of graduate students.
Amanda has also been a valued mentor to undergraduate students, guiding them through challenging times during Covid by creating a supportive and engaging learning environment. Amanda's nominators praised her commitment to CAS and wrote that she is "a driven and insightful scientist, who brings a tremendous amount of magnanimity to a highly competitive and analytical discipline. Mandy is thoughtful and selfless and values the critical importance of teamwork."
Undergraduate Student Recipient: Alexandra Mascarello, Department of Philosophy
Alexandra has made incredibly valuable contributions to the Department of Philosophy and the greater CAS community in her role as president of the Undergraduate Philosophy Association where you have created a welcoming and supportive environment for students to gather in communal philosophical thought. She has successfully revived the association and has been tireless in her efforts to build community among undergraduates through mentorship, planning lectures, organizing tutoring programs, and outreach. Alexandra's many nominators praised her for her kindness, knowledge, willingness to help others, and her enthusiasm for philosophy and BU.