Instructor: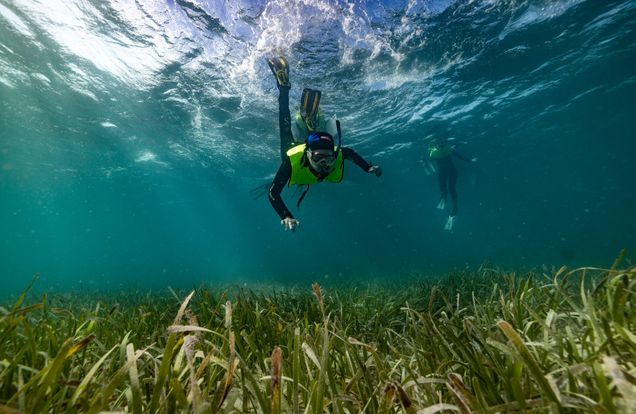 Alyssa Novak (abnovak@bu.edu)
Syllabus: Novak_Seagrass_Belize_Syllabus
Description: Seagrasses are angiosperms that have adapted to exist fully submerged in estuarine and marine environments. They grow in shallow waters and form extensive meadows that serve an important ecological and economic role in coastal ecosystems throughout the world. 
This field course will focus on tropical seagrasses with an emphasis on species located in the Turneffe Atoll Marine Reserve in Belize. Lecture topics will include seagrass biology, ecology and conservation. Students will also explore and gain proficiency in various research and field assessment methods including standards for collection and identification; sampling design; mapping; measurements of abundance, growth, and production; measurements of physical parameters; quantitative sampling of infauna and epifauna; and grazing effects of herbivores. Students will be required to carry out a group research project that involves fieldwork, lab work, data analyses, and a final report and presentation. 
Additional Considerations:
Course-specific Costs:

Students will need to reimburse the BU Marine Program for the cost of the flight to Belize (about $1000).
Students are responsible for transportation to and from Logan Airport on travel days.
All students traveling to Belize must purchase

 

DAN insurance and the Guardian Level
All students must have a passport valid for at least 6 months past their return date.

Meals

Food and lodging are covered by the program while in Belize. Students will be responsible for purchasing any meals during travel days.

Schedule

~7 Days in Boston: Mon-Fri / 10:00-12:00 & 1:00-4:00
~13 Days in Belize

Mon-Sun / Daily Field work: ~8:30-11:30 am; 1:30-4:30 pm;
Daily Data Analysis & Talk Preparation: 7:30-9:30 pm
Location: Calabash Caye Field Station

1 Day Wrap-Up in Boston

Required gear

Full-length 2mm/3mm wet suit, neoprene booties, fins, dive mask, snorkel, waterproof watch. Optional: hood, underwater camera.

Physical requirements

Up to 7 hours of snorkeling per day. Daily transit on small boats. Short hikes across level ground. Occasionally carrying class gear across a sandy beach. Class stays at a remote field station. You will be exposed to the elements (sun, rain, wind) and bugs (be prepared with bugspray).