Tyler Isaac
Alumni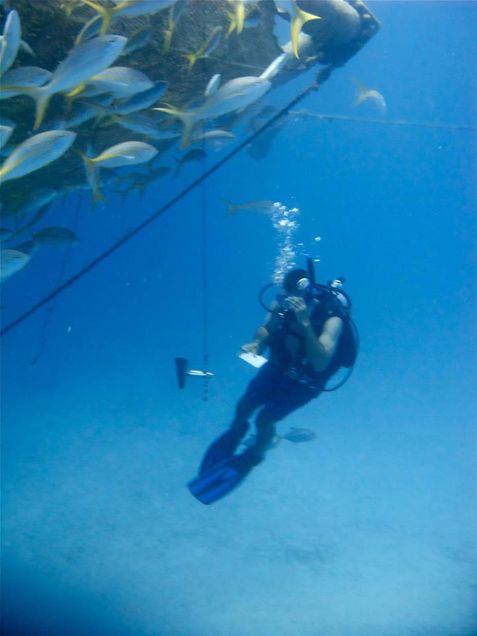 I entered Boston University in the Fall of 2007 hoping to gain an education in marine science which would enable me to successfully run an ornamental fish breeding company. My focus was on raising high-value fish species for aquarium sale in order to protect the wild populations from collection; when I was in high school, I had a 300-gallon coral propagation tank and a small clownfish breeding system which I operated under the name Findamentals, LLC and sold livestock to local hobbyists. I wanted to be able to do that on a more professional and scientific level, so I elected to major in Marine Science as an incoming freshman.
During my time at BU, I started working as a technician for Justin in the Marine Research Teaching wet lab in my sophomore year and worked there through graduation. I participated in the Marine Semester my junior year, Fall 2009, and went down to Wee Wee Caye in Belize. The following fall, I studied abroad on South Caicos, of the Turks and Caicos Islands with the School for Field Studies, an independent study abroad program accredited by BU. Thirty-five Americans, including myself, from universities across the USA lived and studied in a repurposed abandoned dive hotel overlooking the Caribbean Sea. After seeing the destruction by unsustainable and unenforced/unregulated harvesting methods first-hand, my interest in aquaculture shifted from the ornamental hobbyist level to aquaculture as a career in food production, to remove pressure from wild fisheries.
Since graduating, I have completed internships at the New England Aquarium in the American Lobster aquaculture program, and the Cape Eleuthera Institute in the Bahamas working on an open ocean cage aquaculture project raising cobia.
UPDATE (fall 2013): Tyler is now a graduate student at the University of California at Santa Barbara pursuing a Master of Environmental Science and Management, Coastal Resource Management