Jamie Frungillo
Alumni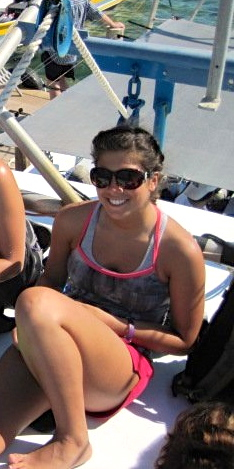 When I first entered Boston University, I was an undecided major in the College of General Studies. I always enjoyed math and science, so I opted to take Biology and Calculus as my elective courses. Unfortunately, no one from CGS had ever transferred to the BU Marine Program, and graduating in four years seemed unlikely. However, as the semesters went by, it was not as hard as I was advised. I took two summer courses and was able to participate in internships during my four years of undergrad.
During the summer going into my junior year, I had two internships. My first experience, working with marine mammals scientifically, came when I volunteered in Costa Rica as part of International Student Volunteers. When I came back from Costa Rica, I began my internship for Jenkinson's Aquarium. During my time at Jenkinson's Aquarium I learned, researched and created enrichment toys for Atlantic harbor seals, cared for and cleaned the African penguins and parrot exhibits, and tested water quality.
We had the opportunity to take classes like Marine Biogeochemistry, Ichthyology, and Physical Oceanography and participate in a research semester called the Marine Semester. During this semester, as part of Professor Kaufman's Marine Megafaunal Ecology class, I went out on a research vessel in Stellwagen Bank, MA, and became familiar with CTDs, plankton tows, sonar, and drop cameras. The Marine Semester also introduced me to geospatial systems in the Marine GIS class where I studied the relationship between climate-related disasters and forecasts. This class led me to work with Pablo Suarez on the Red Cross disaster database.
My volunteer work in Costa Rica and my experience in Stellwagen have given me an interest in marine management and marine mammal conservation. It is also from these experiences that I have become interested in how marine mammals respond to environmental changes and anthropogenic influences. In order for me to obtain a position in these areas I am most interested, I need to further my education by attaining a Masters in Marine Conservation and Management. Duke University offers this program and I will be proudly attending in the fall.