Christina Marmet
Alumni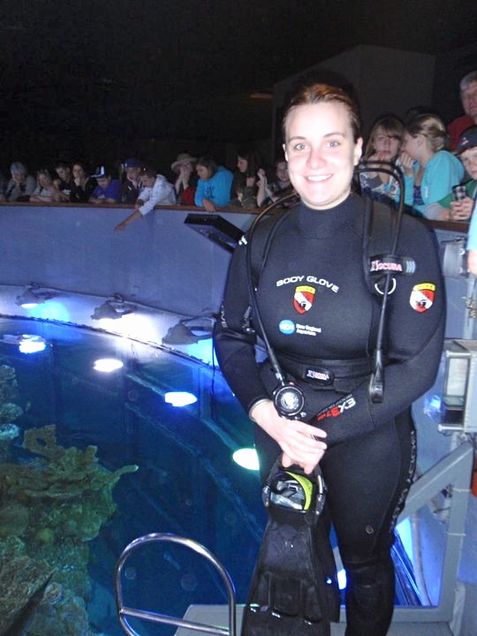 I was very lucky to have been able to enter the BU Marine Program and finally pursue what I truly loved. I am an international student from France, and I have to admit I came to BU not having any idea what I wanted to study. My goal for the last 3 years had been to get into school in the USA, and now that I was finally there, I wondered "now what?" I took a couple of classes in earth sciences, but it's after taking a class in oceanography that I finally realized the marine science program was really what I wanted to do.
I was also part of the BUCOP program (now BU DDP), which allowed me to do a dual degree in journalism with a specialization in photojournalism in the College of Communication. At the same time, I was still able to work in Professor Finnerty's lab through an Independent Study course, looking at corals' genetics. I was lucky enough to be an intern at the New England Aquarium, a BUMP academic partner, for a whole year during my senior year. I first started in the temperate gallery, where I learned to take care of various species of fishes such as sea dragons, groupers, cichlids but also stingrays and lobsters. During the second semester, I got the chance to intern in the Giant Ocean Tank, where I could help the aquarium staff with their daily duties, but also dive in the tank to feed the southern stingrays and many other species of fishes, or simply give Myrtle, the 560lbs and 80years old green sea turtle of the tank, a little shell scrub.
After graduating in May 2011, I made the decision of taking a year off to really think about what I wanted to do next. I knew I wanted to go back to graduate school for marine science, but I did not know where or to study what. And I felt like I wanted to see what else was out there first.
In September 2011, I started a 6-months internship in the Seychelles with a non-governmental organization called Global Vision International (GVI). The internship started with 3 months in a very secluded environment in the Baie Ternay Marine Conservation Area, where we learned in record time more than 100 species of corals in their juvenile form, and then we conducted daily surveys of coral reefs recruitment and health in partnership with the Seychelles National Park. After this research, I was able to become a PADI Divemaster and to work in a dive shop in Beau Vallon, Seychelles for the following 3 months.
I finished this internship in March 2012 and came back to the US in August to attend the Rosenstiel School of Marine and Atmospheric Science at the University of Miami and pursue a Master's degree in Marine Affairs and Policy.
UPDATE (Spring 2014): Christina has completed her graduate degree at the University of Miami and is working as a marine scientist for an environmental consulting firm in Florida.