Your Favorite BU Mementos
Mementos
Your Favorite BU Mementos
---
In the last issue of Bostonia, we asked alums to submit photos of their favorite BU mementos. They ran the gamut. Read on for some fun responses. And thank you!
---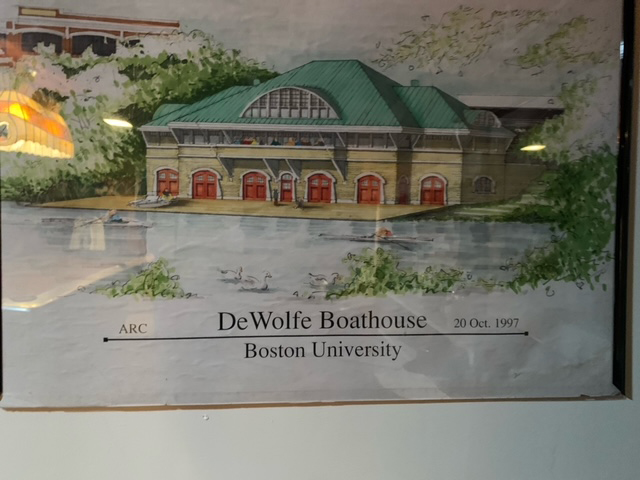 Mitchell Fillet (CAS'70)

West Haven, Conn.
"I enlisted in the ROTC and served our nation until injured and sent home in 1969. I went to BU to play basketball. While pledging a fraternity whose president was a rower, he recruited me to the crew, assuring me that I will never be in better physical condition. He was spot-on about that. But I loved being outdoors and not encased in a plastic helmet or in a dusty gym. I loved rowing up and down the Charles River. Suddenly, rowing was my new love. That love has lasted long after my graduation, but my rowing career at BU lasted until I got hurt at the end of sophomore year. Junior year I started playing lacrosse again, but I kept on rowing over at Union Boat Club.

That love for rowing and my loyalty to BU, coupled with a successful Wall Street career, allowed me to help save the rowing program by writing a fairly sizable check to fund the program when BU cut off its funding. (I think it was in the 1980s.) Once I did that, it was easy to bolt together all the supporters of the program into the Friends of Men's Crew. By then it was the early '90s and we all had to recognize that the old boathouse, which was where the new boathouse now sits, was sliding into the river. Dr. Silber [then BU president] came to me as a leader of the alumni group and asked me to fundraise for the University's plan for a new boathouse, back on the Boston side of the river, just to the north of the BU Bridge. It was short, squat, ugly, and cheap. It did not take long before I developed my own agenda for the new boathouse. My goal was to leave a positive mark on our campus and the Charles River.

After some fairly amicable horse-trading with Dr. Silber, I was given control of the project. As you would suspect, the University retained the right of veto on everything I did. I made a deal with Dr. Silber regarding location and design. That negotiation, my control of the process, and his support in dealing with the various constituencies within BU's administration who did not welcome my intrusion into their responsibilities produced the boathouse that now sits across the river from the student union. After losing our original donor, [BU trustee emeritus] Richard DeWolfe (MET'71) came to our rescue—and that is why his name is on the boathouse to this day.

My favorite memento of all of that work is a framed copy of the architect's rendition of how the finished boathouse would appear to viewers on the river side of the building. Actually, it's my second favorite memento. The first is all of the memories I have of my interaction with Dr. Silber. He was a great man who set us on the direction that has produced this world-class university that BU is now."
---

I saw the call on Twitter to send in memories. Funnily enough, I was eating cereal out of my favorite BU bowl when I read the call. I've had it for over 20 years, and it has traveled with me wherever I have lived in the world (now living in the Netherlands). It's a bit faded, but it brings back wonderful memories.

---
Henry Viarengo (ENG'73,'79)

Westford, Mass.
"Myles was a very unique dorm, a satellite dorm that was paid little attention by the administration. Given that its physical layout from having been a hotel, self-sufficient as being served by its own cafeteria, it was attractive housing for a menagerie of many very creative student charac- ters. Several of whom composed and published [this newsletter]. I arrived for the fall 1969 semester, assigned to Myles for housing. The following years witnessed draft 'Lottery' parties, marches on the Boston Common, and the campus closing and exodus in 1972. Very dynamic, memorable times."
Leen Arnaout (ENG'21)

Oakland, Calif.
"I have this photo from one of my last hockey games, in February 2020. This is me, on the left, and one of my besties, Alex Blumenfeld (CAS'22), at Agganis. We became friends due to hockey! And our friendship continues to this day."
Leslie Miles (COM'79, LAW'82)

Bethesda, Md.
"I transferred to BU from the University of Missouri, which I had chosen for its well-regarded journalism school. Central Missouri was absolutely not a fit, and Boston was its opposite—I could not wait to flee to the Hub, and was eager to work on the many publications BU supported. But Silber was no fan of independent journalism. He censored those publications, withdrew their funds, treated students like misbehaving children, and picked political fights with faculty. I went to work on the b.u. exposure, abandoned journalism to attend law school, and wore this button on my School of Public Communication [now COM] graduation gown in 1979."
Jamie Yieh (ENG'96)

Freehold, N.J.
"On the day after my May 1996 graduation, I decided to stop by the Kenmore Square campus store one last time before driving back down to New Jersey. On my list there were a few items and one BU leather-bound folder. This folder has not only been a memento, but it has been a good luck charm during my career. That simple symbol and name have opened up many conversations and connections."