This BU Program Is a Piece of Cake—Literally
Students in the inaugural cohort of MET's Professional Pastry Arts Program learn the foundations for a career in pastry arts (or just really good homemade treats)
Pastry Arts Program
This BU Program Is a Piece of Cake—Literally
Students in the inaugural cohort of MET's Professional Pastry Arts Program learn the foundations for a career in pastry arts (or just really good homemade treats)
If the titular chocolate factory in Roald Dahl's Charlie and the Chocolate Factory really did exist, it might be found in the kitchens at 808 Commonwealth Ave. on a dreary day at the end of March.
There, glossy chocolate dots topped with halved almonds and dried fruit sit next to creamy chocolate truffles sprinkled with crunchy sea salt. Students in Boston University's Professional Pastry Arts Program buzz around the industrial kitchens in white coats and red hats, tempering small chocolate discs over double-boilers to achieve that tantalizing shine.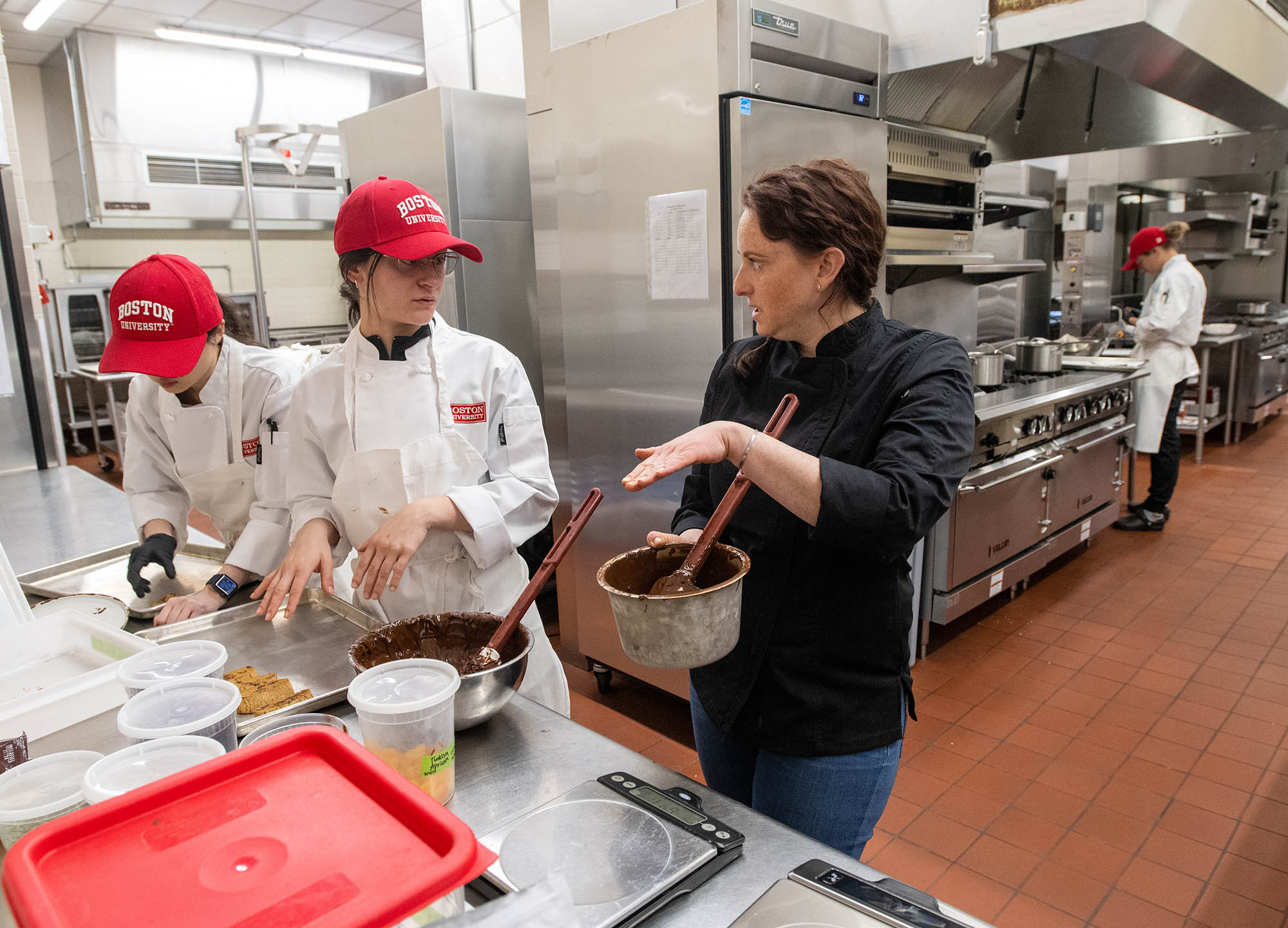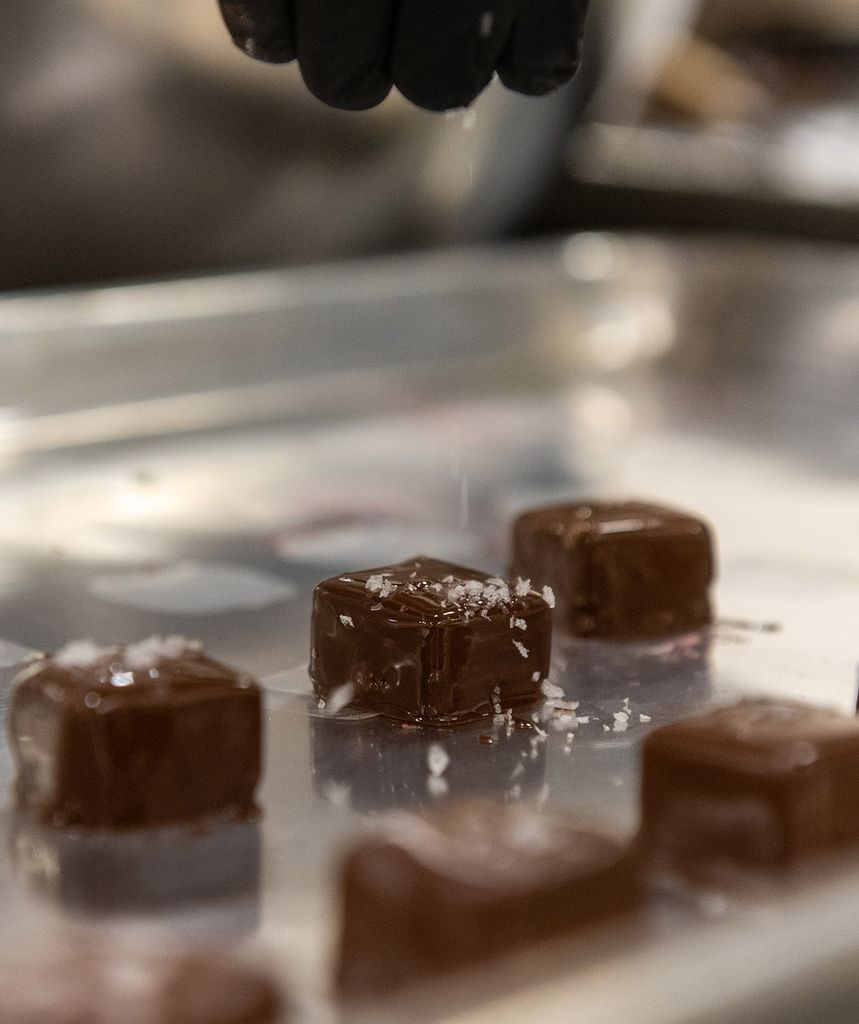 Under the instruction of professional chef and chocolatier Anne Wolf, students in Metropolitan College's Professional Pastry Arts Program learn how to work with chocolate. It's not as easy as it looks.
"As the saying goes, they melt in your mouth, not in your hand," says Anne Wolf, professional chef and chocolatier, and the guest chef for that week's classes, as she picks up a tempered chocolate confection for proof.
Like Wonka's factory, though, there is more here than meets the eye.
"Chocolate is actually super hard to work with," says Mia Ball (CGS'19, Pardee'22, MET'24), as she inserts a food thermometer into her melting pot, keeping a sharp eye on the chocolate as the temperature creeps upward.
Ball is one of six students in the inaugural class of the MET Professional Pastry Arts Program, a 14-week, intensive course that provides students with the foundational knowledge to pursue a career in pastry arts. The lessons are split into instructional, lecture-style classes followed by hands-on experiential learning in the kitchen. Each lesson is hosted by a different guest chef—most of whom are actively working in the field and bring a wealth of hard-earned knowledge to the classroom.
A few weeks after the chocolate lesson, for example, renowned chef Jacques Pépin (Hon.'11) advised students on the viscosity of their pâte à choux based on little more than a glance. Decades of making the delicate pastry dough have given him a discerning eye.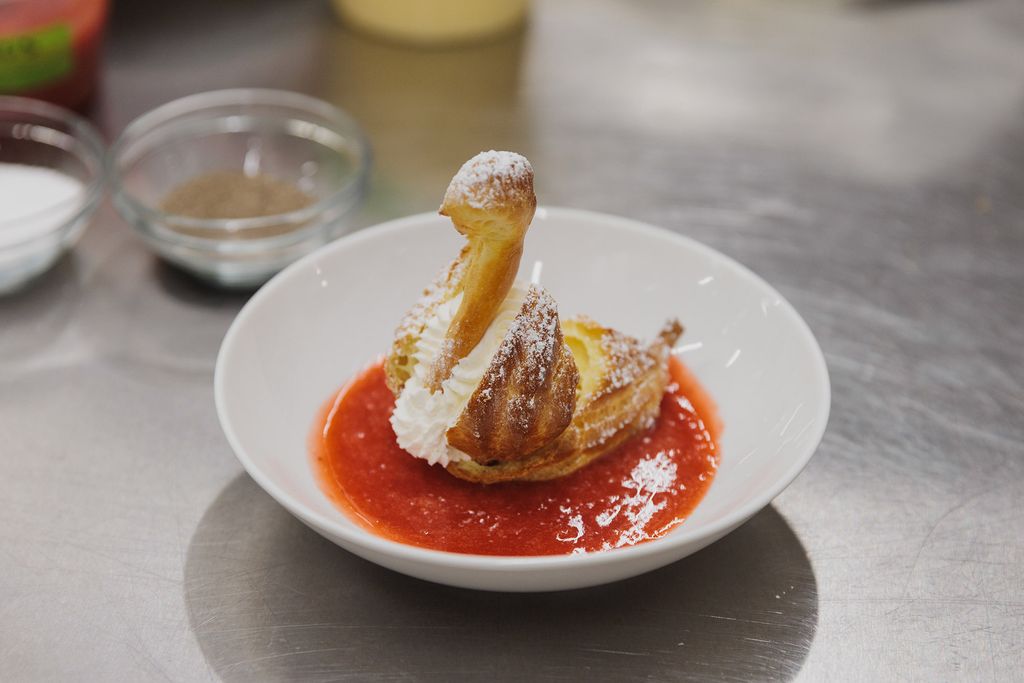 Pépin—who, along with best-selling cookbook author and television personality Julia Child, helped develop Metropolitan College's certificate program in the culinary arts more than 30 years ago—guides students through a series of classic French pastries, including pissaladière, cheesy gougères, and delicate Parisienne gnocchi. The aspiring pastry chefs lean in to hear his soft-spoken lessons, delivered with an instantly recognizable French accent.
One student, Louise Allen, even had her chef's coat signed by the legendary chef. In thick black ink it reads, "To Louise: Happy cooking!"
"He's incredible," Allen says. "I'm just trying to absorb his talent, because it's amazing."
Allen, a retired lawyer from Florida, rented an apartment in Brighton to participate in the MET program. "I'm thinking of this as a 14-week working vacation," she says. She's one of several members of the class completing the certificate program without stacking it into a masters degree. An amateur baker, Allen took the online Pastry Arts Program last year, she says, and fell in love with it. She signed up for the professional program to continue honing her skills—learning for the sake of learning.
"Family holidays are about to get an upgrade," she jokes.
Program organizers have already begun recruiting the next class of would-be pastry chefs and interested home bakers, they say.
Janine Sciarappa, lead pastry instructor for the program and a MET lecturer in food and wine, is one of those organizers. She graduated from the culinary arts program in 1994, having been taught by Child.
Now, as one of the chefs instructing pastry arts students, "it's a real full-circle moment for me," she says, adding that it's been "gratifying" to see students progress through the program.
"We've been blown away by the professionalism of this cohort, and the guest chefs have been incredible," says Lisa Falso-Doherty, assistant director of MET's Programs in Food and Wine, and one of the driving forces behind the Professional Pastry Arts Program.
Bill Yosses, another guest chef who instructed the class this semester, was the executive pastry chef at the White House from 2007 to 2014, serving George W. Bush and Barack Obama.
"It was a privilege and an honor to serve in the White House every day," says Yosses, who was hired by former First Lady Laura Bush at the end of 2006. (For inquiring minds: Obama didn't have much of sweet tooth, he says, and preferred fruit pies when he did indulge. George W. Bush, on the other hand, was "all in" on dessert, and preferred an old-fashioned seven-layer chocolate cake for his birthday each year.)
Yosses taught the lesson "Advanced cakes," leading students through the creation of decadent strawberry fraisier cakes, exacting opera cakes, and classic black forest cakes. Students dropped gobs of butter, sugar, and eggs into whirring stand mixers, filling the kitchen with a vibrant energy. Yosses kept a sharp eye on the students' batter, intervening when overzealous mixing risked breaking down the delicate dough.
"After so many years, you know what something is going to taste like, but there are still surprises in the kitchen after all this time. That's what I love about it," he says.
In 2019, Kayla Tabb graduated from the Massachusetts Institute of Technology with a bachelor of science in anthropology. Four years later, she was in a chef's coat at Boston University.
"I've just always been really drawn to baking," says Tabb, who will complete a certificate in the Professional Pastry Arts Program in May. When she was a child, Tabb and her sister started Little Lady Kakes, a "cottage dessert business" for which she took orders, baked confections, and delivered them to family and friends. Tabb even designed a website for the business after taking a web design program at the University of California, Berkeley, when she was 13. She's getting back to that interest now, after a career change.
"I just realized that I want to be happy," she says, while carefully stirring melted chocolate. "This is something that makes me happy."
For more information about the Professional Pastry Arts Program, visit the website or email Lisa Falso-Doherty at lfalso@bu.edu.