Terriers Fall to Huskies 4-1 in Women's Beanpot Semifinal
BEANPOT 2023
Terriers Fall to Huskies 4-1 in Women's Beanpot Semifinal
BU dispatched by Northeastern for third consecutive year
It was a familiar sight Tuesday night as BU faced off against Northeastern in the semifinals of the 44th Women's Beanpot Tournament, held this year at Boston College's Conte Forum. The Terriers were hoping the third time would prove the charm, after losing to Northeastern last year in the Beanpot consolation game and the year before in the championship.
But it was not to be. No. 5 Northeastern beat the Terriers 4-1.
BU entered the contest hot off a six-straight-game winning streak, including three over ranked Hockey East opponents. But they knew they were facing a formidable opponent Tuesday night and to win they would have to best college hockey's stingiest defense and fifth most potent offense. The Huskies sit comfortably atop Hockey East, with a 17-point cushion between them and Vermont, the next-best squad. BU, meanwhile, is in sixth place.
Worse still, BU had to find a way to light the lamp against Northeastern netminder Gwyneth Philips—who's .960 save percentage and .789 goals against average make her the national leader in both categories.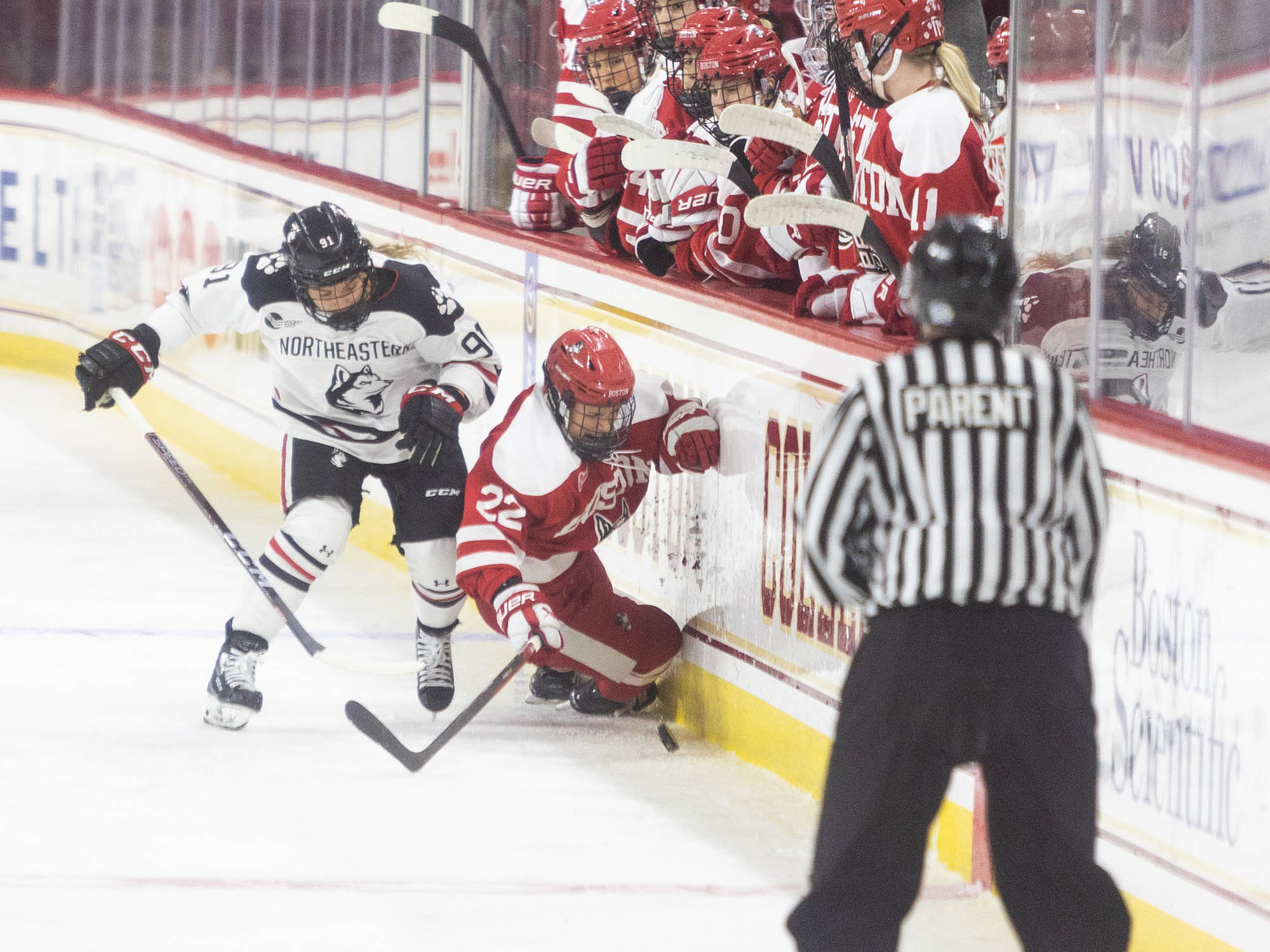 In what proved to be a foreshadowing of Tuesday's game, BU and Northeastern had met once this season prior to the Beanpot semifinal. Philips and the Huskies shut out the Terriers 6-0 on January 8 at Northeastern.
In Tuesday's first period, both team's goalies showed shine. Philips stopped all 9 of BU's shots on net, while Andrea Brändli (MET'23) stopped 13. But a mid-period advance from the Huskies' top line opened the game's scoring. Alternate captain Maureen Murphy pushed into the offensive zone and buried a well-timed pass from Chloé Aurard. Murphy entered the game leading the Huskies with 1.70 points per game and finished with three points (two goals, one assist).
The remainder of the first saw a continued push from the Huskies, which nearly proved too much for Brändli and her teammates to match. Northeastern almost doubled the lead with four minutes left in the first, until BU center Catherine Foulem (CAS'24) prevented a wayward puck from crossing Brändli's goal line by mere inches.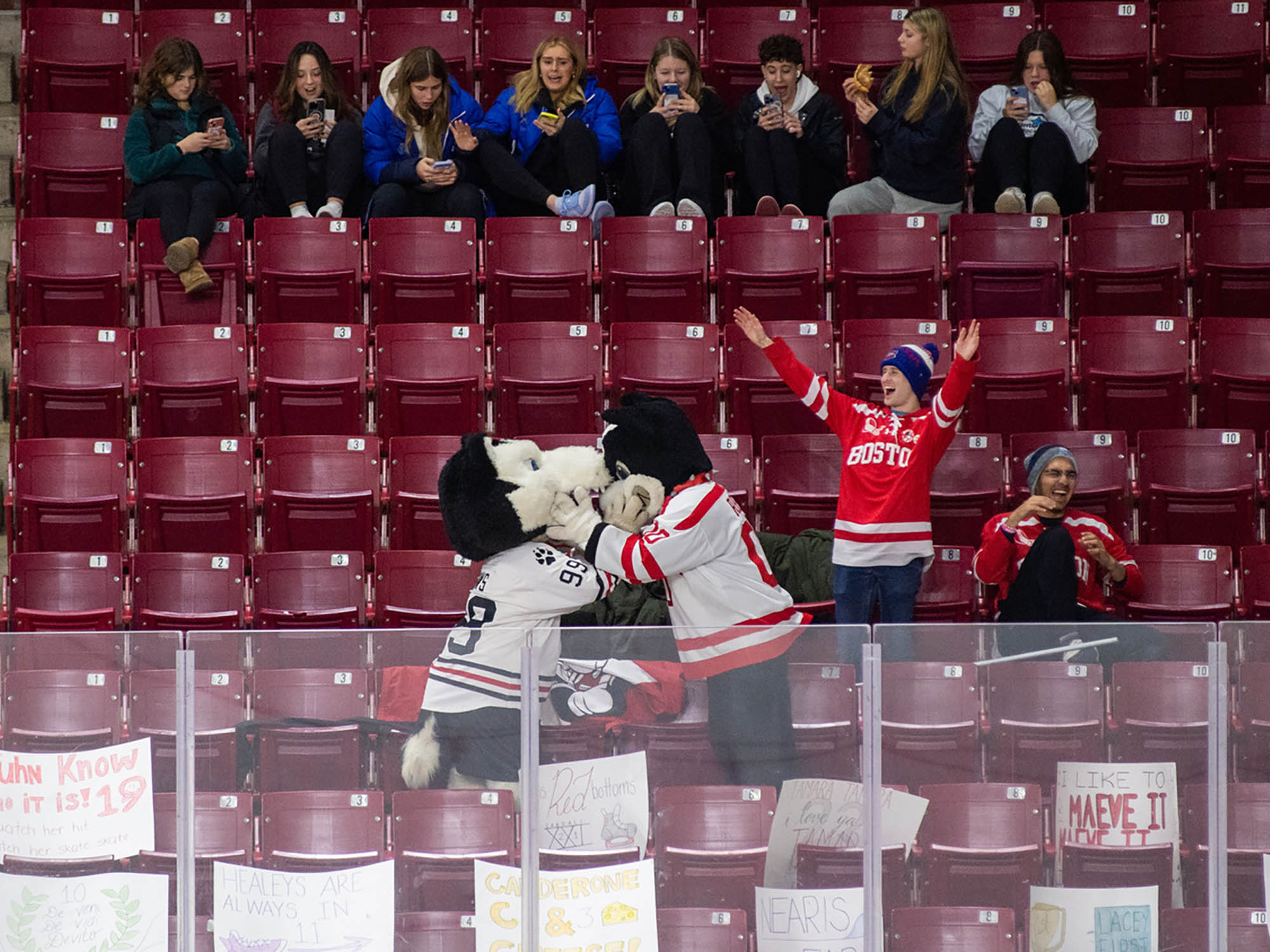 The Terriers opened the second period looking for some way to even the score, ands found it three minutes in. An offensive zone scrum saw Philips repel three consecutive shots from her crease, two from BU points leader Julia Nearis (CAS'23, COM'23). Philips kept her clean sheet through the barrage, but ultimately could not stop a front-handed strike by Brooke Disher (Questrom'26) to equalize the score for the Terriers.
The 1-1 score proved short-lived, when Northeastern's Murphy struck under two minutes later. Huskies captain Alina Meuller skated hazardously in front of Brändli's crease, drawing the attention of her Swiss national team compatriot. At the last second, Meuller served a tap-in goal to Murphy to score her second of the night, putting Northeastern back in the lead.
Mueller's selfless pass would earn her another chance to score. Skating into BU's zone, she watched her shot fly past Brändli's right shoulder, but ricochet off the pipe and out. The Huskies would put three more shots on Brändli with subsequent rebounds, but were not able to extend their lead.
A scoreless Huskies power play on a cross-checking minor by Alex Allen (Wheelock'28) sent the 2-1 game to its third period. The Huskies would enter the final intermission leading the Terriers in shots 33-17.
The third period opened with more spectacular play from Philips and Brändli. With 31 saves at the start of the period, Brändli made 7 more in the frame's opening six minutes. A top-five goaltender in save percentage, she made 41 saves by game's end, one short of her season high.
Northeastern's onslaught broke through once more against Brändli, when her 2022 Olympic teammate Mueller threaded a one-timer to the top shelf to put Northeastern up 3-1 and out of reach.
"I really hoped she wouldn't score today," Brändli said postgame. "It's always fun to play against a Swiss national team teammate. You have to give credit to her, that was a really nice shot."
Down by two with less than two minutes, Brändli crashed for the bench to give her team an extra skater. BU put up seven shots on Northeastern, but ultimately could not convert. With under a second left in regulation, the Huskies' Taze Thompson sent home an empty netter to seal Northeastern's 4-1 victory.
Tournament host Boston College bested Harvard in Tuesday's later game and will take on Northeastern in next Tuesday's Beanpot championship game. Boston University will go up against Harvard for third place.
The 44th Annual Women's Beanpot Tournament: the Terriers play in the consolation game Tuesday, February 14, at 4 pm, against Harvard, which lost to BC in the February 7 later game, and Northeastern will go up against the Eagles at 7:30 pm. Purchase tickets online. All 2023 Women's Beanpot games are played at Boston College's Conte Forum, and will be broadcast live on NESN, NESN+ or collegesportslive.com