Terrier Athletes Celebrated at Annual Scarlet & White Honors Dinner
Accolades
Terrier Athletes Celebrated at Annual Scarlet & White Honors Dinner
Ceremony honored student-athletes and BU Athletics community members
As the 2022–2023 academic year draws to a close, Boston University Athletics honored student-athletes at its annual awards banquet May 1 at the George Sherman Union. This year, 21 individual student-athletes and two teams received awards from BU Athletics and their peers for both athletic and academic merit. Coaches and staff were also recognized at the event.
This year's winners are:
Major Awards
Mickey Cochrane Award
Given to the top male athlete of the year.
Lane Hutson (CAS'26), Men's Ice Hockey
The first-ever defenseman to lead the Hockey East in points as a freshman (48), Hutson racked up numerous accolades during his blistering freshman year, in his run-up to winning BU Athletics' top male athlete honor. He was named Hockey East Rookie of the Year, Hockey East Tournament MVP, All-Hockey East First Team, and was named an American Collegiate Hockey Association All-American.
Mildred Barnes Award
Given to the female athlete of the year.
Caitlin Weimar (CAS'24), women's basketball, and Kayla Roncin (Sargent'24), softball
Sharing the University's top honor for a female athlete are two standout juniors who had historic seasons this year. Weimar won Patriot League Defensive Player of the Year while averaging a double-double across her 27 games. A First-Teamer for both the Patriot League and the Eastern College Athletic Conference, Weimar helped the Terriers to their best-ever Patriot League record (17-1) and first-ever appearance in the Patriot League tournament final.
Although she won the 2022 Patriot League Player of the Year, Roncin had an even more impressive year this season. Amidst a record-breaking 28-game win streak—set by BU last year—the Terriers have a 17-1 Patriot League record. Roncin leads the Patriot League in hits, runs, RBI, batting average and OPS (on base plus slugging), and home runs. Roncin and the Terriers are set to host the Patriot League tournament, beginning May 11.
John B. Simpson Award
Given to male and female athletes who exemplify "enthusiastic senior leadership."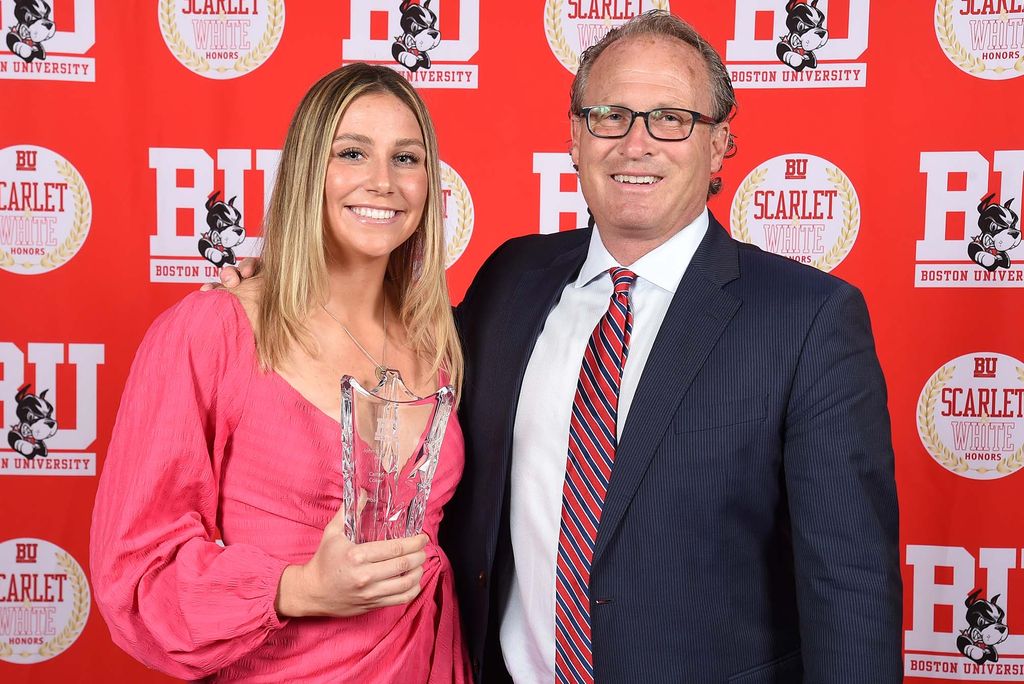 Domenick Fensore (SHA'23), men's hockey
Earning the John B. Simpson Award are a pair of team captains at the helm of two extremely successful campaigns. Fensore wore the "C" for the BU men's hockey team en route to their first appearance in the NCAA Frozen Four since 2015. He tallied 31 points in 37 games, and anchored the blue line as captain this season. He signed an entry-level contract with the Carolina Hurricanes in April.
Caitlin Coker (CAS'24, GRS'24), softball
Caitlin Coker is one of four captains of the 2023 BU softball squad. Under her leadership, BU tallied a school and league record of 28 consecutive wins en route to winning the Patriot League regular season. Coker's league-leading 10 triples and steady defense at third base (.992 fielding percentage) has helped BU earn the top seed in the Patriot League tournament.
E. Ray Speare Award
Given to the top male scholar-athlete.
Roy Meyer (Questrom'23), men's lacrosse
Meyer is the second consecutive men's lacrosse player to win the Speare Award, and the third in the last four years. On the field, Meyer leads the Terriers in caused turnovers (28), a stat in which BU leads the entire Patriot League as a team.
Gretchen Schuyler Award
Given to the top female scholar-athlete.
Emily Gant (Sargent'22, SPH'24), softball
Gant is in the top 10 of 8 offensive categories for the 48-8 Terriers. Previously a three-time All-Patriot League First Team player (2019, 2021, 2022), she often bats clean-up for the Terriers.
Woman of the Year
Given to the female student-athlete who best exemplifies a commitment to service, leadership, athletics, and academics during her collegiate career.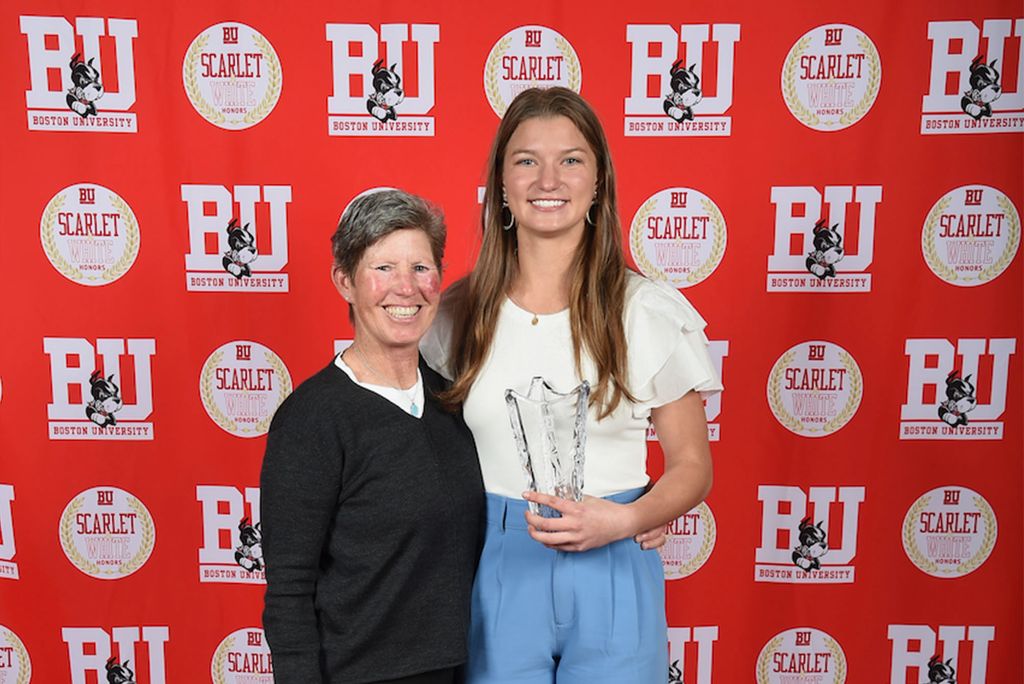 Rachel Borzymowski (CAS'24), field hockey
Named the 2022 Patriot League Field Hockey Scholar-Athlete of the Year, Borzymowski has wowed on the turf, in the classroom, and in the larger community. Starting in all 19 of her contests this season, Borzymowski earned her third All-Patriot League Academic Team honor this season.
Paul Lewis Student-Athlete Service Award
Given to a senior student-athlete who has demonstrated a commitment to serving BU, the athletics department, and the larger Boston community over the course of his or her time at BU.
Megan Mastrorilli (CAS'23), women's rowing
A former captain of the women's rowing team, Mastrorilli is a Scarlet Key Honor Society member and Patriot League Academic Honor Roll honoree. She cofounded the Terriers Together Mentorship Program in 2020 and is also a teaching assistant at Boston University.
Harry Agganis Terrier Pride Award
Given by the director of athletics to a student-athlete or coach who "bleeds Scarlet and White while exemplifying the characteristics that define 'Terrier Pride': leadership, determination, citizenship, humility and teamwork." The award is named for Harry Agganis (Wheelock'54), Boston University's first-ever football All-American who was also an elite baseball star who played for the Boston Red Sox before tragically passing away at the age of 26 due a pulmonary embolism.
Walter Whyte (CGS'19, CAS'21, SPH'23), men's basketball and Maggie Lohrer (CGS'18, CAS'20, Questrom'22, MET'23), women's lacrosse
This year's award was shared by Walter Whyte who is a two-time Patriot League Academic Honor Roll and three-time All-Patriot League team member. Lohrer, a two-time Patriot League Academic Honor Roll member, was captain of the Terriers women's lacrosse team in 2023.
Team GPA Award
Given to the program with the top average GPA.
Women's soccer
With a team GPA of 3.63, the women's soccer team took home this year's Team GPA honors. "When you're at BU and a soccer player, you take pride in what that means, and that means excellence," says women's soccer head coach Casey Brown. "It means excellence on the field, it means excellence in the classroom."
Joseph P. Mercurio Campus Community Recognition Award
Given to an individual or group whose support has proven "invaluable and limitless"
Phil DeCarlo, assistant athletic director, Student-Athlete Support Services
DeCarlo was recognized for helping BU student-athletes in their overall personal development and in their pursuit of academic and athletic goals.
Bruce Lehane Coaching Award
Bill Smyth, men's and women's swim and dive
After 18 years at Boston University, Smyth announced his retirement from coaching in February. During his tenure, the program earned 127 individual conference titles and every BU swim and dive record was broken at least once.
Student-Athlete Choice Awards
Male Unsung Hero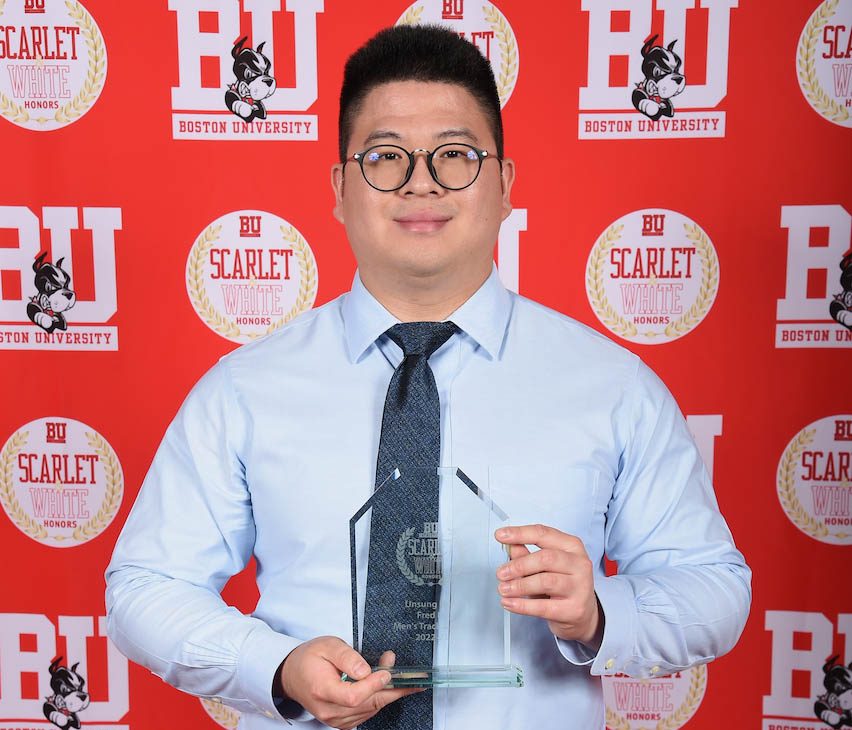 Fred Lu (CAS'23), men's track and field
A staple of the BU track and field team and fierce competitor in throws, Lu was named Male Unsung Hero by his peers.
Female Unsung Hero
Annabelle Larnard (Questrom'23), women's basketball
A senior during the team's historic 2022–23 season, Larnard made her impact this year by supporting her teammates both on and off the court. The Terriers went 17-1 in conference play and made their first-ever Patriot League tournament final this season.
Male Rookie of the Year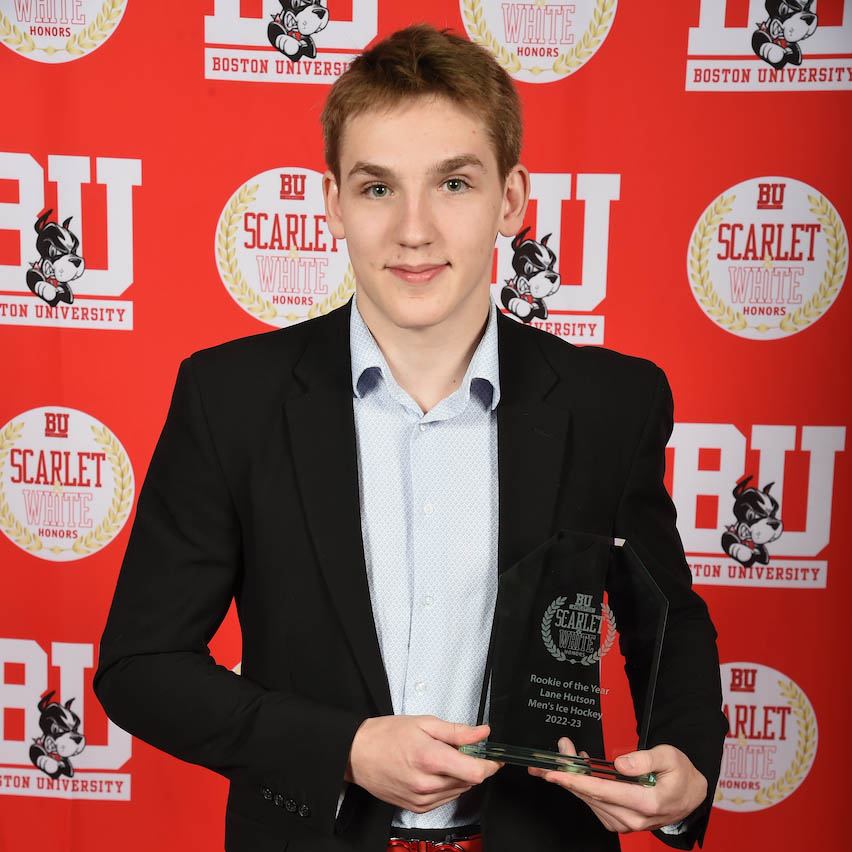 Lane Hutson (CAS'26), men's ice hockey
The only repeat honoree at the Scarlet & White Honors, Hutson was named Male Rookie of the Year by his fellow Terriers, after winning the Hockey East Rookie of the Year award.
Female Rookie of the Year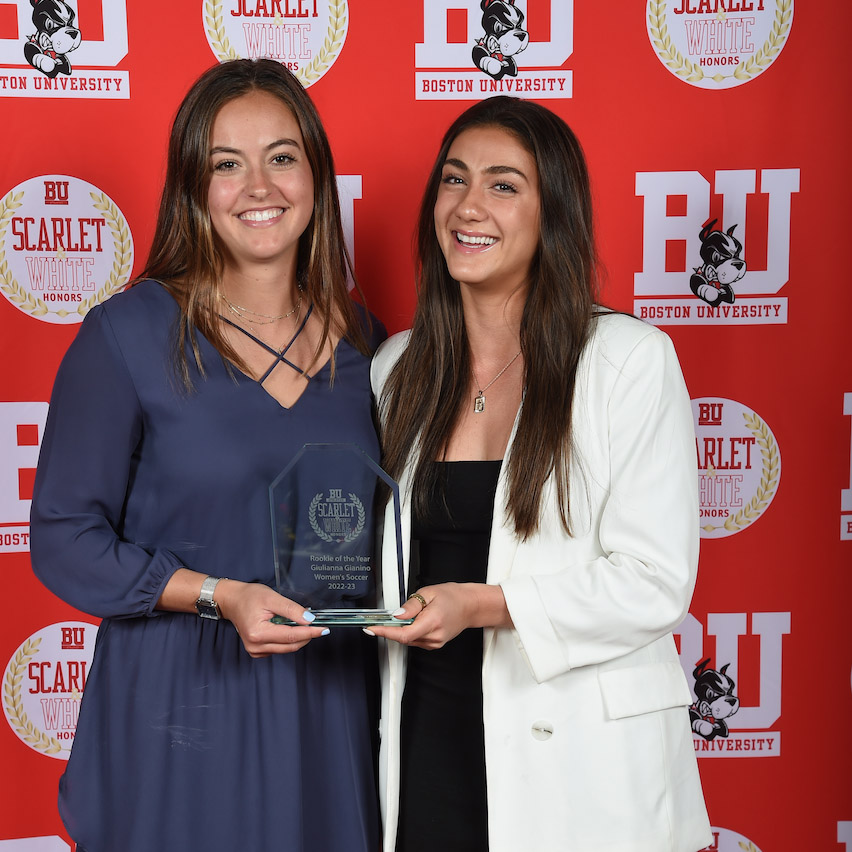 Giulianna Gianino (Sargent'26), women's soccer
Starting in all 20 of her contests, Gianino scored three goals from BU's midfield this season en route to being named Female Rookie of the Year.
Male Breakout Athlete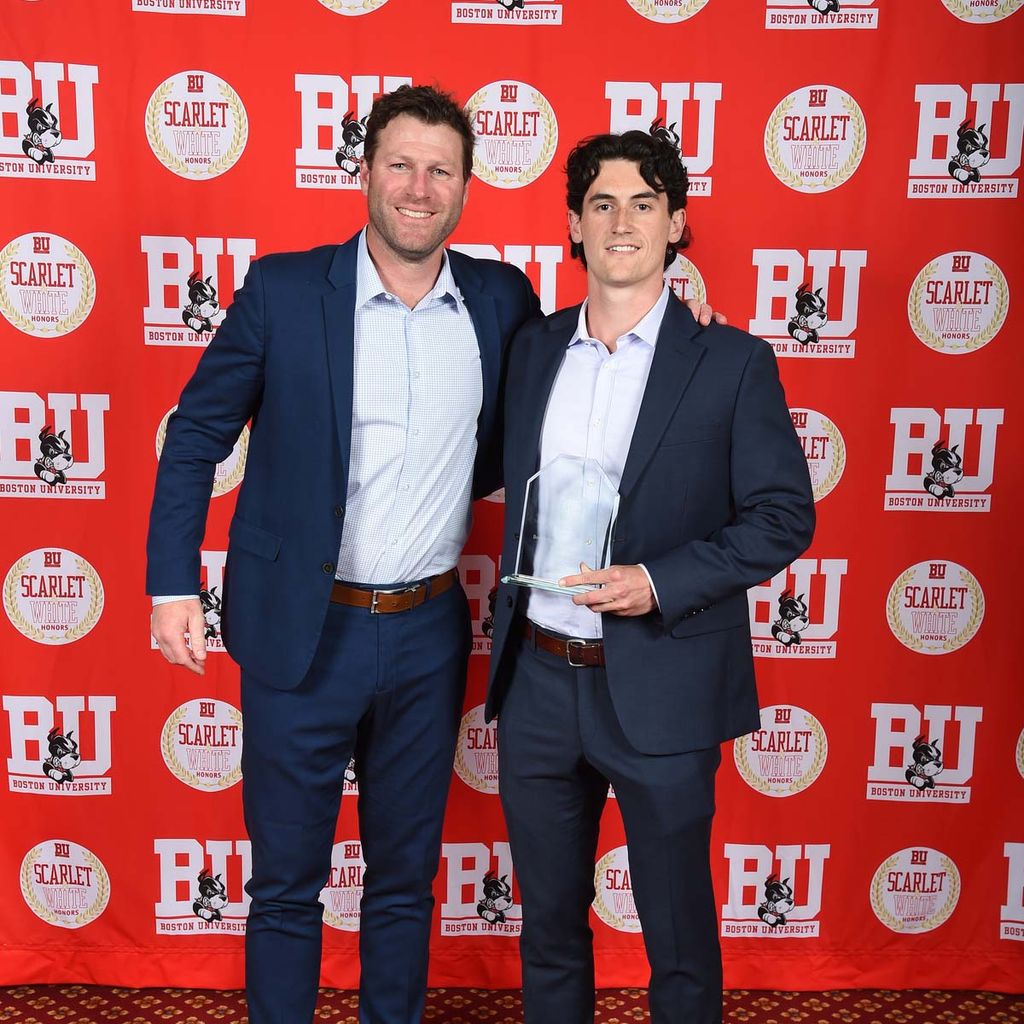 Griffin Roach (Questrom'23), men's soccer
Roach certainly broke out this season for the men's soccer team. He was named the 2022 Patriot League Defensive Player of the Year and an All-Patriot League First Teamer in his senior season on Nickerson Field.
Female Breakout Athlete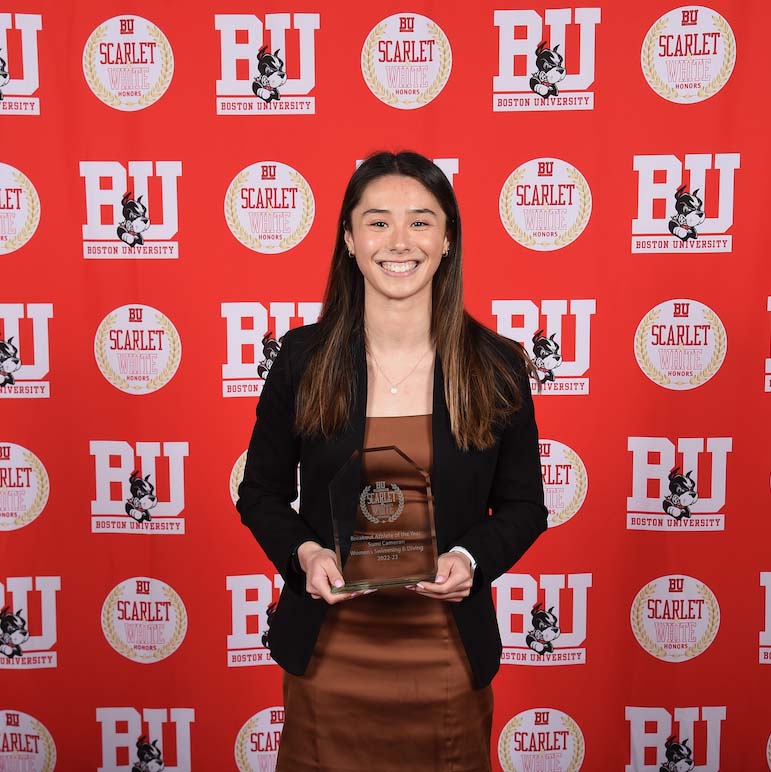 Sumi Cameron (Questrom'24), women's swim and dive
Cameron became the first conference champion at Boston University when she won the 1-meter title and Women's Diver of the Meet at the 2023 Patriot League championships.
Upset of the Year
The women's dive team swept the women's dive events at the Patriot League championship, which concluded on February 18. Sumi Cameron (Questrom'24) won the 1-Meter title and Sophia Souza (CAS'25, Sargent'25) conquered the 3-Meter title.
Play of the Year
Julia Nearis (CAS'23, COM'23) scores a between-the-legs goal against Boston College on October 22, 2022.
Moment of the Year
Lane Hutson (CAS'26) and Quinn Huston (CAS'26) earned overtime goals in the men's Hockey East tournament. The Hutson brothers took turns playing hero for the BU men's hockey team, helping the team win the Hockey East title for the first time since 2018. Quinn scored a game-winning overtime goal against Providence College in the tournament semifinal. The following night, Lane scored the tournament-winning goal in overtime against Merrimack College.