Rescuing Lost Stories
COM journalism students learn to comb local archives to create nonfiction narratives of real-life subjects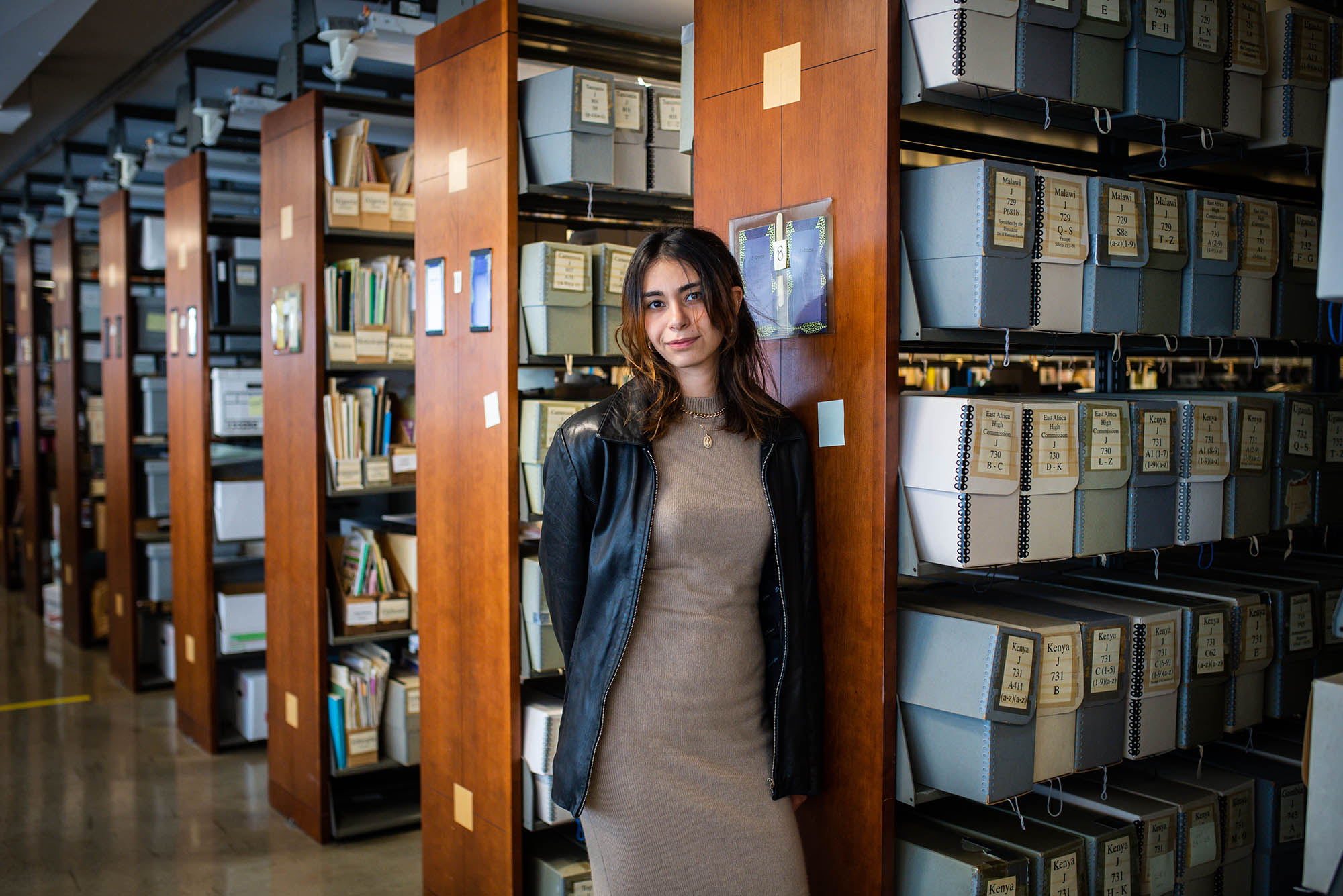 Journalism & Media
Rescuing Lost Stories
COM journalism students learn to comb local archives to create nonfiction narratives of real-life subjects
For Sahika Aydinol's final project in last semester's Rescuing Lost Stories: Writing Nonfiction Narratives from the Archives, she decided to profile Malcolm Boyd, an Episcopal priest and author who confronted racism, war, and religious complacency in the 1960s and '70s. Although Boyd died in 2015, Aydinol was able to interject his voice in her piece for the College of Communication course thanks to the papers he left behind.
BU's Howard Gotlieb Archival Research Center (HGARC), the home of Boyd's papers, has a wealth of items, from his first-grade spelling book to years of business correspondence to personal postcards between Boyd and his lovers (he was one of the first prominent clergymen in America to come out as gay).
Aydinol (COM'24), who had never worked in an archive setting before, says she didn't realize all the material that would be available to her when she set out to write the story. "The archives showed me so many facets of Boyd's personality, an actual sense of how he sounded, the banter he had," she says. "I feel like I got a much more intimate understanding and that informed the way I wrote. I didn't know I could use the archive in such a dynamic way and really humanize him."
The course was taught by Erick Trickey, a lecturer of journalism at COM, who says that it's easy for journalists to just rehash details found in a subject's biography, but digging through an archive helps add original, and important, context to someone's life. "It's about the excitement of seeing letters, early drafts, and other insights into someone's work that isn't obvious in their final product," he says. "You can find an overlooked source. It's a challenge because you don't know what you're going to find, you just have a guess based on the inventory of the collection. You may find nothing of interest or so much of interest that you'll run out of time."
Trickey is the deputy editor of Experience Magazine and his writing has been published in The Atlantic, Smithsonian Magazine, and Politico Magazine. He was the first person to teach the BU course in summer 2020 and has since led it four times.
At the beginning of the semester, the class visited the Gotlieb Center and met with Alex Rankin, assistant director of acquisitions, who showed the students some of the center's collections and briefed them on the rules of perusal (gloves must be worn when handling certain documents, pencils only, one box of material at a time, please). They also could choose to explore the archives at other local institutions, among them the Boston Athenaeum, the BU African Studies Library, and the Massachusetts Historical Society.
Trickey had them read examples of powerful narrative nonfiction, including Killers of the Flower Moon: The Osage Murders and the Birth of the FBI by David Grann (GRS'94) and The Warmth of Other Suns: The Epic Story of America's Great Migration by Isabel Wilkerson, a former COM professor of journalism. Leading up to their final paper, students wrote stories on the anniversary of big events and learned how to reconstruct a historic scene and how to write a pitch to editors.
Throughout the semester, they focused on subjects like the Pulitzer Prize–winning poet Franz Wright and the feminist history of the Cambridge, Mass., restaurant space that is today Oleana. Emma Glassman Hughes (COM'23) went to the Harvard Radcliffe Institute's Schlesinger Library three times on her quest to report about the conservative icon and prominent anti-abortion activist Mildred Jefferson, the first Black female graduate of Harvard Medical School. President Ronald Reagan credited Jefferson with helping him form his pro-life stance. Glassman Hughes says she was drawn to Jefferson because of how her own beliefs juxtaposed with Jefferson's, describing it as an "intentional challenge to look at an opposing viewpoint." When she set out to do her reporting, she wasn't daunted by the prospect of working in an archive, but now that she has, she says, she finds it intimidating because of the challenge of finding what you are looking for and narrowing your scope.
For her final story, classmate Eliza Billingham (COM'22) focused on Frances FitzGerald, the journalist best known for her 1972 book Fire in the Lake: The Vietnamese and the Americans in Vietnam, the first history of Vietnam written by an American, which won the Pulitzer Prize. FitzGerald's papers are at the Gotlieb Center.
Billingham's Podcast on Frances FitzGerald
Eliza Billingham (COM'22) adapted her finished written profile of Pulitzer Prize–winning journalist Frances FitzGerald into a six-minute podcast, incorporating FitzGerald's voice and quotes in the recording. "I had to set up a bit differently—I knew it had to move faster because people's attention span is shorter for listening," Billingham says.
Audio — 8 minutes 23 seconds
Billingham, who started as a research and production assistant at American Public Media after graduating this past December, previously taught English in Hanoi for two years. She says her connection to Vietnam was partially what sparked her initial interest in FitzGerald. When she reached out to FitzGerald for an interview for the piece, the author, now 82, told her, "I know you're for real, since I lived in Hanoi." Billingham says she found that very sweet.
Billingham adapted her finished written profile into an eight-minute podcast, incorporating FitzGerald's voice and quotes into the recording. "I had to set up a bit differently—I knew it had to move faster because people's attention span is shorter for listening," she says.
She would definitely recommend this class to other journalism students, she says: "I never thought about using archives for historical magazine pieces. The class was really insightful and well organized, and it felt like we only did work that was purposeful. And I produced work that I was really excited about and proud of."