Reimagining Fine Art in the Artificial Intelligence Era
New student-run gallery show at GSU puts the "AI" in painting
Arts & Culture
Reimagining Fine Art in the Artificial Intelligence Era
New student-run gallery show at GSU puts the "AI" in painting
The artworks currently on display at the BU Arts Initiative might cause you to do a double take. There's a portrait of an eyebrowless woman with a mysterious half smile, embellished by abstract swashes of color. A rural-looking couple staring grimly ahead, the man wearing sunglasses and holding a polished hunting rifle. A woman glancing sideways at the viewer, a pearl in her ear and a shock of ultra-blue eyeshadow on her lids.
"I like that one because it looks like a Vogue cover photo to me," says public relations major Emily Lin (COM'23), who cocurated and contributed art to the collection, on display at the Arts Initiative offices on the George Sherman Union second floor.
While many traditional artists might balk at the idea of reinterpreting masterworks like Leonardo da Vinci's Mona Lisa, Grant Wood's American Gothic, and Johannes Vermeer's Girl with a Pearl Earring, Lin was able to execute the concept without painting a single stroke. That's because these renditions—and others based on paintings by Vincent van Gogh, Sandro Botticelli, Edvard Munch, and Georges Seurat—are made using artificial intelligence.
"This idea actually came from my partner, John Shiller, who is also a YouTuber," Lin says. Shiller, who goes by the handle Shill, uses his account to talk about how artificial intelligence, or AI, can be leveraged in different creative fields. He posed the idea of an AI-infused art gallery to Lin, who is also minoring in innovation and entrepreneurship.
"When John said, 'Let's host this event together,' I was like, 'Great idea,'" she recalls. "I'm going to make it come true."
A modern reimagining of Leonardo da Vinci's Mona Lisa by various generative image AI programs—with lots of input from Shiller and Lin. Photo courtesy of FramedByAI. The original piece is shown on the right (public domain image).
The result, after months of planning and collaboration with BU Arts Initiative and Innovate@BU (the University-wide initiative that provides opportunities for student innovation) is the AI Reimagined Collection, 10 AI-generated artworks that bring museum classics into the modern age. Its parent project, FramedByAI, is proudly billed as "Boston's First AI Art Gallery."
Lin and Shiller each have their roles to play: according to Lin, she's "the gallery curator and he's the artist," meaning that Shiller's abiding interest in art and technology heavily influenced the artmaking process, and Lin's entrepreneurial acumen brought the project from concept to reality.
Their first stop, in early spring, was at Project Action, an Innovate@BU program that grants up to $3,000, plus individual coaching, to students whose proposals stand to make a positive impact on their communities. Lin has been an external relations intern for Innovate@BU for two years, so she was already familiar with some of the University's opportunities for innovation.
"We thought their goal—to encourage critical thinking on AI and its impact to the creative industry—was relevant to many students and people in the BU and Boston community," Siobhan Dullea, executive director of Innovate@BU, says. "Emily and John also had a vision, an operational plan, and passion to achieve their goal."
Before the show debuted, Lin and Shiller needed to nail down their various elements, which included an augmented-reality feature allowing people to scan a painting with their phones in order to play an animation. Lin also expanded FramedByAI into an e-commerce website, which allows patrons to purchase framed prints from the AI Reimagined Collection. According to Lin, the most important element of their planning was figuring out how much of the artmaking process should be done by AI, and how much by themselves. At first, she says, they wanted AI to create the whole thing.
"We asked ChatGPT to imagine we're hosting a gallery 20 years from now, and to plan the whole gallery: What is the theme? What kinds of art did it want to create? Then we also put these ideas into a generative picture AI to create the exhibition," she says. "We realized that there's actually a lot of human interaction [required] in this process—if you don't input a prompt, there's no output from the AI. We really had to use our creativity."
This interpretation [left] of Grant Wood's American Gothic is on view in the AI Reimagined Collection show. Photo courtesy of FramedByAI. The original piece is shown on the right (public domain image).
Paintings were created using prompts. Lin and Shiller would examine the output to decide what they liked and didn't like, a new prompt would then be created, and the process continued until they ended up with a piece of artwork they were satisfied with. The proprietary process wound up using a blend of ChatGPT, MidJourney, DALL-E, Photoshop Beta, and a handful of other programs.
"When people ask us which tool we used to generate a painting we don't really like to tell them," Lin says, "because we use too many."
After several months of work, FramedByAI debuted May 19 in the BUild Lab (the home of Innovate@BU's offices), before moving to a pop-up gallery space in the BU Arts Initiative offices May 22 for a longer exhibition. The show has proven a hit.
"At our gallery reception, we originally expected only 100 people, but we ended up having our tickets sold out," Lin says. They wound up seeing more than 200 visitors. "It was really packed."
Elana Harris, a BU Arts Initiative administrative coordinator, says that weeks after the launch, the show is still drawing plenty of foot traffic.
"We get a wide array of students, guests, visitors, and professionals coming in and out of the GSU and into our office because of the sign that we have on display, the artwork that's presented, and just the curiosity of it all," Harris says.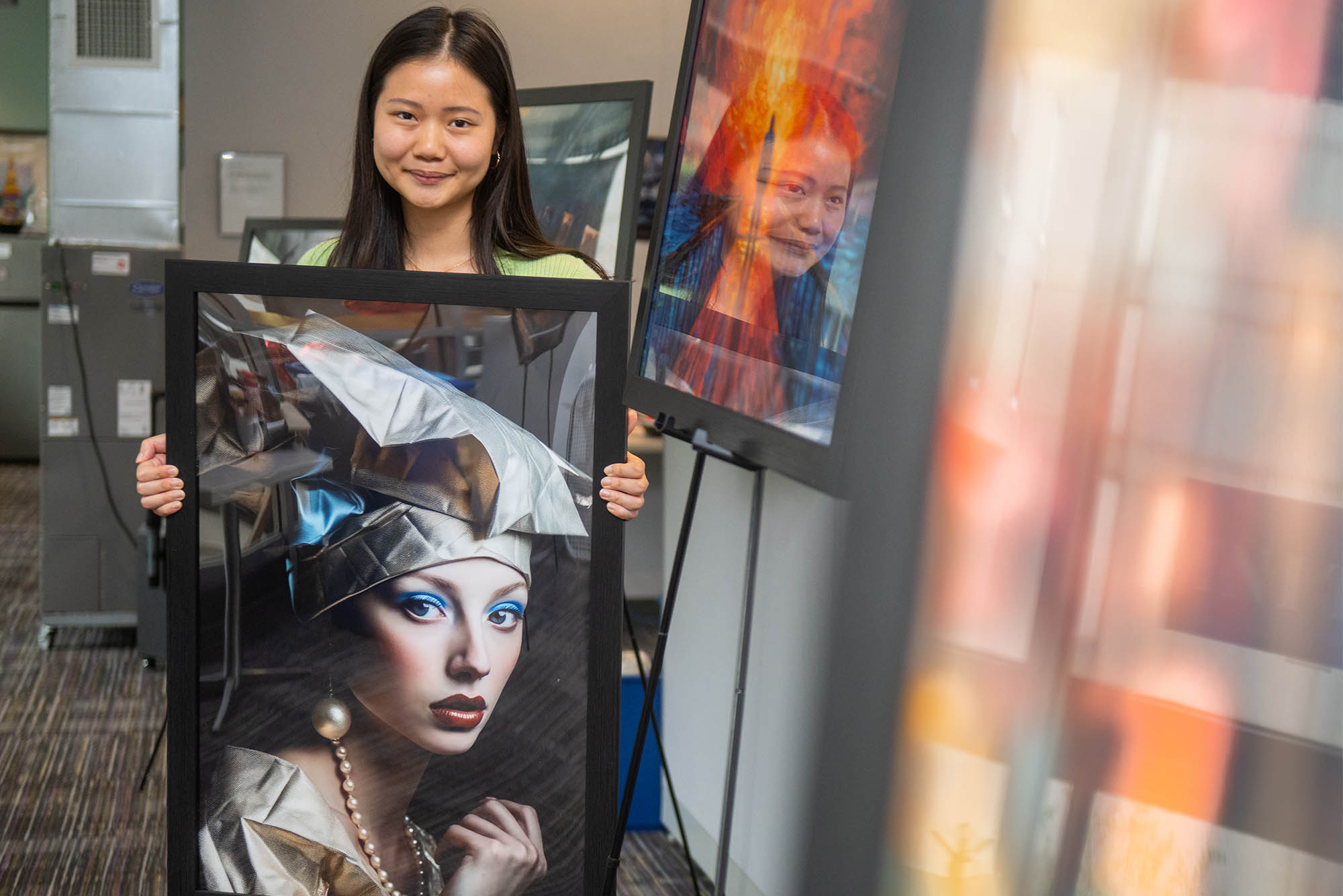 But not all of the visitor reactions have been positive.
"Some people have questionable takes on it," Harris admits. Lin says she's received queries about the ethics behind AI art as well. You don't have to search too hard to see that AI-generated art—be it of the visual, performing, or language variety—is in the midst of an industry-wide backlash, but that doesn't seem to bother Lin. She and Shiller say they aren't wholeheartedly endorsing AI art, nor are they proffering solutions for how it can peacefully coexist with human creativity. As a matter of fact, they'd much rather be asking the questions than answering them.
"We made it really clear that our gallery's mission is to encourage critical thinking, and we accept everyone's opinion, whether you love or hate AI," she says. "We can all be in this safe space for critical discussion."
Is there anything she can say for certain?
"AI is a tool and a medium. Before a pencil was invented, no pencils existed."
The AI Reimagined Collection runs through June 30 at the BU Arts Initiative, Suite 201, George Sherman Union second floor, 775 Commonwealth Ave. The gallery is open Monday through Friday, from 9 am to 5 pm, and is free and open to the public.