Proposed LGBTQ+ Library in Boston Would Be a First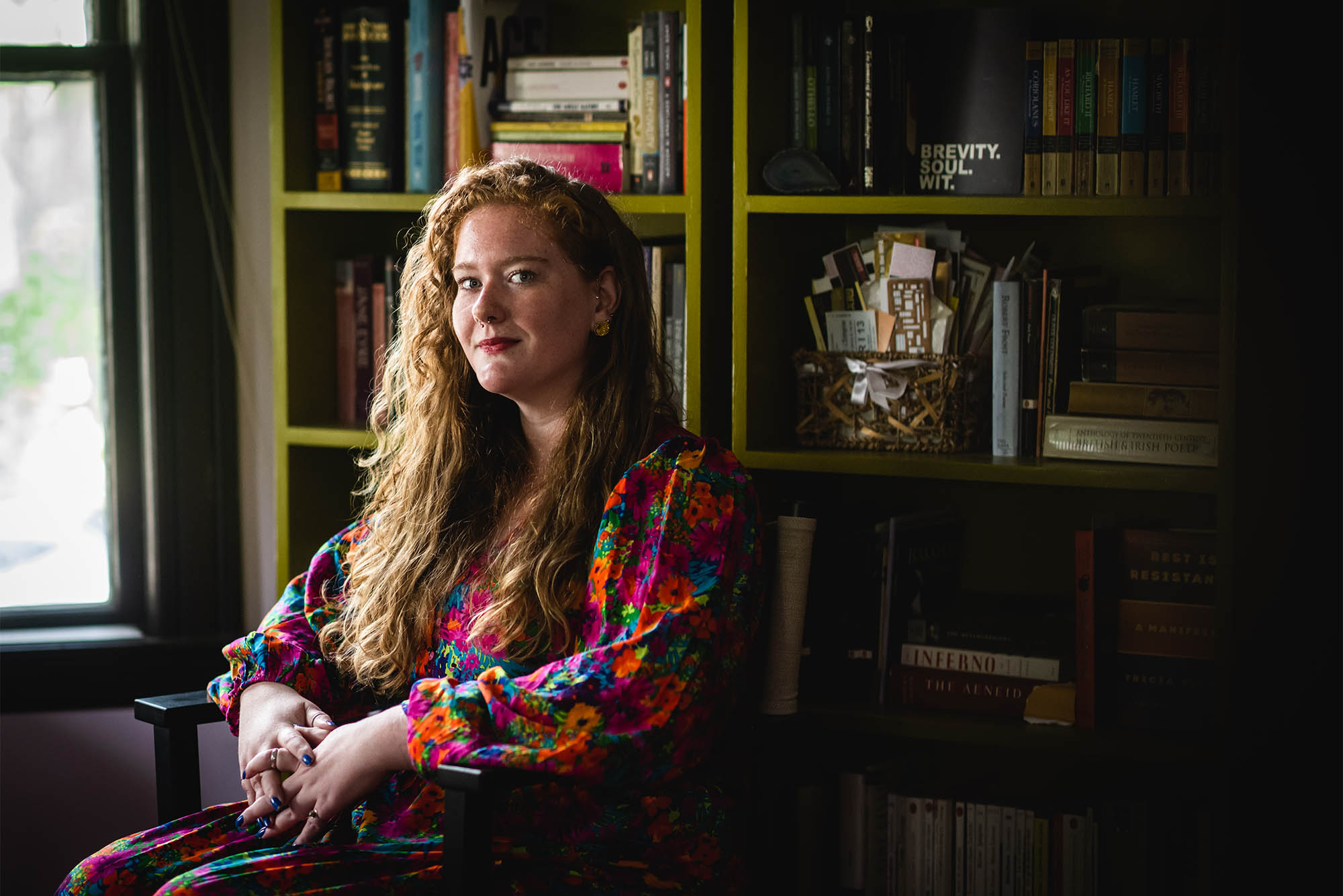 Alumni
Proposed LGBTQ+ Library in Boston Would Be a First
BU alum Emily Talley, who's spearheading the effort, says space would start "to build safety in the neighborhood"
Amid mounting challenges to books with LGBTQ+ themes—including at least 45 in Massachusetts schools and libraries last year—a BU alum is spearheading a drive to open Boston's first bricks-and-mortar library run by, and catering to, LGBTQ+ residents.
QT Library, targeting a June 2024 opening date, hasn't found a site to rent yet, says executive director Emily Talley (CAS'17, Wheelock'17). But it's gotten a jump on its hoped-for collection of 5,000 books, with about 200 donated so far, along with pledges for hundreds more. An anonymous publisher promised 50 a year once the library secures its nonprofit registration. Books and other materials will be created by and for "queer and trans readers and authors," she says, and while non-LGBTQ+ patrons will be welcome, "we are prioritizing the queer and trans community. That is our audience." (In the library's name, the Q stands for queer and the T stands for trans.)
About 10 such libraries exist elsewhere across the country, but they tend to be smaller than that envisioned by the Boston organizers, who've raised more than $59,000 and hope to have a budget of $600,000 for the library's first full year of operation, Talley says.
The idea for this Boston library hatched in Brooklyn. New York artist and businessman Jake Stepansky shared his vision with Harvard grad school classmate Carina Traub (CAS'16, Wheelock'16), Talley's friend and a fellow Somerville, Mass., resident. "'How dare you try to start an LGBTQ library without me,'" Talley recalls saying when Traub broached the subject. The Big Apple already has more LGBTQ+ gathering spaces, and that, combined with a critical mass of enthusiasts here, determined QT Library's location. (Traub is the nascent library's development director.)
Talley studied English and French language education at BU, but has never been a librarian, she tells Bostonia.
This interview has been edited for clarity and brevity.
Bostonia:
Why does Boston need this library?
Talley: First, a lot of LGBTQ spaces focus on night life, bars, clubs. There's not a lot of sober spaces, quiet spaces, spaces that promote community without promoting partying, which can be really difficult. Within the LGBTQ community, there are higher issues with substance abuse.

Another component is that Boston has a rich literary history, and we would love to be a part of that. While I suspect that a number of books on our shelves you could find at the BPL [Boston Public Library], you probably can't find them knowing that they're queer authors, knowing that the content of that book speaks specifically to body dysmorphia [or] experiences that you have based on your gender and things like that. For example, the transgender digital archive at Northeastern is building the history of transgender people. They're doing that because there is no centralized place to find that information and create that direct pipeline between queer authors and queer readers.

We were planning on having a digital collection as well. [But] the Queer Liberation Library [launched in Ohio] is entirely digital, so we may be able to partner with them, to refer our patrons.
Bostonia:
Is this intended as a library patronized by older folks or younger people? You'll have kids' books, grown-up books?
Talley: It'll be all ages. We're excited to be focusing on families. We're really interested in involving folks to repair relationships and maintain relationships. There's a lot of tension when it comes to having queer kids and non-queer parents, or vice versa. We want to help families come together. It's important to us that we support children. If you look at statistics about kids in school who are queer or [have queer] parents, they experience a lot of bullying.
Bostonia:
Could you say something about the library's importance at this moment of book bans and anti-LGBTQ violence and discrimination?
Talley: There have been over 500 anti-trans bills proposed in 2023. The number of book bans [including LGBTQ+ and race themes] has doubled. That's to say nothing about the actual violence. When you have a space that represents the community, it sends a message that we're important, that we matter, that we have permanence, that we have vitality. It starts to build safety in the neighborhood, like a community center. Being a part of that while being an openly LGBTQ organization says to people: the queer community—they're not dangerous, the way that all these drag bans are saying that they are. They're good people, and they're helping improve the vitality of our neighborhood.
---

A lot of LGBTQ spaces focus on night life, bars, clubs. There's not a lot of sober spaces, quiet spaces, spaces that promote community without promoting partying.

---
Bostonia:
Have you ever personally encountered anti-LGBTQ discrimination?
I have to acknowledge, first of all, my white privilege. I also exist in a lot of queer spaces, do a lot of volunteering in the queer community. I have not found myself in a lot of situations where I faced discrimination because of that. Queerness is not something that's always visible and obvious.
Bostonia:
How do you set up a library if you haven't worked in a library?
You bring in librarians. We have a lot of librarians we have worked with in an advisory capacity, giving us advice, recommendations. And we are hoping to bring librarians into the volunteer team.