Poetry, Jazz, and BU's Robert Pinsky Headline at WBUR's CitySpace Saturday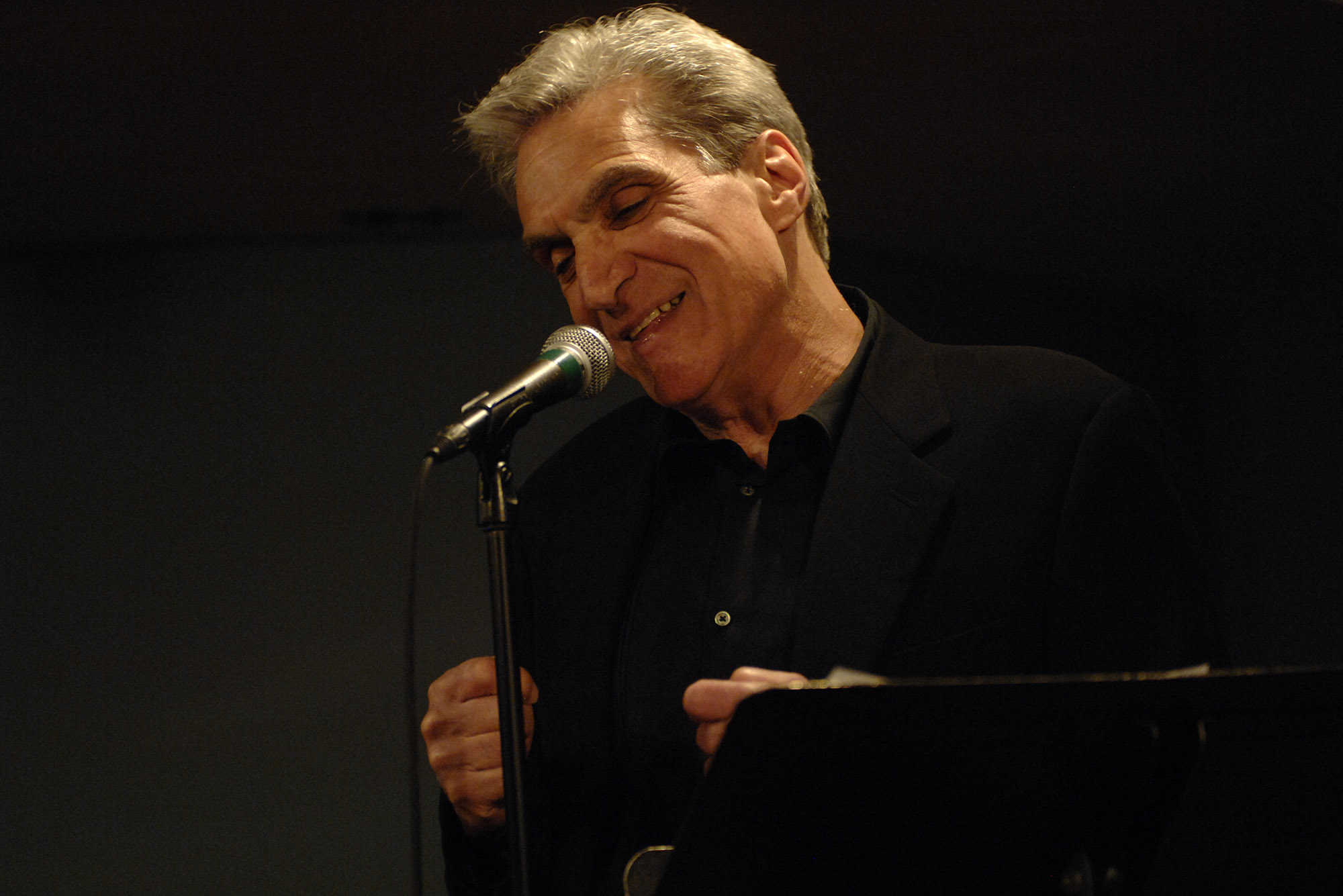 Arts & Culture
Poetry, Jazz, and BU's Robert Pinsky Headline at WBUR's CitySpace Saturday
Sold-out event, featuring a live band, will benefit the Favorite Poem Project
For Robert Pinsky, poetry and music are intimately connected.
"I've for years thought that 'writing a poem' is a misnomer," says Pinsky, a three-time US poet laureate and a William Fairfield Warren Distinguished Professor. "It's not about putting marks on the page for me. Yeats used to say, 'I get a tune in my head.'"
Pinsky is bringing his PoemJazz project to a sold-out event at WBUR's CitySpace on Saturday with a group of ace musicians, led by Laurence Hobgood, joining him to perform a new batch of poems. The event, called Proverbs of Limbo, is a benefit ($5 virtual tickets are available) for the Favorite Poem Project, which Pinsky founded in 1997 during his tenure as US poet laureate to document the role of poetry in the lives of ordinary Americans. As the press release for the event notes, "It's a jazz concert. It's a poetry happening. It's uniquely its own thing."
"I compose a poem very often thinking about the vowels and consonants and about the pitches, the sentence melody. Yeah, the sentence melody," Pinsky says over iced tea at his Cambridge home on a recent summer afternoon. "What are you trying to do in a particular poem? It's like playing a ballad on the horn."
The Favorite Poem Project, whose 25th anniversary was last year, has recorded hundreds of Americans in videos reciting poems they love, poems that have made a difference in their lives. Now housed at BU, the project produces short documentaries, anthologies, and readings, as well as supporting poetry programs in schools and other venues. The proceeds from Saturday's concert/poetry event will help to support the program's next 25 years.
"The readers are from every region, every age, every walk of life," says Pinsky, also a College of Arts & Sciences professor of English and of creative writing. "If anybody says anything like, 'Oh, Americans don't read poetry anymore,' I have three anthologies that sold very well, published by Norton, which is not a charity."
The Favorite Poem videos, he notes proudly, feature people from all walks of life, among them a mailman, a construction worker, and a physician, reading poems. A Walt Whitman poem is read by a Chinese film director who was inspired by Whitman during China's Cultural Revolution. And Whitman's "O Captain! My Captain!" is read by BU hockey hero Mike Eruzione (Wheelock'77), BU's director of athletic development, who says he chose the poem because he remembers his father making a splash with it at family events.
---

I consider the Favorite Poem Project to be resistant, in a way that is not elitist in any negative sense, to anti-intellectualism. And it's based on the idea that in our culture in our country, the very best works of art belong to the ruling class, which is the people.

---
The Favorite Poem Project is, in part, a response to "the ongoing issue of anti-intellectualism in our country, which takes a lot of different forms," Pinsky says. "Mark Twain dealt with it, Preston Sturges dealt with it, Willa Cather dealt with it. And it has its contemporary forms. And I consider the Favorite Poem Project to be resistant, in a way that is not elitist in any negative sense, to anti-intellectualism. And it's based on the idea that in our culture in our country, the very best works of art belong to the ruling class, which is the people.
"I would say after my life's work as a writer, and my family, the significance of my life is in the Favorite Poem Project," he says. "And those videos and the other material, I think, are a great gift I've given to my university. And I'm happy to say that my university appears to be proud of it."
Nexus of poetry and jazz
Pinsky's new recording with music director and pianist Hobgood and a group of jazz aces, Proverbs of Limbo: PoemJazz III, was released August 15 on the Circumstantial Productions label, and a Proverbs of Limbo book is scheduled to publish in 2024.
"In high school any identity I had was as a musician," Pinsky says. "I played tenor saxophone, and played the high school dances. If kids were dancing in the gym at lunchtime, I was there playing the horn. And that was my identity. My high school graduating class I was voted most musical boy. Thank you. There you go, Long Branch, New Jersey. So this was bringing back a pleasure that goes back very early."
At CitySpace, Pinsky will be backed by Hobgood, saxophonist-flutist-vocalist Stan Strickland, cellist Catherine Bent, bassist John Lockwood, and guest percussionist Mino Cinélu, who has played with Miles Davis, Sting, and other greats. All of the musicians except Bent appear on the record; Hobgood has collaborated on Pinsky's PoemJazz recordings and performances for more than a decade. Louis Chude-Sokei, George and Joyce Wein Chair in African American and Black Diaspora Studies and a CAS professor of English, will introduce the program.
Of course, beatniks in bad movies and TV shows were reciting poetry over random bongos and finger snaps as far back as the 1950s. The speaker in the title poem of Proverbs of Limbo could be wearing a black turtleneck and a beret with lines like, "The Buddha is a liquor store on a busy corner." But the stormy heart of "Antique" and the Brooklyn Dodgers deep dive of "Branca"—both featured on the album—are among many tracks that display a sophisticated and intentional (and sometimes counterintuitive) interplay of words and music.
"I sort of have an instinct for accompanying spoken word," Hobgood says. "My dad was a very famous college theater teacher. I grew up, unlike most jazz musicians, in a true multidisciplinary arts house, with a huge emphasis on literature and theater, everything like that. So [maybe that is behind] my having a hard-to-define aptitude for what sort of musical background can work for spoken word in my mind. I bring the same instincts to it that I do if I'm accompanying a singer."
Hobgood and Pinsky first connected through producer Richard Connelly—one night Hobgood was performing at Scullers and Pinsky came to the gig. They were in the studio two weeks later.
"Robert is tricky because you know some of his poetry is more autobiographical, but some of it is incredibly abstract, and there's no way to know exactly what it is that he seems to be getting at," Hobgood says. At their first recording session, he says, he and Pinsky concluded that "it would be much more effective and much more desirable for me to base my choices on sound, sounds that he was making reading, not on an interpretation of the content of the poem.
"My work with Robert has profoundly impacted my work with my students at the New School and also the singers that I work with. Getting them to think not so much about the meaning of the lyric, but more just the sound, the sound of the phonetics, just the implicit cadence of a poem."
The nexus of poetry and jazz continues to fascinate Pinsky.
"We hope to surprise one another," he says of Saturday's performance. "And I'm sure we'll do some of the same things. And I'm sure we'll do them differently. And I'm sure we'll do some different things. My experience has been that audiences have a good time. And I'm pretty confident that I will have a good time."